Walker Knight, a longtime Baptist journalist credited with advancing racial reconciliation in the Southern Baptist Convention (SBC), died Dec. 1. He was 95.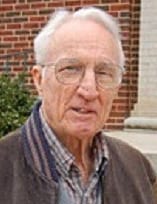 Editor of the Home Mission Board's (HMB) Home Missions magazine from 1959-83, Knight gained a reputation for publishing engaging missions features and articles that challenged entrenched attitudes about race. He became the subject of controversy in January 1967, when a cover story on black pastor and civil rights activist William Holmes Borders provoked hundreds of readers to cancel their subscriptions.
But HMB chief executive Arthur Rutledge stood by Knight, and Home Missions went on to win numerous awards. The publication changed its name to Missions USA later in Knight's tenure.

"Home Mission magazine was perhaps the most effective communication piece that caused Southern Baptists to become more open and sensitive to racial reconciliation," former HMB staff member Emmanuel McCall, the first African American to serve on the staff at any SBC entity, wrote in his 2007 book When All God's Children Get Together: A Memoir of Baptists and Race.
Following his retirement in 1983, Knight helped establish the moderate Baptist publication SBC Today amid the SBC's budding Conservative Resurgence. He also authored or contributed to more than 10 books.
Prior to his tenure at the HMB (precursor to the SBC's North American Mission Board), Knight was associate editor of the Baptist General Convention of Texas' Baptist Standard news journal from 1950-59. In that period, the Baptist Standard's circulation grew to 355,000 – more than half the circulation of all today's Baptist state papers combined. Previously, Knight held secular journalism posts in Kentucky and Texas and pastored First Baptist Church in Dale, Texas.
He held a bachelor's degree from Baylor University and an honorary doctorate from Mercer University.
Knight was preceded in death by his wife Nell and is survived by four children and four grandchildren. Funeral services are scheduled for Dec. 14 at Oakhurst Baptist Church in Decatur, Ga., where Knight was a member.