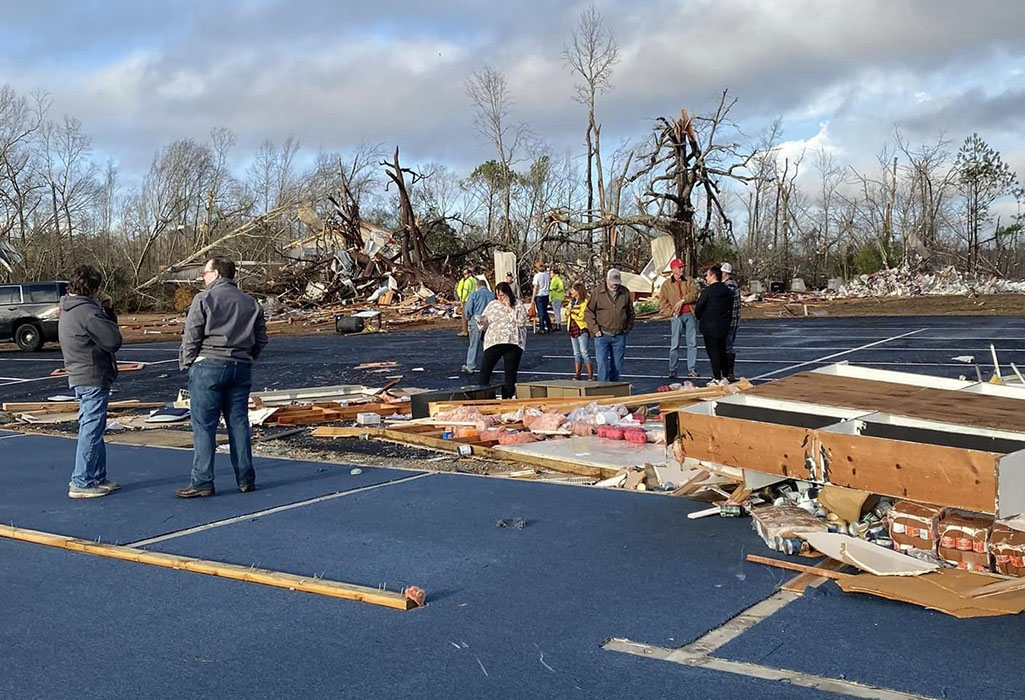 AUTAUGA COUNTY, Ala. – Josh Pendergrass was at home Jan. 12 watching storm coverage when he saw the meteorologist draw a circle around the exact place where his church sat.
"I called the deacon who had been a member of that church for 50-something years and lives just down the road from it," said Pendergrass, pastor of Wadsworth Baptist Church in Autauga County. "I asked if he was OK, and he was, and I asked if he could go check on the church. When he called me back, he was so upset and distraught that I couldn't understand anything he said, and I knew then it was bad."
Extensive damage
For the past year and a half or so, Wadsworth Baptist had been working to update its buildings for ministry needs, Pendergrass said. When he arrived at the church the day of the tornado, he immediately saw that the church's recently added visitor center was "completely decimated."
"The wall was blown out, windows were busted, glass doors were blown out — and that was just the beginning," he said.
Around the rest of the church, it looked like bombs had gone off. Doors were blown off, the sanctuary's back wall was detached and many of the buildings' support beams were bent or curved. In many places, the roof was gone.
"And when I say our office wing is gone, I mean completely gone," Pendergrass said.
The church's large food pantry, which was stored in that wing, was blown away. Pendergrass' desk was found sitting several hundred yards away from the church, and a man 65 miles away in Coosa County called and said he had found some of the church's mail on his front porch. It's been tough, Pendergrass said.
'Great opportunity'
But he said he and the other members of the church believe that "with great tragedy comes great opportunity."
"We certainly wish we didn't have to go through this, but we've also been presented with an opportunity to move in the direction God wants us to go," he said. "Despite our pain, we want to bring glory to Christ. The Lord gave me this phrase right after the storm: Our property may have changed, but our purpose remains the same."
Pendergrass said they resolved right away that they weren't going to be the church building at Wadsworth but the body of Christ that meets at Wadsworth. They started cooking hundreds of meals for the community out of a building he said "could fall in at any moment."
"Yes, we're going to rebuild in a way that helps us be more effective, and yes it's important for us to have a place to meet, but we've had families who have lost their homes and had major damage around us," he said. "Right now, we're spending our days serving people."
Showing the love of Jesus
As the Wadsworth congregation does that, others have come alongside them to support them. On Jan. 15, the Sunday after the storm, First Baptist Church Prattville took up an offering to help them buy a modular building, and Shoal Creek Baptist Church in Deatsville invited Wadsworth Baptist to join them for their service. Pendergrass preached there that day, and afterward the Shoal Creek congregation served them lunch.
Shoal Creek Baptist also organized a group to come pick up papers from the Wadsworth office wing that were littered across the cemetery there.
"We are very thankful for how they are showing us the love of Jesus," Pendergrass said.
Wadsworth Baptist also received funds from the Alabama Baptist State Board of Missions, which Pendergrass said enabled them to help someone else.
"The lady who cleans our church lost her home. She's not a church member, and we were able to turn around and pay her salary for six months up front whether we have a church for her to clean or not," he said. "This partnership is enabling us to take care of our issues as we minister to those around us."
Selma, Atmore churches damaged
The SBOM is also working to assess others' needs so they can provide other assistance. Fairview Baptist Church in Selma, which was hit the same day by a different tornado, also received funds to help with its recovery.
Glynn Stewart, Fairview's deacon chairman, said the church had "quite a bit of damage."
The steeple was ripped off, and Stewart said there were "about eight holes in the roof large enough to drop a man through." The sanctuary is currently tarped and has water damage, but the church was able to start meeting again in its fellowship hall Jan. 18.
"We're going to be OK," Stewart said. "God took care of us, and He's still taking care of us."
Huxford Baptist Church near Atmore also had some roof damage and other damage from a different tornado the same day.
Disaster relief gains traction in Autauga County
Across the state, Alabama Baptist Disaster Relief teams continue to help people clear the trees from their homes and tarp up damaged roofs.
Teams have been hard at work in Selma, and they've also been at work in Autauga County in three areas including Wadsworth. Mel Johnson, who is heading up efforts in that area, said the work is picking up steam as homeowners return to their damaged homes to look for their belongings and teams are able to connect with them.
"There's a lot of destruction, and a lot of areas were impassible. It took emergency crews a long time to give homeowners access into their homes," Johnson said. "When we see them out there picking up pieces, we pull in and say, 'Here's what we're doing and can we help you.'"
Serving those affected
He noted that the EF3 tornado that touched down there stayed on the ground for nearly 77 miles and had 1,100 impact points in Autauga County alone. Seven people were killed in that area.
"One of the homeowners I ministered to experienced four fatalities in their family," Johnson said. "We've been able to talk with them and pray with them."
They've also sent teams of chaplains into the schools to be there for students, teachers and others who might want to talk.
"I am so thankful our Alabama Baptist State Board of Missions and our churches across Alabama have, I believe, one of the premiere disaster relief networks," Johnson said. "Because of the gifts of Alabama Baptists and the time given by volunteers, we're able to be working in multiple counties at one time."
He said it's not just the gifts, it's the giving heart of Alabama Baptists that makes it happen.
"When something like this happens, everything just simply stops, and people put skin on Jesus and they respond," Johnson said.
(EDITOR'S NOTE – Grace Thornton writes for The Alabama Baptist.)