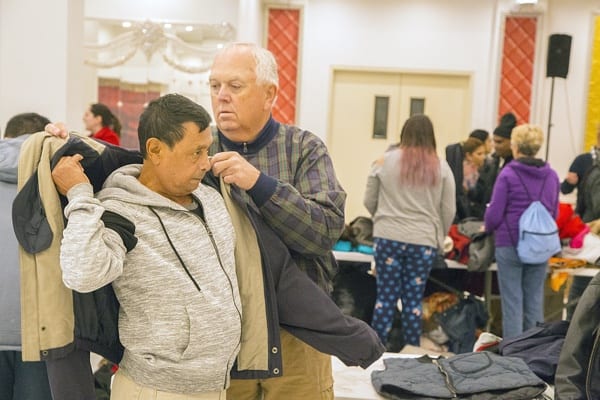 At a storefront church in the Woodside, Queens, area of New York City, the Hispanic girl did not say a word.
But she beamed a bright "thank you" smile as Megan Knight wrapped a bright new scarf around her. That smile was likely one of the best souvenirs Megan took back to Dublin, N.C., from the Big Apple.
Reports from churches show that this kind of special moment happened around New York City thousands of times over the first weekend of December as Coats for the City impacted the area for the seventh year.
North Carolina Baptists sent nearly 4,000 coats via a rented truck, which arrived Nov. 30, driven for the fifth year by Bud Davis with his daughter, Emmy, as co-pilot. He is a member of Liberty Baptist Church in Spring Lake, N.C.
There were 119 N.C. Baptist volunteers who went to New York and helped get the coats to 14 participating churches Dec. 1-2, handing them to people representing hundreds of nations and language/culture groups.
That mix of nationalities was perhaps most evident in the Jackson Heights area of Queens, where Pastor Boto Joseph and his local church have taken part in Coats since it began as an effort in Queens.
In a strong show of the partnership spirit behind Coats for the City, Boto and nine other New York Baptist leaders came to North Carolina in November for a similar coats distribution in and around Greensboro and High Point. There, too, people from many nations were on hand to receive some 1,700 coats, which were distributed by more than a dozen churches.
George Russ was one of the leaders who came to help with the Triad Coats project. He serves as director of missions for the Metropolitan New York Baptist Association (MNYBA), a fellowship of 209 churches in and around Greater New York City. MNYBA partners with the Baptist State Convention of North Carolina (BSC) on Coats for the City. Kelli Creswell, an MNYBA staffer, has coordinated the New York side of Coats for the past five years. She previously worked with the BSC.
BSC consultant Zac Lyons coordinates the North Carolina side of Coats through the Great Commission Partnerships office he leads. It was his second year with the project, and he was on hand to haul bags of coats in and out of a Long Island City warehouse and also to take part in the Saturday distribution.
"I was most impressed with the level of ownership shown by our churches in North Carolina over the planning and execution of Coats for the City this year," Lyons said. "It was truly a blessing to see pastors and laity from churches across North Carolina putting skin in the game and becoming true partners for these planters and missionaries in New York City. We need to see more of this."
In Jackson Heights on Dec. 2, the open plaza Boto and his team have used in the past for handing out coats was not available, so they moved the distribution into a commercial banquet hall a few blocks away.
As people lined up in the courtyard for coats, volunteers sought contact information for later follow-up. Bobby Garrett, facilities director for Fruitland Baptist Bible College (FBBC) in Hendersonville, N.C., served as doorkeeper to keep inside numbers manageable.
Moving the coats distribution inside was working well, said Marty Tobin. Tobin is missions pastor for Pleasant Garden Baptist Church in North Carolina, and he brought 10 volunteers from his church with him to New York.
"It has been more positive than being outside on the street," Tobin said.
Joseph agreed, adding that it was one of the best-organized Coats efforts ever.
Volunteers greeted people as they entered, helped each to find a coat and then walked them further into the hall for a cup of hot chai and a gift that included a video about the life of Christ, Tobin said. Volunteers were able to pray for and share the gospel with many of the visitors.
N.C. Baptist volunteers at Jackson Heights also included those from First Baptist Church in Summerfield; Apex Baptist Church in Apex; and students from FBBC.
Longtime Coats volunteers Jim and Wilma Morgan from First Baptist Summerfield were working non-stop at Jackson Heights on Saturday. But they and other First Baptist members had worked for weeks earlier to collect, inspect and categorize the coats for easier distribution.
This year marked the second Coats trip for Fruitland student Colby Moore, a native of Siler City, N.C.
"I love it," Moore said. "I'm having a great time. It's a new station for me, outside my comfort zone. I'm growing in my prayer life so it has been a blessing to pray for other people."
Even more wide-eyed was Garrett James, 21, first-year Fruitland student from Lancaster, S.C., making his first mission trip outside the Carolinas. He was amazed to see all the foreign-born people of New York.
"It's a completely different world," James said. "It's definitely not South Carolina."
At Park Slope Community Church in the Park Slope community of Brooklyn, Pastor Sterling Edwards said their Coats project had gone very well.
"We were able to pray with every person who came in, more than 100, and we have follow-up contact cards filled out by about 60 people," Edwards said.
The contacts were about much more than just coats, Edwards said.
"They were thrilled to get the coat, but their conversations were extended and some talked for 20 to 30 minutes about their experiences," Edwards said. "It was an opportunity for us not just to give them a coat, but also to confess our hope in who Jesus is."
One Hispanic man entered the hall where the coats were, looked at Edwards and immediately sank to his knees, pleading for prayer. Edwards prayed with him in English over the loss and illness impacting his life, and a Spanish-speaking church member also prayed with him.
"That was really sobering to see how God has already worked in his heart," Edwards said. The Park Slope community is very diverse and includes many Hispanics. They have started a new Hispanic church that has already averaging 25 to 30 in attendance, he said.
"God has done some great things here," said Barry Lawrence, pastor of Lakes Community Church in Sanford, N.C., who brought a 15-member team of volunteers for Coats to Park Slope.
"It was great for our young people to not just hand out coats, but to pray for the people – and to be challenged to continue praying for them when they get back home," said Lawrence, who formerly worked with the North American Mission Board in the New York area. The trip was a type of homecoming for him, he said.
Josh Collins said they gave out some 600 coats at his church focused on Bengali outreach in Jamaica, Queens, situated north of the John F. Kennedy International Airport.
But what made it a great day for Collins was that 15 Muslims requested follow-up visits and copies of the Bible. They also handed out more than 125 bags with gospel tracts and copies of The Jesus Film on DVD.
Ruben Rodriguez, who leads a Hispanic church in Union City, N.J., said they gave out their stock of coats in an hour and 20 minutes.
But the best part was that some of the people who received coats attended services at his City of Joy Church the next morning.
At Iglesia Bautista Nueva Vida (New Life Baptist Church) in Woodside, Queens, Pastor Walter Valencia said it was the fourth year his church has take part in Coats for the City.
"It's a great way to jump start friendships and get to know people who would not normally take time to stop in," Valencia said.
Tommy Knight, associate pastor of Dublin First Baptist Church, in Dublin, N.C., brought eight others from his church, most of them his family. It was their second year serving with Coats.
"It has been really good for the kids to see missions happening and to see the benefits of giving," Knight said. "Also, they learn that not every place is like Dublin."
Dublin is about a mile long and has a single stop sign, no red lights, he said. Attendance at First Baptist is higher than the town's total population, he explained, so a visit to New York presents a different part of the world.
Baptists at year-old Revelation Church in Jersey City, N.J., set up tables near Journal Square more than a mile from their meeting place so they could give out about 150 coats to needy people. Jersey City is located west of the Hudson River that divides New Jersey from Manhattan.
Pastor Jundy Bautista said he was pleased with the numbers of people they were able to talk with and give Jesus DVDs along with the coats.
"The seed has been planted," Bautista said.
In the Woodside, Queens, area members and volunteers handed out about 350 coats and between 300 and 400 handmade hats from tables set up on the sidewalk in front of Maranatha Romanian Baptist Church, where an Albanian Baptist church and an Anglo church called City Life Church also meet. Members from all three congregations took part.
"We had people with Southern accents sharing the gospel and praying for and serving people with Middle Eastern European and Spanish accents," reported City Life Pastor Nathan Creitz. "But the really cool part was that I overheard our own local volunteers speaking to our neighbors in Spanish, Romanian and Albanian. God is forming us into a church that can truly represent Jesus in our diverse community."
Before Coats for the City got underway, more than 120 North Carolina Baptist volunteers and locals gathered at First Baptist Church in Manhattan early Friday evening prior to the coats distribution the next day. Lyons and Russ urged patience and building bridges with people who were to come for coats.
But much of the meeting time was given to prayer over Coats for the City, that Christ would be glorified as many New Yorkers come to know Him as Savior. Prayer is likely why the results from Coats for the City will be felt for months, and without doubt, for eternity.