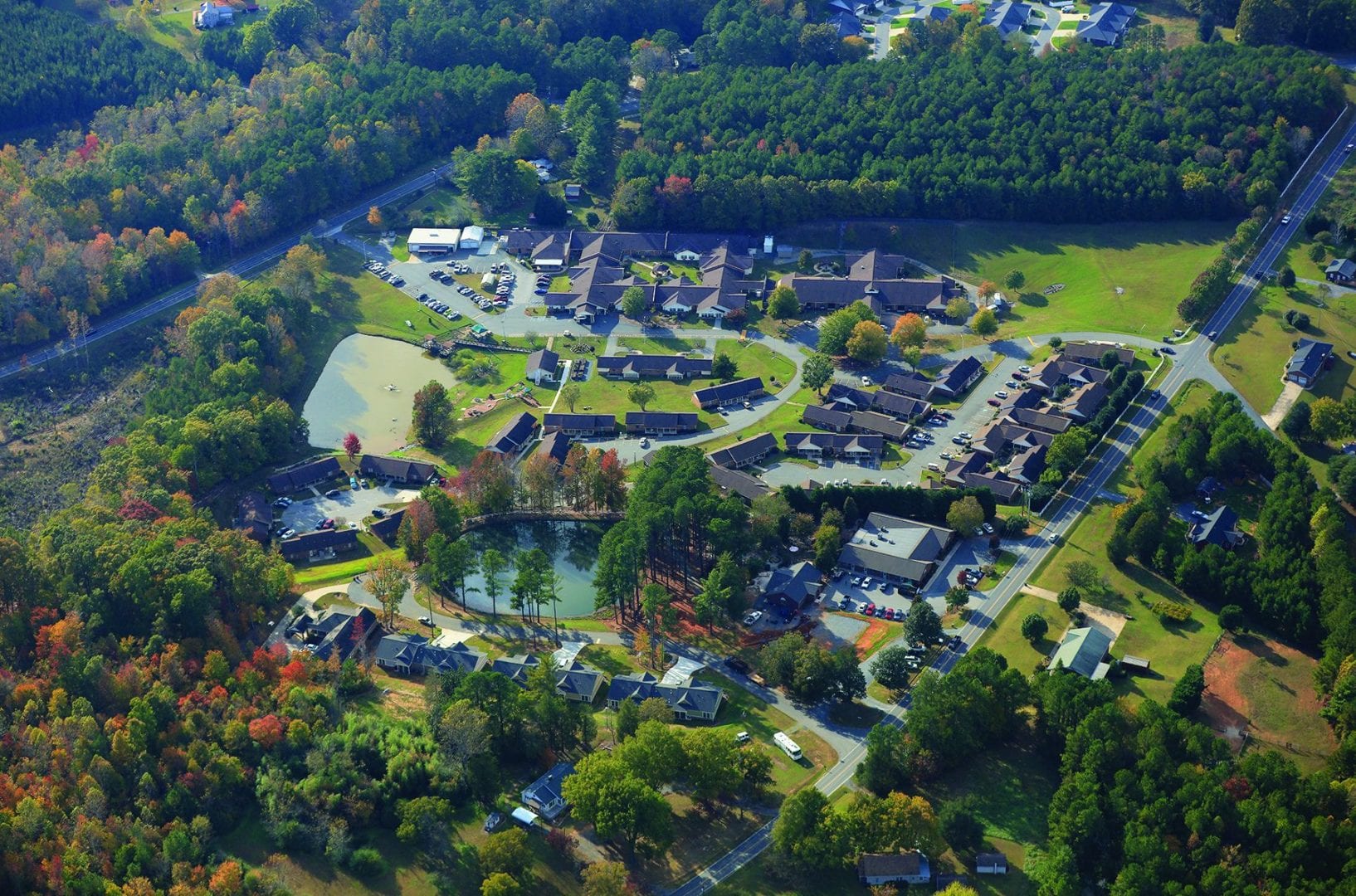 Most of the Cross Road Retirement Community residents do not have any affiliation with the church that helped found the ministry in Asheboro.
But Gene Booker, 89, wants to make sure that the nonprofit retirement center continues to serve others well into the future.
"The churches I pastored took good care of me," said Booker, who lives at the facility with his wife. "It's been a joy working with the folks here."
He said the staff of Cross Road Retirement Community makes him feel loved and provides a sense of belonging. He and his wife, Bobbie, 87, resided in the independent area at the facility for more than five years, but moved to memory care when she was diagnosed with Alzheimer's.
"I don't need to be here for my memory, but I have to have help with walking," he said. "She lost her memory entirely. She can sing songs. She does know me and the daughters."
He has been praying about what he can do to feel useful.
"There's still something I could do," he said, like creating an endowment to help the ministry that has been so good to him and his wife. "They take good care of me here … and my wife. I just didn't imagine people being so loving and caring."
He said less than five percent of residents have any affiliation with the church that founded the ministry – Cross Road Baptist Church in Asheboro. Residents attend 10-12 churches in town and include people from across the country.
"It's really a unique retirement community," said Robert Simons, central area manager for the North Carolina Baptist Foundation. "The residents there don't have to be church members but there's definitely an outreach."
Simons, who works with development and trustor services, has been working with Booker on this endowment for the ministry.
In fact, Booker was "one of the first donors I really got to know" when he first started at the foundation more than five years ago, Simon said.
Booker is now focused on raising an endowment to ensure continued help for those who need it in their community.
"God has something for us to do, even if we think we're disabled," Booker said.
Booker has been active in ministry for many years. He was working with youth when he was called to preach. He hadn't even been to college when he was licensed to preach in March 1953 through Fairview Baptist Church in Reidsville. He started at Wake Forest College, now university, in fall 1956 as a 26-year-old married freshman with two children. The Bookers have four daughters. He served four churches as pastor during his 38 years of ministry. He also served as interim director of missions for Randolph Baptist Association. He was on the Baptist State Convention of North Carolina's general board and on the nominating committee. For more than 20 years, he consulted on fundraising for building churches.
He continued to serve in interim pastorates but a diagnosis of Parkinson's Disease affected his speech and triggered severe depression. He could no longer preach, but wanted to find a way to be useful.
Endowment fund
Years ago, Booker started an endowment fund to help retired ministers who needed help with funds, a predecessor to Mission:Dignity, a fund through GuideStone Retirement Services that helps ministers and their wives in their retirement with funds for housing, medicine, repairs for homes, etc.
An endowment, Simons said, can be started with $100, but payouts don't occur until the fund reaches $1,000.
"People, when they set these things up, have the vision that it will grow," Simons said. "Gene hoped that the church might add to it; people who lived there would add to it."
Simons said the retirement community has added funding to it along the way.
"The larger it is, the more income it generates, the more money available to help," he said.
Continued growth
From its first resident in the early 1980s, Cross Road has been a ministry of love. Members of the church do serve on the organization's board, but the church does not run the nonprofit.
Instead, the church provides ministry to the residents and shares the gospel with them.
The community, nestled on 40 acres in Randolph County, includes 80 independent living apartments and villas as well as an assisted living and memory care centers. There is a club house, covered picnic shelter and a fishing pier. Two meals a day are provided in the cost.
Unlike most retirement homes, Cross Road is rural, Simons said.
"It's more homey to me because I've always lived in a rural setting," Simons said. "The Bookers set up the endowment to provide support for the retirement community."
Five independent living apartments or cottages are currently being built. There is also an apartment building in progress that will include 11 apartments.
Two other ministries operate on the Cross Road Retirement Community campus. Shepherd's Way Day School, for children age six weeks to 12 years, provides care for more than 120 children. The school plans activities to partner with the residents of the retirement community.
Eagle Oaks, a ministry of Baptist Children's Homes of North Carolina for developmentally disabled women, offers a group home environment to support independence.
Booker and Simons have worked together setting up the endowment, but the success of the endowment relies on other people. While Booker continues to give to the fund, more money is needed. Donations can be made to the North Carolina Baptist Foundation, 201 Convention Drive, Cary, NC 27511.