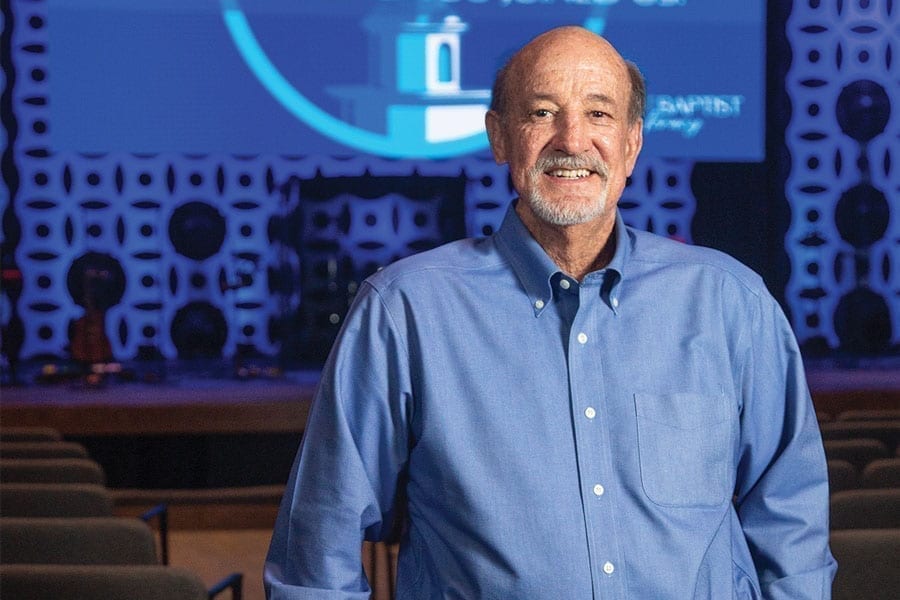 Jimmy Pritchard, 65, former president of the Southern Baptists of Texas Convention (SBTC), pastor of First Baptist Church of Forney and a leader in the conservative resurgence in the Southern Baptist Convention (SBC) nationally and in Texas, lost a brief battle with COVID-19 and pneumonia Feb. 24, after being hospitalized a few days earlier.
The church announced his passing at the Wednesday night prayer vigil where members had gathered to pray for healing, having received the crushing news from the family just an hour earlier. Four days later, the Feb. 28 crowd at Forney wept for their loss, but offered praise that Pritchard was healed through his passage to heaven.
Many in the congregation sat under his ministry since he was called to First Baptist in 1994 and led the church through significant growth, welcoming more than 6,000 new members, baptizing more than 2,600 new believers, and seeing 38 people answer a call to full-time Christian vocations. International, North American and Texas missions were a hallmark of his tenure, including work in Scotland, Hungary, Lebanon, Uruguay, Thailand, Czech Republic, India, Cuba and Ethiopia, various projects in the U.S. and a new church in nearby Talty, Texas.
His messages to Southern Baptists often called for spiritual awakening born out of prayer and motivated toward missions. While president of SBTC, he led times of prayer in every region of Texas throughout 2015, accompanied by SBTC Executive Director Jim Richards.
"We are spoiled," Pritchard said in his 2014 sermon to messengers in Fort Worth. "The Great Commission has shifted to be the Great Convenience. Our problem is not in structure. It's in our heart."
A year later in Houston, he drew from his study of the history of U.S. missions to cite the Haystack Prayer Meeting of 1806 as an example of acting upon a desire to see the lost saved and discipled.
"It's almost like we'll pray and cross our arms and say, 'OK, God, now do something really wild because we've prayed,'" Pritchard said. "He might. But it is more than likely we need to add to our praying a bit of resolve like those five young college students who said, 'We can do this, if we will.'"
"Those regional pastor prayer gatherings typified Jimmy Pritchard's desperate cry for revival, renewal and awakening," Richards said of the denominational leader. "Brother Jimmy knew that every spiritual awakening has been preceded by prayer and obedience. He could see the goal line of making disciples of all nations. And now, in glory, I think he has an even clearer vision of the countless number of souls redeemed because of his obedience to that cause that he championed."
Richards recalled Pritchard welcoming representatives from the Baptist Missionary Association of Texas while he was SBTC president in 2015, recognizing the group's mutual commitment to biblical inerrancy.
SBTC executive director-elect Nathan Lorick described Pritchard as a friend to many.
"The way he loved the Lord, his family, his church and his friends set such a great example for all of us," Lorick said. "Personally, my life has been enriched because of our friendship. He was dearly loved and will be deeply missed."
(EDITOR'S NOTE – Tammi Ledbetter is a correspondent for the Southern Baptist TEXAN.)