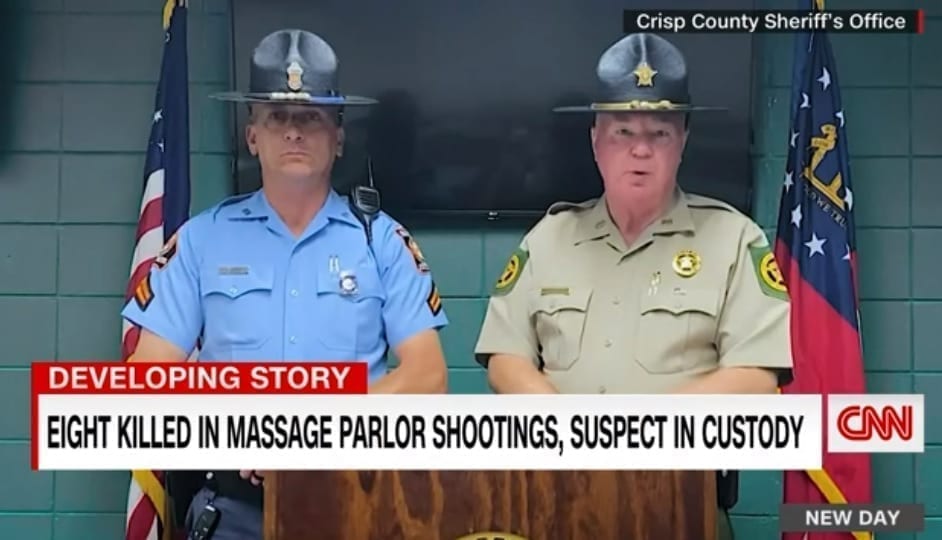 This story was updated Friday, March 19, 2021.
The elders of Crabapple First Baptist Church issued a statement March 17 expressing grief after a series of Atlanta-area shootings Tuesday that left eight people dead. The elders said they were "heartbroken" and were praying for the victims and their families as well as the family of the alleged shooter, a member at Crabapple.
Robert Aaron Long, 21, is accused of the shootings March 16 at a spa in Cherokee County and two more in northeast Atlanta. He has been charged with murder in the shootings.
In a news conference, law enforcement officials said Long admitted to the killings. Jay Baker, a spokesman for the Cherokee County sheriff's office, said Long told them he targeted the businesses, which he said he had frequented, because he had a sexual addiction. Baker said Long called them "a temptation he wanted to eliminate."
Although six of the victims were Asian women, Cherokee County Sheriff Frank Reynolds said the attacks did not appear to be racially motivated.
"We asked him that specifically and the answer is no," Reynolds said.
The killings came amid an increase in reports of violence against Asian Americans, which have escalated since the COVID-19 pandemic began. Asian American women are more than twice as likely to be targeted than men, according to reports.
On Wednesday, Southern Baptist Convention president J.D. Greear tweeted, "We are grieving the tragic loss of the eight victims, including many Asian-Americans, who were killed in Atlanta. We know that our words can never compensate for their loss. We pray that the Prince of Peace might bring healing and peace in the midst of the pain. Father, make us instruments of that peace."
Danny Akin, president of Southeastern Baptist Theological Seminary, tweeted Thursday morning, "I am heartbroken for the Asian community, and my Asian brothers and sisters in Christ. This heinous act of murder in my hometown of Atlanta is difficult to put into words. Know @SEBTS is praying for you asking God to minister His grace and comfort to you."
Crabapple First Baptist released the following statement attributed to the church's elders:
"We are grieved to hear the tragic news about the multiple deaths in the Atlanta area. We are heartbroken for all involved.
"We grieve for the victims and their families, and we continue to pray for them. Moreover, we are distraught for the Long family and continue to pray for them as well."
After initially taking down its website and social media pages, Crabapple First Baptist published a response online on Friday.
"In the strongest possible terms, we condemn the actions of Aaron Long as well as his stated reasons for carrying out this wicked plan. The shootings were a total repudiation of our faith and practice, and such actions are completely unacceptable and contrary to the gospel," it read.
"No blame can be placed upon the victims. He alone is responsible for his evil actions and desires. The women that he solicited for sexual acts are not responsible for his perverse sexual desires nor do they bear any blame in these murders. These actions are the result of a sinful heart and depraved mind for which Aaron is completely responsible. … Finally, we deeply regret the fear and pain Asian-Americans are experiencing as a result of Aaron's inexcusable actions."
The church also clarified that Long's father was never employed by Crabapple First Baptist.
Law enforcement officials said Long's parents helped police capture their son, contacting them after security images of the shooting suspect became public, according to the Atlanta Journal-Constitution.
A GPS tracker on the Hyundai Tucson that Long was driving allowed police to capture him without incident March 16 after applying a PIT maneuver on I-75 in Crisp County, 150 miles south of Atlanta. Baker said Long viewed Florida as a hub for the porn industry and "an outlet for something he shouldn't be doing."
When captured, Long was in possession of a 9 MM firearm, according to police. He had purchased the pistol from a gun store earlier Tuesday.
(EDITOR'S NOTE – Scott Barkley is national correspondent for Baptist Press. Biblical Recorder staff contributed to this report.)