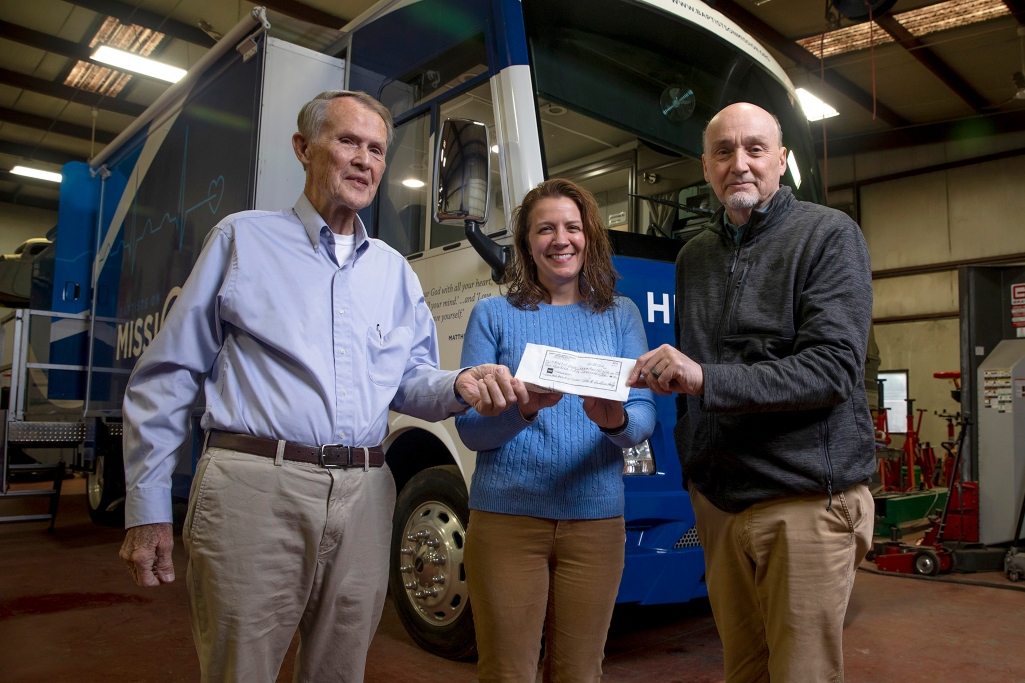 Forest Acres Baptist Church in Lumberton, North Carolina, recently donated $250,000 to N.C. Baptists on Mission that will go toward the construction of a new mobile health screening unit.
Church leaders say they made the contribution based on Baptists on Mission's longtime service to the community.
"Baptists on Mission has done so much for our community after Hurricane Matthew, we wanted to give back in a way that helps them continue helping others," said John Underwood, trustee and chairman of deacons at Forest Acres Baptist Church.
In the aftermath of Hurricane Matthew in 2016 and Hurricane Florence in 2018, staff and volunteers with Baptists on Mission have been working to rebuild homes in Lumberton, Robeson County and the surrounding region.
Work in the region is ongoing due to the massive amounts of damage inflicted by the storms. Baptists on Mission continues to operate a rebuild center in Lumberton that serves as base of operations and houses equipment, supplies and volunteers.
To date, more than 700 homes in the region have been repaired or rebuilt through those serving through Baptists on Mission's disaster relief ministry.
Disaster relief and mobile health screening are among Baptists on Mission's 19 different ministries. The organization's goal is to help churches involve their members in missions and ministry while sharing God's love with hurting people through word and deed.
Baptists on Mission currently operates two mobile dental units and one health screening unit, offering free medical care to people in need. The health units utilize medical professionals who screen for diabetes, hypertension, depression and heart disease risk. In addition to receiving referral resources for follow-up care in the community, visitors to the mobile units are provided educational materials on lifestyle modifications to improve overall health.
The donation by Forest Acres Baptist Church will help add another unit to the fleet.
"There are lots of people across our state who are underserved and don't know they have some very preventable conditions," said Richard Brunson, executive director of Baptists on Mission. "God cares about those people and their lives, and this new unit will allow us to minister to more people across our state."
The new unit is expected to be operational sometime in 2024.