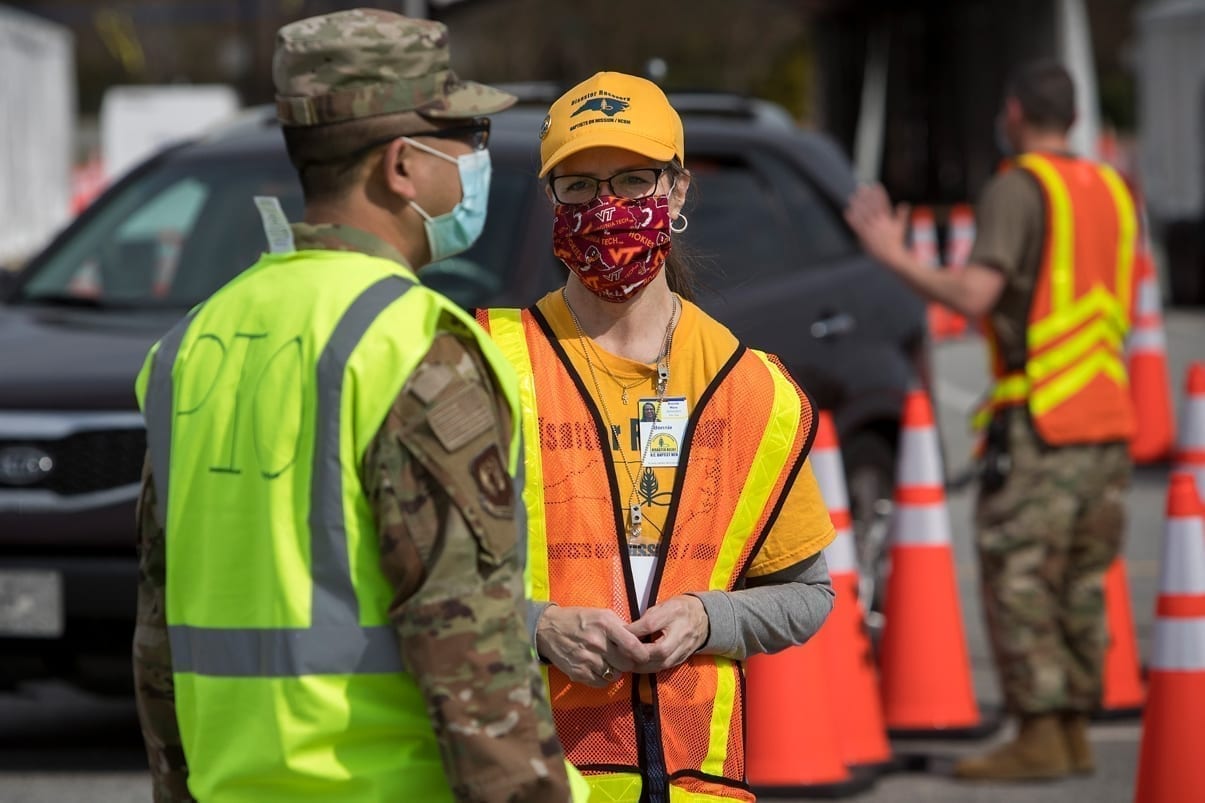 More than one year after COVID-19 reached North Carolina, the need for resources and volunteers across the state aren't going anywhere. They're evolving.
Last year, North Carolina Baptists distributed food to families financially affected by the pandemic, sent care packages to healthcare workers and opened church facilities to facilitate online learning when schools were closed.
Now, as availability for COVID-19 vaccines grows, they're shifting time and energy to helping individuals get vaccinated.
When Alamance County needed more personnel to run two vaccination clinics, North Carolina Emergency Management reached out to Baptists on Mission (BOM). The organization has a good relationship with Emergency Management because of BOM's past and existing disaster relief efforts, said Crystal Horton, health screening coordinator for BOM.
Horton put out a call for volunteers to join the work in Alamance County as vaccinators, screeners and observers. Nurses, physicians, physician assistants and nurse practitioners served alongside the county's health department staff to administer vaccines, screen patients to make sure they are cleared to receive the vaccination on their appointment day, and monitor them for 15 to 30 minutes after the shot for any immediate side effects.
Non-medical volunteers also served at a convention center vaccination event in Greenville, N.C., facilitating traffic flow and logistics on site.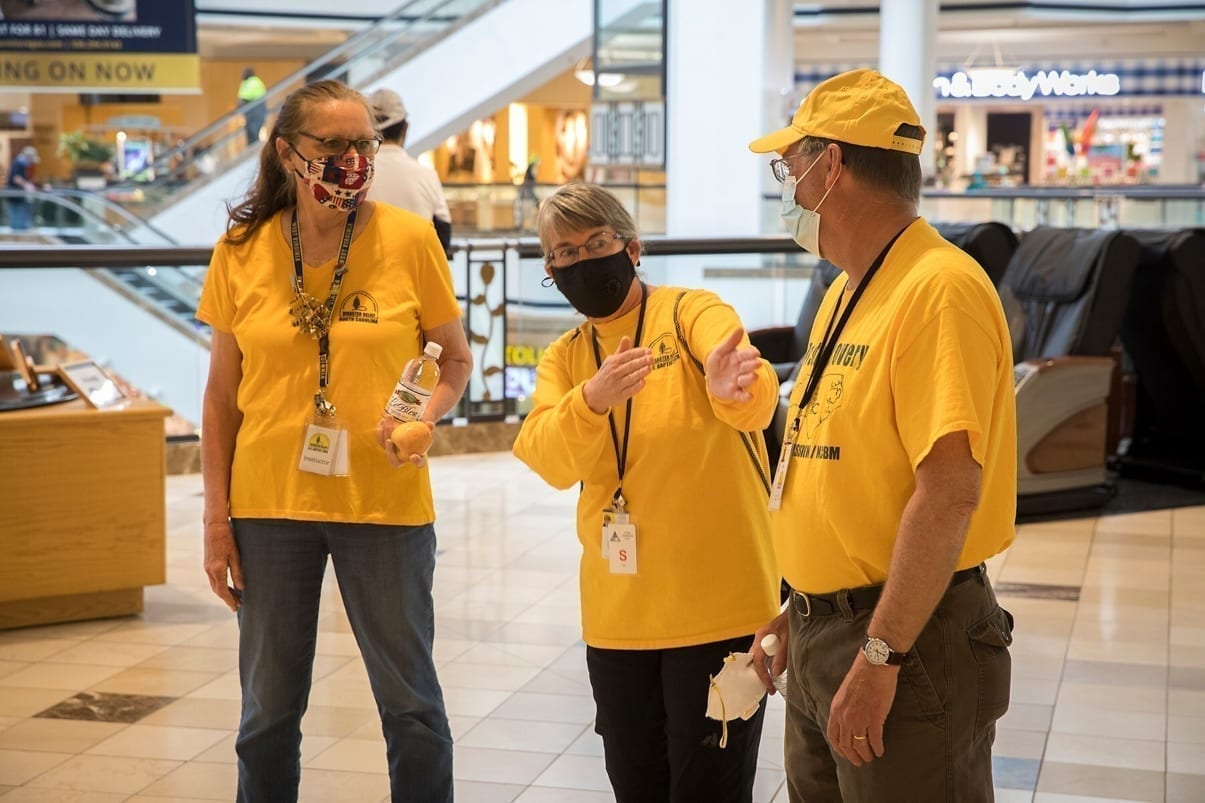 Horton said BOM will keep the volunteer database open for sign-ups, as she expects more volunteers will be needed across the state as vaccine availability increases in the coming months.
"As Emergency Management – they'll notify us if they see a need, and then as we see needs, we're trying to jump in and resolve them before it even gets to that point, hopefully," Horton said.
One such need exists among under resourced and older populations without easy or sufficient access to the internet or technology to make vaccination appointments, or to even register to be placed on a waitlist for one.
"That seems to be a huge area of frustration," Horton said. "People just don't have either the time or the ability to sit on the phone waiting for hours to get put on a waitlist."
The North Carolina Baptist Aging Ministry (NCBAM) is working to fill that need.
"The consequences of not getting a vaccine, sooner rather than later, could be dire for many of those who we're called to serve," NCBAM director Sandy Gregory said in a press release. "With the current system favoring online signups, many seniors could be among the very last in the state to get vaccinated. We're doing everything we can to help seniors get the vaccine as soon as possible."
According to the Centers for Disease Control and Prevention, the risk for severe illness with COVID-19 increases with age. Adults aged 85 or older are at highest risk for complications caused by the disease.
Last spring, when shutdowns and social distancing efforts were first initiated to curb the spread of COVID-19, Melanie Beeson, NCBAM Call Center director, created additional resources for NCBAM's Hope Line staff and volunteers to take calls from senior adults experiencing heightened isolation.

Today NCBAM call center specialists assist callers with navigating the state's myspot.nc.gov online tool for the most recent information regarding eligibility and registration. They help explain the process, often making appointments for callers without internet access or signing them up for a waitlist. Specialists also help callers locate vaccine providers and transportation to and from appointments.

Beeson told the Biblical Recorder they have received hundreds of calls from seniors, "in their words, 'desperate' for the vaccine." But with only 13 specialists staffing the call center, they are able to assist "only a fraction of those in need."

Gregory has appealed to N.C. Baptist churches for additional help. He recommends churches pair elderly members with a "vaccination buddy" to aid with making appointments and providing transportation; to reach out to the elderly who may need assistance in their communities; to contact their local health department to host a vaccination clinic; and to educate seniors about protecting themselves from vaccine-related scams, including being asked to pay for services related to the vaccine.

NCBAM will host a virtual State Leadership Conference on April 13 to explore other ways churches can minister to older adults in their communities.

A number of N.C. Baptist churches have already contacted BOM about interest in and willingness to host a vaccination clinic. Horton explained that BOM is "waiting for direction" before agreeing to use church facilities because of uncertain and limited vaccine supply.

"When the vaccine becomes more available, we've got the word out, we know some churches who would be willing to do it," Horton said.

In Boone, Mt. Vernon Baptist Church partnered with Samaritan's Purse to host a vaccination clinic in February.

For more information on vaccination distribution efforts, visit baptistsonmission.org and ncbam.org.