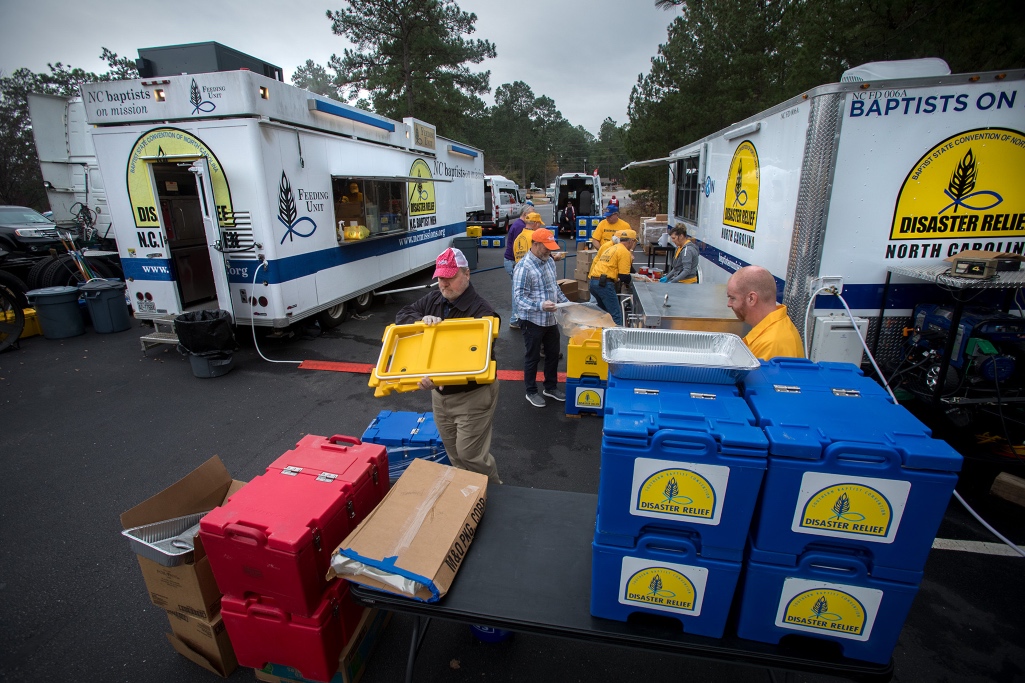 PINEHURST, N.C. – "Merry Christmas. God bless you," an area resident said Dec. 6 as she left First Baptist Church of Pinehurst days after someone attacked the Moore County public power grid and put more than 100,000 people in the dark.
"She's been here about two and a half hours working on her laptop, charging her cell phone and using our Wi-Fi," First Pinehurst Worship and Missions Pastor Russ Rowland told Baptist Press on Dec.6. The woman is among 90,000 or so who remained without power in Moore County two days after the Dec. 4 attack being investigated by local and federal authorities.
"Sunday morning we were without power," Rowland said. "We set up a couple of generators to run a sound system and had church anyway. Very positive. It was a great morning."
As many as 75 percent of First Pinehurst's membership remained without electricity Dec. 6, Rowland estimated.
"But they're making do. They're going to family's, borrowing generators to get refrigerators running." About 150 attended the Sunday worship, he said, compared to an average attendance of 300. "We had a great morning of fellowship with doughnuts and coffee and sausage biscuits. It was a fun morning."
The church, where power was restored Sunday night, is hosting one of two Baptist State Convention of North Carolina Disaster Relief stations with feeding, shower and laundry units, said Tom Beam, disaster relief coordinator with N.C. Baptists on Mission. A second relief center is operating from First Baptist Church of Aberdeen, despite the lack of electricity there.
"It's been a steady stream of people all day at both locations," Beam told the Biblical Recorder.
Beam said additional shower and laundry units will begin operating on Dec. 7 at First Baptist Church of Southern Pines.
North Carolina Baptist volunteers prepared 3,000 hot meals on Tuesday, Dec. 6, and plan to prepare 3,000 more on Wednesday, Dec. 7, for distribution at three pickup locations in cooperation with the American Red Cross, Beam said.
Most of the 30 or so churches in the Sandhills Baptist Association serving Moore County are without electricity, but many set up generators and offered free hotdogs and hamburgers after the outage, Beam said. Public schools and many businesses are closed.
"First Baptist Aberdeen has no electricity," Beam said. "We've just got some extension cords and power strips coming off of the generator that's running the shower/laundry unit, that people can charge their phones as well. Twenty-four hours ago we put all this together. It's come together quite quickly."
Churches improvised to worship Sunday.
"Those few churches in Moore County that had electricity and even those on some bordering counties, I know that they invited those congregations to come worship with them," Beam said. "And some congregations at least put the information out to their people to say, here's where we're going to worship today."
Hundreds are utilizing the services at both locations, Beam said, with many also accessing a warming station at Pinehurst.
"Right now, people seem to be in good spirits, the best they can," Beam said. "They're ready for their electricity to come back on, but they seem to be helping each other out."
Pinehurst is delivering meals to elderly members of the community who aren't able to pick up food from distribution points.
"Last night we cooked 300 or 400 hotdogs and just put it out on social media. 'We are here, our doors are open. If you need to come in and charge a phone, use our Wi-Fi, grab a hotdog, you're welcome here,'" Rowland said. "We've had a steady stream of folks last night and all day today who've come in. There are half a dozen folks in our fellowship hall right now, who are using our fellowship hall for their office and getting some work done."
The church is on the edge of a community where power has been restored. For each of the 36,000 customer addresses still without power, Duke Energy estimates two and a half residents are served.
"God was gracious to bring power back on to allow us to be able to minister to our greater community," he said. "We've had good conversations with some of our neighbors. Just lots of people coming in just looking where a quiet place where they can get a little peace."
About 73 percent of Duke Energy customers in Moore County were still without power Dec. 6, the company reported, projecting to restore power to all customers by Dec. 8.
Beam said N.C. Baptists will continue to serve in the county "as long as we're needed."
Most of the responses that Beam helps coordinate for N.C. Baptists are related to natural disasters. While the situation in Moore County is different, the reason for serving is not, Beam said.
"We do what we do because we want people to be served and hear the gospel," Beam said. "The situations may change, but the response and the message are the same."
Local authorities have described the attack on the power grid as targeted, but a motive has not been determined. Perpetrators shot equipment at two substations, heavily damaging the power grid.
"There's a frustration part of it," Rowland said. "People just do crazy, stupid things. We live in a crazy, stupid world sometimes and people make bad choices. That's just not going to change how we love people here."
Many are trying to figure out why the attack occurred.
"I think people are trying to still figure out why somebody would do something like that, or what were they thinking," Beam said. "Was it just a couple of people that wanted to stir up trouble … or is it something that could be happening on a broader scale later? There's a lot of opinions, a lot of personal feelings about it.
"We know it's just sin."
(EDITOR'S NOTE – Diana Chandler is Baptist Press' senior writer. The Biblical Recorder contributed to this report.)