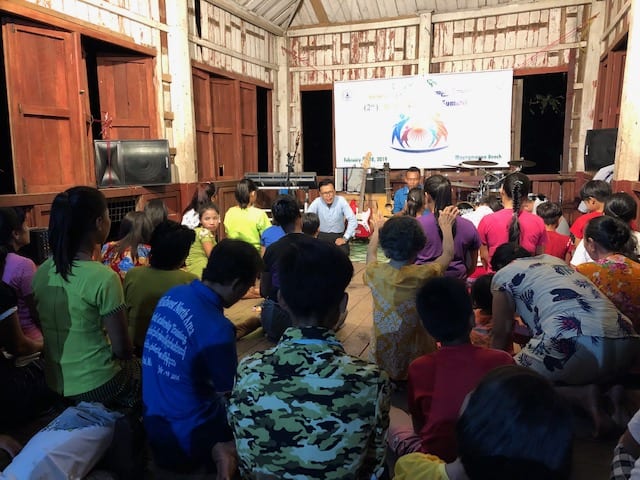 Seven years after their first visit to an unreached, predominantly Buddhist people group in Southeast Asia, members of Old Town Baptist Church in Winston-Salem, N.C., are seeing the fruit of long-term, local commitment and partnership.

Today there are more than 300 believers among a population of 900,000, where there were only 30 believers in 2011. That's when Old Town first identified the group they refer to as the "T people," for security purposes, as the one they would commit to reaching with the gospel.

The gospel is advancing in "a very dark place," Mark Harrison, Old Town's missions pastor, told the Biblical Recorder in a phone interview Nov. 20. "God has worked in a great way to bring about a tenfold increase."
Harrison recently held an early draft of the the first Bible translation in the T language.

"They've never had scripture in their language before," he said. It will be a long process to finish what is currently handwritten in a notepad, but Old Town's mission team is collaborating with an agency and national partners in the country who are working almost full-time to complete the translation.

When a team of eight Old Town members first met the T people in 2012, there was no intentional evangelism or discipleship in the area. Knowing they had little chance of engaging the population with no knowledge of the language or culture, they looked for potential partners.

"Unfortunately we didn't find anybody," Harrison said. "They [T people] were on nobody's radar."

They continued to visit the city in short-term mission trips a few times a year, advocating for the T people within local churches of other people groups and praying for them. The team met International Mission Board (IMB) personnel serving in another city in the country, who accompanied them to translate and teach them about the culture.

Over the next three years, Old Town members were introduced to a theological school in the Asian country that had a burden for the same T people. Through the relationships built and knowledge gained during Old Town's exploratory trips, Harrison and the team connected school officials to the local area.

The school, in partnership with other churches in the country, sent six national believers to live in the community and engage the T people. They have done so for the last five years and have grown to a network of 12-15 church planters and pastors and their families.

The team from Old Town continues to support the work through what Harrison calls a three-pronged approach: empowering, equipping and encouraging national partners. Old Town still sends teams on short-term trips to work with partners in teaching English language seminars and coordinating Bible classes, as well as preaching and evangelism training.

"It's hard, it wears them down. The response is steady, but it's slow," Harrison said about the local work, so the Old Town team meets with the national partners to listen and pray with them.

He said he was excited about "the unity and beauty of that – the body of Christ serving. We're diverse, we're different backgrounds, different cultures, but we're able to serve together church to church."

Old Town's mission to reach the T people has also extended to forming a partnership with another North Carolina church. Around 2014, Oak View Baptist Church in High Point, N.C., chose to partner with them to reach the same people group living in another city in the Southeast Asian region.

"We very quickly discovered the greatest need was and continues to be to assist the very few national pastors and believers in spiritual growth and encouragement," said Don Duncan, executive pastor at Oak View, in a statement to the Recorder.

"In the many years we have been sending two to four-person teams, I know of only three open professions of faith. Was it worth it? We're talking thousands of dollars here over a period of years … We must ask, 'What's one soul worth?' Yes, it's worth every penny!"

The network of U.S. and Asian churches have created a "beautiful, beautiful thing," Harrison said, crediting IMB personnel for facilitating the connections. He said their guidance, encouragement and expertise have been "invaluable." 

"There are not IMB missionaries who work among this people group, but without the presence of IMB missionaries in that country, we would never have been introduced to this network of people that we serve with."