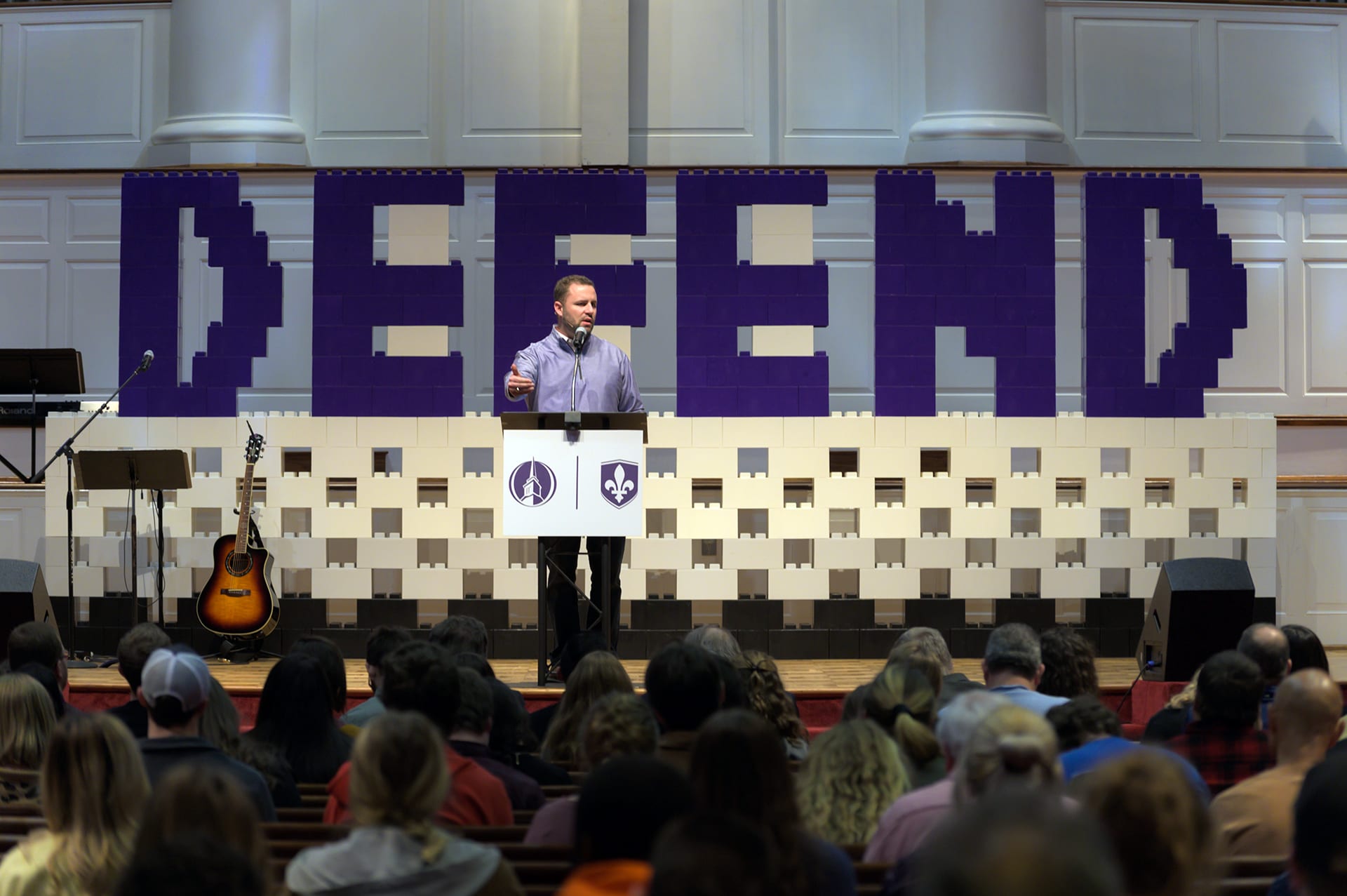 Top apologists from around the world, including John Lennox and Alister McGrath, addressed a crowd of 400 gathered at New Orleans Baptist Theological Seminary (NOBTS) for the annual Defend the Faith event Jan. 6-10.
"Because we're living in a post-Christian culture that is rapidly becoming an anti-Christian culture, anybody engaged in Christian ministry needs training in Christian apologetics," said Robert Stewart, director of the NOBTS apologetics program. "More than ever, believers must be able not only to explain their faith to a lost world but also defend the Christian worldview."
The week-long conference featured resurrection scholar Gary Habermas and noted speakers and apologists Douglas Groothuis, Tim McGrew, Craig Hazen, Lisa Fields, Frank Turek and others. More than 120 breakout sessions focused on questions asked by today's culture.
Jamie Dew, president of NOBTS and Leavell College, welcomed participants and urged them to conduct every apologetic encounter with virtue and common sense. An effective apologist must first abide in Christ as taught in John 15:5, Dew said, and approach people with love, humility and civility. Common sense guidelines in conversation include listening more than talking, discern the openness of the person to the gospel, and finding "as much common ground as possible" when engaging another worldview.
The work of an apologist takes time, Dew said.
"Apologetics is hard work," Dew said, adding that there is no "silver bullet" or statement that answers objections. "Ultimately, what people need from us is an investment, not a quick, one-off conversation."
Topics covered in the breakouts ranged from world religions, science and faith issues, engaging the college campus and philosophical topics.
Science and faith
Speaking via live video, Oxford University professor John Lennox told listeners that there is no conflict between science and faith.
Lennox, who teaches mathematics and authored Can Science Explain Everything?, explained that people reject caricatures and human inventions of God, rather than the true God, and that science and faith complement each other rather than conflict.
"True scientific understanding of the universe no more competes with God as an explanation than the law of internal combustion competes with Henry Ford as an explanation of the motor car," Lennox said.
Lennox has debated famed atheists Richard Dawkins, the late Christopher Hitchens, Victor Stenger and others in public forums. Lennox explained that the real conflict is between worldviews, rather than between faith and science noting that there are "brilliant scientists" on both sides.
Naturalism, the idea that reality is the result of only natural forces, undermines human rationality, Lennox explained, adding that if thoughts are the product of mere physical interactions then human thinking cannot be trusted to discern what is true.
"I have to reject atheism [and naturalism] because I am a scientist," Lennox said. "I have to reject atheism because I believe in truth and rationality."
The 'best evidence' for the New Testament
Gary Habermas, NOBTS visiting professor of Christian apologetics and author or editor of more than 40 books, said the New Testament creeds offer the best evidence for Christian belief.
Habermas explained that the creeds, typically brief sayings used by the early church that are embedded within the New Testament text, show what the earliest believers preached and believed about Christ between about 30 and 50 A.D., the time between the crucifixion and the first New Testament book, considered by many to be 1 Thessalonians.
The evidence and significance of the creeds is "deep, it's historical, and it's strong," Habermas said.
The creeds show that the earliest Christians saw Jesus as God the Son – a high Christology – and stressed his death, deity and resurrection. Some examples are Romans 1:3-4, Romans 4:25, Romans 10:9, and 1 Corinthians 15:3-4.
Habermas noted that even agnostic Bart Ehrman dates the creeds, such as 1 Corinthians 15: 3-4, as being no later than one to two years after the crucifixion.
"Why is this important?" Habermas asked, adding that the doctrine of Jesus as God the Son wasn't embellished hearsay, wasn't added later, and wasn't the result of the people passing on inaccuracies as in the child's game of "telephone."
"Because it's as early as you can imagine, as 'high' as you can imagine from the outset," Habermas said, adding that most importantly, "The source is, critics allow, the apostles."
(EDITOR'S NOTE – Marilyn Stewart is the assistant director of communications at New Orleans Baptist Theological Seminary and Leavell College.)