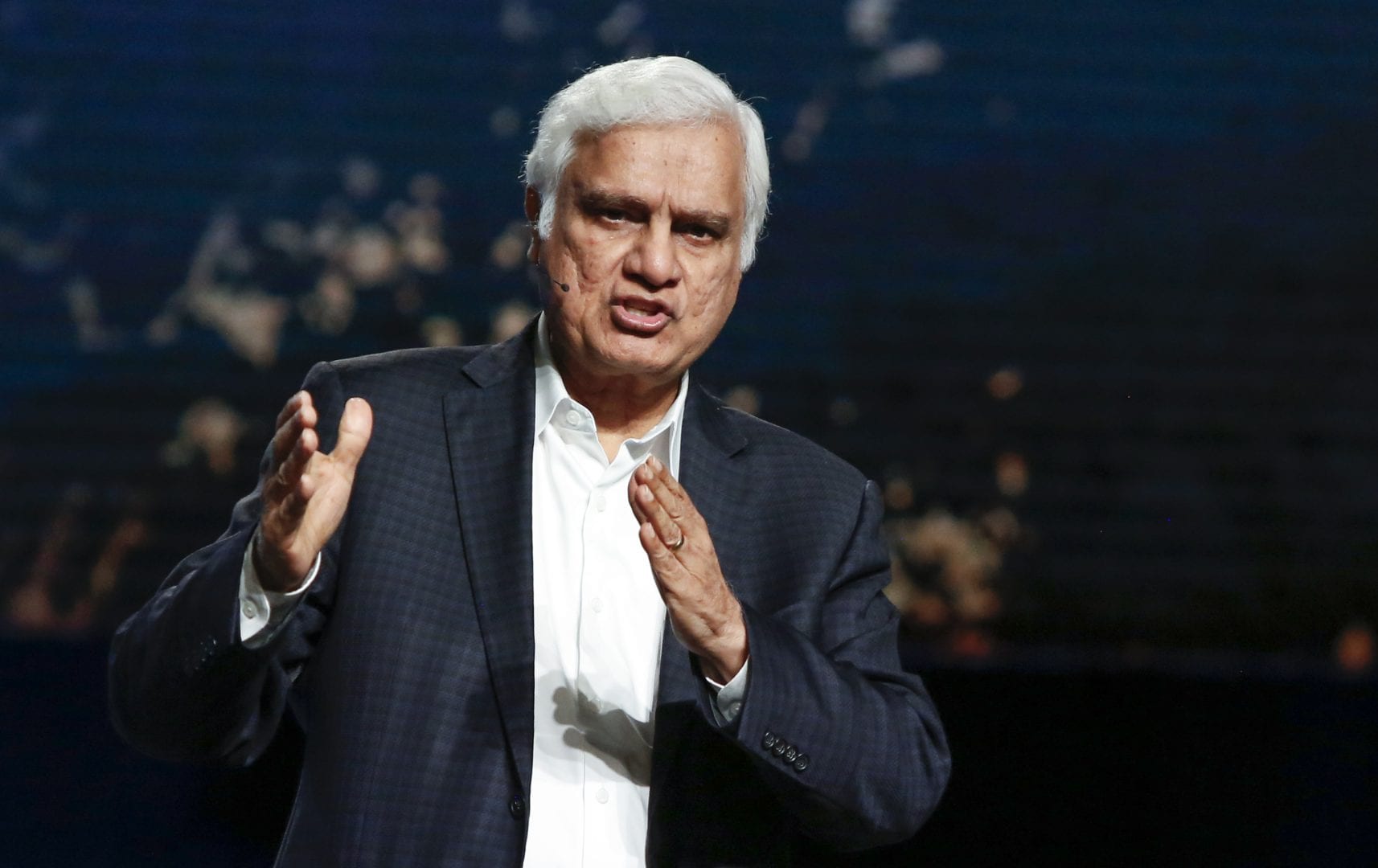 Ravi Zacharias, the renowned Christian apologist, evangelist and author, died May 19 after a brief battle with cancer. He was 74.
His death, which came days after his family announced treatment for a rare and aggressive form of cancer had been suspended, was announced by Sarah Davis, his daughter and CEO of Ravi Zacharias International Ministries, in a message posted at the ministry's website.
"It was his Savior, Jesus Christ, that my dad always wanted most to talk about. Even in his final days, until he lacked the energy and breath to speak, he turned every conversation to Jesus and what the Lord had done," Davis wrote. "He perpetually marveled that God took a 17-year-old skeptic, defeated in hopelessness and unbelief, and called him into a life of glorious hope and belief in the truth of scripture – a message he would carry across the globe for 48 years."
Through almost a half-century of worldwide ministry, Zacharias spoke into many deep questions of the Christian faith, eloquently addressing topics of evangelism, conviction, salvation, mission and theology while evincing deep passion to answer skeptics' questions. His answers to those questions – sometimes posed in combative or hostile fashion, often in public forums – typically came in a gentle tone and with a demeanor that indicated Zacharias' desire not so much to win the argument but to shepherd the questioner.
In addition to speaking all over the world, Zacharias also wrote or edited more than 30 books.
"He was a humble man of God," said Johnny Hunt, senior vice president for evangelism and leadership with the North American Mission Board (NAMB). "He had a unique way of making everyone feel special. How he did all he did in so many places around the world is a mystery to all."
To illustrate Zacharias' humility, Hunt, who was a close friend, shared a memory from before Zacharias spoke at the 2018 SBC Annual Meeting in Dallas. In a message titled "Convictions that conquered the world," Zacharias told the messengers, "An opinion is something you have. A conviction is something that has you. It holds you, it is what motivates you, it is the intelligence in your soul, and you can never change a conviction without changing who you are. It is ultimately your convictions that will drive you through life, especially in the toughest seasons of the soul."
But before Zacharias spoke, according to Hunt, "he was not sure his message would connect." Hunt said Zacharias' wife Margie encouraged Hunt to review the message.
"Are you kidding me? What a secure brother, still teachable!" Hunt said. "I will sorely miss Ravi," Hunt said. "I will never forget him and will one day soon rejoice with him."
Born and raised in India, Zacharias was saved at the age of 17, saying he was converted after attempting suicide when a Youth For Christ worker visited him and read from the Gospel of John. With a passion to share the gospel, he won the Asian Youth Preacher Award at 19, then emigrated to Canada, where he earned degrees from Ontario Bible College (now Tyndale University) and Trinity International University.
He founded Ravi Zacharias International Ministries in 1984. The ministry, based in the Atlanta suburb of Alpharetta, Ga., includes a team of dozens of speakers and teachers who minister in more than 70 countries, on college campuses, through radio and television and in various publications. Ravi Zacharias International Ministries also hosts training programs and engages in humanitarian efforts through Wellspring International.
In March, Zacharias announced that after undergoing back surgery, doctors had discovered an aggressive bone cancer called sarcoma on his spine. Last week, after his ministry announced treatment had been suspended, many posted their gratitude for his work using the hashtag #thankyouravi. After his death Tuesday, many began posting with the hashtag #NowwithJesus.
J.D. Greear, SBC president and pastor of The Summit Church in Durham, N.C., tweeted, "Grieving the loss of a spiritual and intellectual giant today. He was one of the first preachers who showed me the power of gospel-rich, spirit-filled apologetics. May God raise up 10,000 in his place. See you on the other side, Ravi."
Memorials and observations continued to pour in through social media from those in N.C. whom Zacharias had affected. "A champion of the gospel, and an apologist like none other in our time, has gone to be with the Lord," Kelly Bullard, senior pastor of Temple Baptist Church in Fayetteville, N.C., posted on Facebook. "What a life and what a testimony of 'ending well!'"
David Ethridge, minister to young adults at Mount Vernon Baptist Church in Raleigh said, "It is hard to overstate the influence of Ravi Zacharias on helping multiple generations of believers in Christ think well and biblically about their faith. Extraordinarily well-read, articulate, and razor-sharp, Ravi pushed back hard against both the emptiness of secular worldviews as well as anti-intellectualism in the church, but did so with an earnestness of spirit and charity of heart that endeared him to believers and skeptics alike.
"More than any other author he helped a young engineer learn to grapple with and articulate his belief in Christ at the intersection of faith, science, and contemporary culture."
Sandy Marks, team leader for the Baptist State Convention of North Carolina's church health and revitalization team praised him saying, "Well done Ravi. Your mind was a precious gift to the Church."
Ronnie Floyd, president and CEO of the Southern Baptist Convention Executive Committee, tweeted, "Thank God for the great man of God, @RaviZacharias. We will miss his presence on earth."
In 2017, Zacharias was accused of overstating his academic credentials. His website subsequently removed references to Zacharias as "Dr.," saying though he had been awarded 10 honorary doctoral degrees, he had not claimed to have earned a doctorate.
Later that year, Zacharias sued a Canadian woman and her husband for attempted extortion. While they claimed Zacharias had exchanged inappropriate messages with the woman, he denied the charges and said she had sent unsolicited illicit photographs. The lawsuit was settled out of court.
Zacharias is survived by Margie, his wife of 48 years; daughters Sarah and Naomi, son Nathan and several grandchildren.
In her message on the ministry's website, Davis wrote that Zacharias' family will hold a private graveside service. She said details of a public memorial service, which would be held in Atlanta and livestreamed, would be provided soon.
Davis wrote that Zacharias' gravestone will include the words from John 14:19, "Because I live, you also will live." According to Zecharias' testimony on the ministry's website, the verse was instrumental in his conversion. Davis added, "Today my beautiful father is more alive than he has ever been. We thank God for him and recommit our lives to sharing this truth with all who will hear, until he calls us to our eternal home."
(EDITOR'S NOTE  – Tess Schoonhoven is a Baptist Press staff writer.)