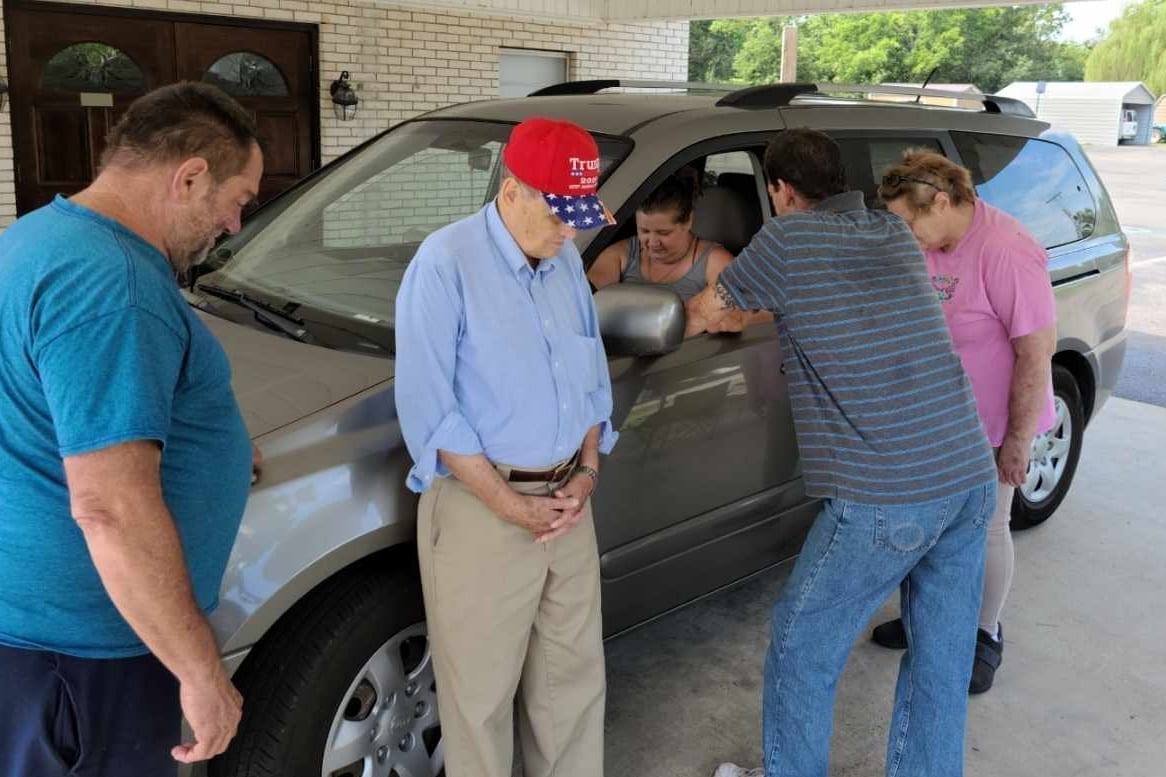 The three- or four-block walk to Colt Baptist Church seemed long to Gary and Kim Gustin in the dark and fog of New Year's Day 2017. For two months, they'd been too broke to buy the methamphetamine and alcohol they craved.
They had no food, no running water and no electricity in the rundown, decaying trailer they called home.
"We stunk, our clothes were tattered, and (we were) just completely lost," Gary said.
Murl Horton, now 89, greeted them at the door, offered them a seat and introduced them to Pastor James "Clint" Haynes, who led them to Jesus after the service. The church of about 50 worshipers took the couple food and water and began a discipleship that led to the couple's marriage six weeks later and their baptism on Valentine's Day that same year.
Gary and Kim founded a street-side drive-through prayer ministry months before COVID-19 struck America, and moved the ministry online as the lines of cars dwindled in the midst of the pandemic.
The couple describe an instantaneous delivery from decades of drug and alcohol addiction and its trappings, including theft, lies, several jail stints, alienation from family and friends, and running from a lifestyle they loathed but couldn't shake.
"What if God won't forgive us for everything that we've done?" Kim tearfully recalled her feelings that night. "And understand, this is a community where we have been using drugs, this is the community where we have been out running around, and everybody knows everyone. This is a town of 380 people."
The two grew up in alcoholic households and began drinking before their teen years. Gary began on methamphetamines at 16; Kim began using drugs in her 30s. They found each other in Arizona and made their way to Arkansas.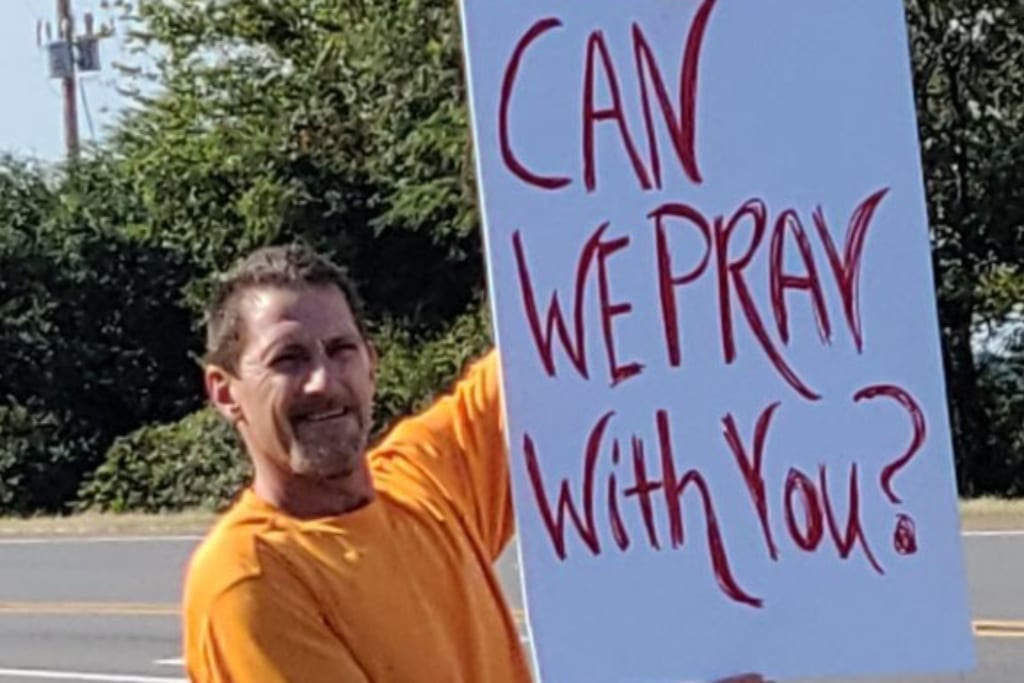 "We got saved and that was over four years ago, and we've never felt anything like that in our lives before," she said.
"Our testimony is not our testimony," Gary said. "It is God's testimony through us. The things that He has done for us since we've been saved has been nothing short of a miracle. He instantly took the desire to use, took it away. … I have no desire whatsoever to use again. And He's used us in some phenomenal ways."
"Never picked up again ever," Kim added.
Haynes admits he was skeptical when the couple accepted Jesus, simply because of the epidemic of drug abuse in the Arkansas Delta. About 450 people died of drug overdoses statewide in Arkansas in 2018, according to the National Institute on Drug Abuse.
"I've had a lot of people come to the church, on drugs, wanting something," Haynes said. "You shouldn't, but you get jaded. … You have somebody come in, and all of us are like waiting for the other shoe to drop." But the Gustins, who entered the church on a holiday when Haynes considered not even having services, were different.
"Most people I talk to, I need to convince them that they need a savior," Haynes said. "And Gary was the first person to ever look me in the eye and mean it and say, 'Jesus can't forgive me. You don't know what I've done. God don't want me.'"
The talk seemed to last for hours.
"Jesus does love you. He died for you. He wants you," Haynes told the couple. "And right there he gave his heart to Jesus."
Kim said she was rededicating her life to Christ that night, but Haynes said "it became clear" she also had been saved that night.
"Come to find out the house they lived in, man when it rained it rained more in the house than it did outside," Haynes said. "And the next morning even, I got a text from them. 'Look, I'm embarrassed to ask, but we don't have any food. Can you help us out with some food?
"I took them food and some of the church members helped them out, all the time some of us (were) just waiting for them to leave and go their own way. And they never did. I don't think they've missed a church service since that night … unless they're sick."
Gary and Kim had been collecting water in a 5-gallon jug from a hydrant outside a business down the road to flush the toilet, launder clothes and wash dishes, they said. They had been siphoning electrical power from their next door neighbors who were in the process of moving.
At one time, Gary was down to 98 pounds, and Kim feared she would lose her hand to an infection that festered after she missed a vein trying to inject meth. She told others it was just a spider bite.
Gary and Kim married Feb. 6, 2017, and Colt Baptist gave them a surprise wedding reception in the fellowship hall. The two now rent a small home, have a car, are recovering from the physical side effects of drug abuse, are reclaiming family relationships and earning money doing home maintenance. A life Kim said had been "disgusting" is now characterized by a deliverance the couple say is miraculous. Gary's weight has nearly doubled to 180 pounds.
"The evidence of His goodness in our life every day blows me away," Kim said. "I can't help but smile. I can't help but just be lit up, when I look at my husband. Although we've been together almost 10 years, we had a shattered relationship."
At times, she would tell him he needed to switch sides of the bed with her because he had evidently "woke up on the wrong side of the bed."
As the U.S. recovers from the COVID-19 pandemic, the couple plans to resume their prayer ministry. Gary volunteers in disaster relief, has begun volunteering in a prison ministry, and is learning to play worship music on the guitar. In addition to the prayer ministry, Kim enjoys ministering at nursing homes and is practicing singing with Gary as he plays the guitar.
Horton remains their friend, with the two helping to care for him as he ages. Welcoming Gary and Kim to the church was second nature for Horton.
"I've always loved people," Horton said. "If I see a stranger or something, it's my desire with God to try to help those people. And when they came in the church, that's the first time I ever met them. … I told them if they're not right with God, that they'd better get right with God because there's only two places you're gonna go when you pass away, either heaven or hell. But I mean I was just real nice to them about it, OK."
To Gary and Kim, Horton and the church welcomed them with open arms and just loved them.
"Man, I never had a feeling like that," Gary said, especially "and thinking, 'What if we can't be accepted?'"
(EDITOR'S NOTE – Diana Chandler is Baptist Press' senior writer.)