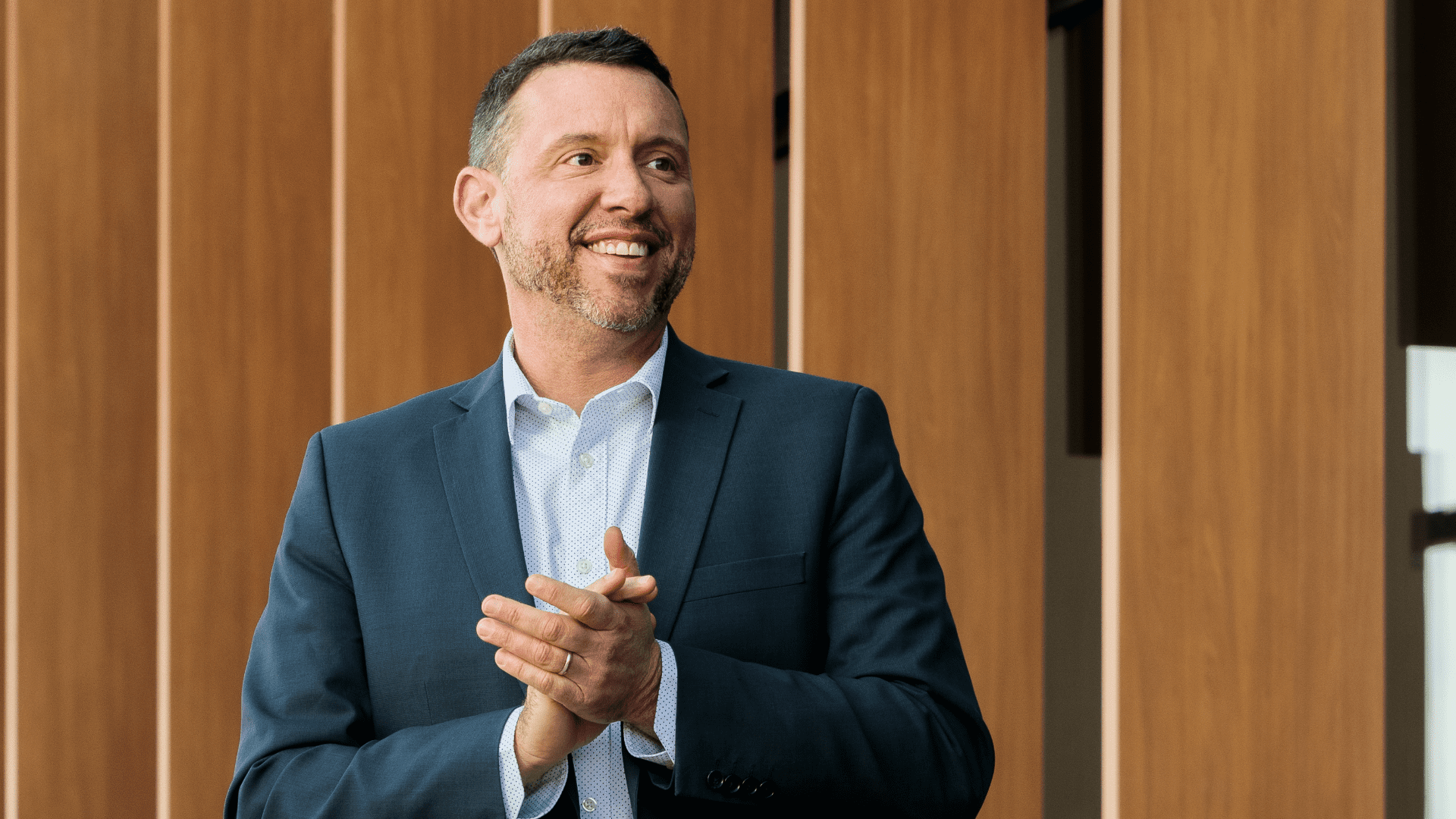 Leaders from across North Carolina and beyond, including four former state convention presidents and one former board president, are expressing support for Todd Unzicker as the next executive director-treasurer of the Baptist State Convention of North Carolina (BSC).
The convention's board of directors is scheduled to consider him as the nominee on Friday, April 16, based on the unanimous recommendation of a search committee. State convention bylaws require the executive director-treasurer to be elected at an annual meeting or special called meeting of the convention, based on a nomination from the board.
Greg Mathis, pastor at Mud Creek Baptist Church in Hendersonville and BSC president in 1996-97, attended an event on April 8 where Unzicker shared his vision for N.C. Baptists if he's elected. Mathis told the Biblical Recorder he supported Unzicker's commitment to the Baptist Faith and Message (2000) and his emphasis on missions, evangelism and disaster relief.
"Todd could represent a new face, a younger set of eyes on who we are as North Carolina Baptists, and where we're headed," said Mathis. "I have confidence in the members of the search committee. The search committee has done its due process."
Stan Welch, pastor at West Asheville Baptist Church, commented on Unzicker's background and experience, which Unzicker discussed at the April 8 event. Welch served as BSC president in 2006-07 and is a former member of the Southern Baptist Convention's Executive Committee.
"Having served as an international missionary and associational missions strategist – where 90% were rural churches – gives him a unique perspective on leading N.C. Baptists at home and abroad," Welch said. "I would welcome his leadership."
Ed Yount, pastor emeritus at Woodlawn Baptist Church in Conover and BSC president in 2010-11, expressed support for Unzicker and gratitude for the search committee, describing them as "individuals of the highest caliber and utmost integrity."
"[Unzicker's] clarity, love for Christ, passion, strategic thinking and sense of urgency to assist and resource the churches of our convention provided me with great hope and optimism for the future of North Carolina Baptists," Yount told the Recorder, "It is my utmost prayer that we will follow the faithful work of our search committee, undergirding Todd as our new executive leader with our prayers, love and support."
Steve Scoggins, pastor at First Baptist Church in Hendersonville and immediate past president of the state convention, said he "enthusiastically" endorsed Unzicker in a statement provided to the search committee.
"I encouraged [the search committee] to seek a visionary leader," Scoggins said. "I believe we are entering times that require new and innovative strategies to help us accomplish our mission in our state. The search committee has put forward a tested, visionary leader in Todd Unzicker."
Marc Francis, pastor at Ridgecrest Baptist Church in Durham and president of the BSC board of directors in 2017-18, said, "I am honored to endorse my friend and fellow minister, Todd Unzicker, to become the next executive director-treasurer of the Baptist State Convention of North Carolina. … Having worked towards the revitalization of our Yates Baptist Association alongside Todd, I have come to know his heart for Jesus and for cooperative ministry. My belief is that Todd will be a great fit in leading our convention forward for the glory of our Lord."
Additional Southern Baptist ministry leaders made comments as well.
"I think Todd Unzicker is a great choice to lead North Carolina Baptists. As a former ministry partner, I saw firsthand his heart for missions, his creative approach to partnerships with local ministries that impact people in need and his commitment to pro-life initiatives in the public square. I am happy to support him as the next executive director-treasurer for the state convention."

Amber Lehman
Former National Director of Strategic Partnerships, Human Coalition
"I was asked by Marty Childers to serve on a committee in the Yates Baptist Association (YBA) to look into the future of the association, examining every aspect of our ministry together. Todd also served on this committee. During these meetings, I saw the heart Todd had for the church on every level. We discussed issues facing large congregations like The Summit and issues facing small churches like my own. Todd shared his experience as an associational missionary in the past to bring to the discussion many helpful thoughts about the future of YBA and how that would come from the health of all churches. This relationship led me to have discussions with Todd about things that might be helpful for my church. These discussions were quite enlightening and helpful. Todd preached at Bells Baptist Church in early March while I was on vacation. He did a wonderful job communicating to my small church and has remained committed to helping me in the future to see Bells Baptist become all it can be in the kingdom of God. Todd is a man of God and a leader. I look forward to working with him in the future."

Michael Owings, Pastor
Bells Baptist Church, Apex, N.C.
"Todd Unzicker is widely known as a humble shepherd, who is centered on the gospel and passionate on Jesus' mission. I love (and share!) his heart for the local church, church planting, orphan care, healthy ministry partnerships and theological training. I believe he will lead North Carolina Baptists well as we seek to do gospel ministry in our state and beyond."

Tony Merida, Pastor for Preaching and Vision
Imago Dei Church, Raleigh, N.C.
"I am very encouraged by the recommendation of Todd Unzicker as the next executive director-treasurer of the Baptist State Convention of North Carolina. Over the years, Todd has demonstrated a steadfast passion for Jesus and for people. He leads with authenticity and integrity, and with purpose and vision. I'm hopeful for what the next season of ministry will be under Todd's leadership."

Tammy Priest, member and former staff
Calvary Baptist Church, Winston-Salem, N.C.
"I could not be more thrilled and excited both for North Carolina Baptists and for Todd Unzicker as he is prayerfully considered as the next EDT for the North Carolina Baptist convention. I have known Todd for more than 15 years. Everything I know about Todd, from his family life to his spiritual life and his denominational life, is top shelf. He has a deep love for the state convention and the Southern Baptist Convention. He is one of the most mission minded men I have ever met. His passion for Southern Baptists and for seeing the world reached for Christ is unparalleled. He has a vision that I think perfectly fits with one of the finest state conventions we have. This is a great choice of the search committee, that I believe is literally going to be a marriage made in heaven."

James Merritt, Pastor
Cross Pointe Church, Duluth, Ga.
Find more information at ncbaptist.org/edtsearch.