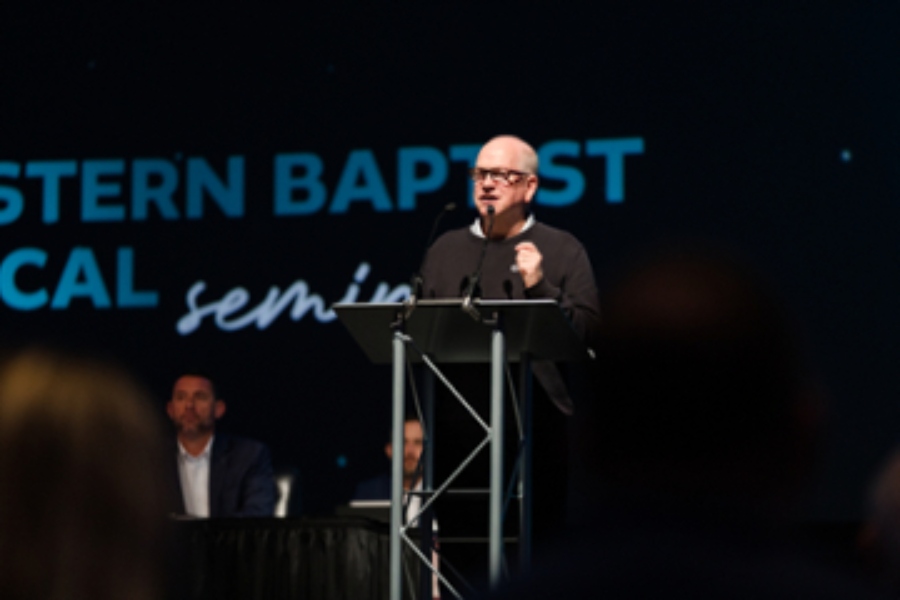 On Nov. 6-8, over 1,600 attendees gathered in Greensboro, N.C., for the pastors' conference and annual meeting of the Baptist State Convention of North Carolina (BSC). Celebrating partnerships with N.C. Baptist churches, Southeastern Baptist Theological Seminary (SEBTS) connected with alumni and other attendees through various events throughout the meeting.
"We are grateful to partner with the Baptist State Convention of North Carolina as we labor together to serve the Church and fulfill the Great Commission," said Danny Akin, president of SEBTS. "Each year as we gather with fellow North Carolina Baptists, we get to celebrate God's faithfulness, encourage one another in our ministries, and deepen our Great Commission partnerships."
Calling North Carolina pastors to steward faithfully their ministries in local churches, this year's pastors' conference was based on Acts 20:26 with the theme, "To Shepherd the Church of God." Steven Wade, professor of pastoral theology at SEBTS and pastor of Faith Baptist Church, opened the conference with a message from 1 Peter 5:1-5 with an exhortation for elders in the local church. Clarifying the elder's task to shepherd the flock of God, Wade expounded Peter's charge to exercise willing, eager, and exemplary oversight, remembering that those who remain faithful will receive the unfading crown of glory.
Sponsoring this year's pastors' conference, Southeastern is committed to equipping pastors to rightly handle the word of God and lead congregations toward increasing faithfulness to the Great Commission. "It is our absolute delight to partner with the North Carolina Baptist pastors' conference, and it is a joy to see pastors come together around the word of God to be encouraged by the preaching of the word," Jonathan Six, vice president of institutional advancement at SEBTS, shared with conference attendees.
"Central to our mission as an institution is training pastors who are going into the ministry, which is why we are committed to training men for the work of the ministry in local churches," said Six. "We believe that theological education is best done in a reciprocal partnership with the local church. We want to both receive students from your local church to be trained and send them back to you to continue the training process."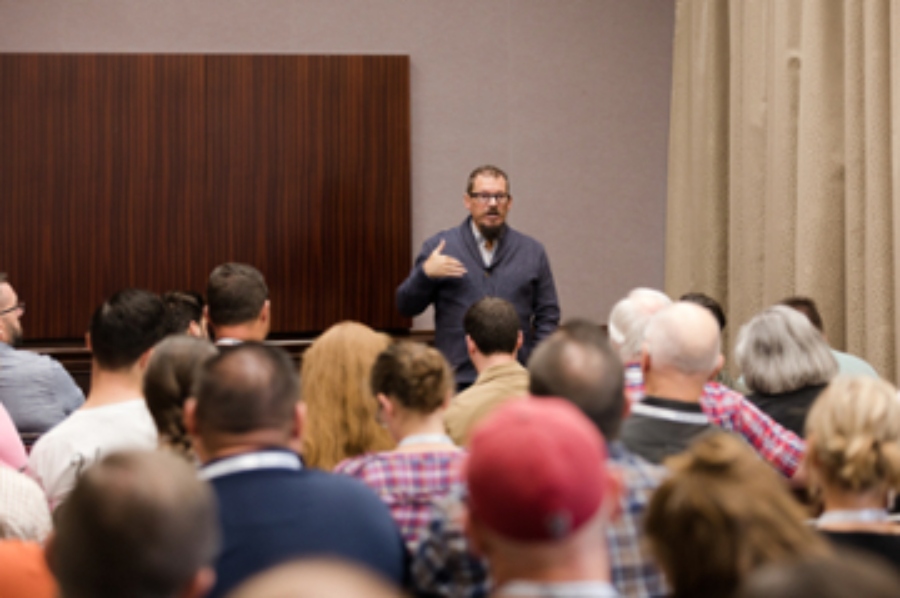 On Monday's pastors' network panel, Southeastern visiting professors J. D. Greear, pastor of The Summit Church, and Matt Carter, vice president of mobilization for the North American Mission Board, joined Mark Dever, pastor of Capitol Hill Baptist Church, and Juan Sanchez, pastor of High Pointe Baptist Church, to discuss strategies for church multiplication in the context of the local church. "One sign of health in a church is not the size of the building but rather the number of people sent out," said Greear. "We should celebrate our sending capacity more than our seating capacity."
During the 9Marks at 9 panel on Monday night, Danny Akin joined Dave Russell, SEBTS alum and pastor of Oakhurst Baptist Church, and Nate Akin, SEBTS alum and executive director of the Pillar Network, as well as Phil Newton, adjunct professor at SEBTS and director of pastoral care and mentoring for the Pillar Network, to discuss the practice of appointing elders in Baptist churches. Danny Akin noted that a distinctively Baptist practice of eldership must be congregational in nature under the authority of the elders. Akin also emphasized the importance of allowing the qualifications for elders in Titus 1 and 1 Timothy 3 to determine the number of elders appointed in a congregation. The desire for elder plurality does not excuse churches from submitting to the biblical qualifications for elders in the local church.
At the SEBTS alumni and friends luncheon on Tuesday, Akin charged attendees to hold fast to the Great Commission. Addressing the critical importance of prioritizing missions and discipleship, Akin challenged attendees to choose what is best and most important over many competing good causes and priorities. "The Great Commission is mentioned in some form in all four Gospels and in the book of Acts," said Akin. "If Jesus says something once, it should be enough, but if he says something to us five times — as he has done with the Great Commission — you have to believe that it is very important to the heart of our God. Our priority at Southeastern is training men and women to be Great Commission Christians wherever it is that God sends them to do whatever it is that God calls them to do."
Throughout the day on Tuesday, SEBTS professors led several breakout sessions including Brad Hambrick's Understanding the Traumatic Effects of Abuse: Pastoral Implications, Tate Cockrell's Redeeming Sexuality: Caring for Those with Sexuality Struggles, and Scott Pace's The College Question: How Do I Choose a College? With a heart to serve the convention, Southeastern's faculty is grateful for these opportunities to invest in NC Baptist pastors and church leaders.
During Tuesday's afternoon session of the annual meeting, Akin shared about Southeastern's Great Commission heartbeat and vision for theological education. "Southeastern is your Great Commission seminary," Akin reminded attendees. "Last words are meant to be lasting words, and of all things that the Lord Jesus could have said before he ascended into heaven, He commanded us to go and make disciples of all nations. … I believe that all of God's children — no matter where He calls or sends them — should have the heart of Jesus: that is, a heart for the Great Commission."
"I think the annual convention meeting is the greatest example of being on mission together," said Chris Allen, assistant director of Church & Convention Relations. "While all churches, associations, and state conventions are autonomous, we come together for the unity of faith, hope, and love in the gospel. It is the lens of why the cooperative program works so well. United we stand, or divided we fall. Every church and member has a voice."
(EDITOR'S NOTE – Chad Burchett is a writer for the SEBTS office of communications.)