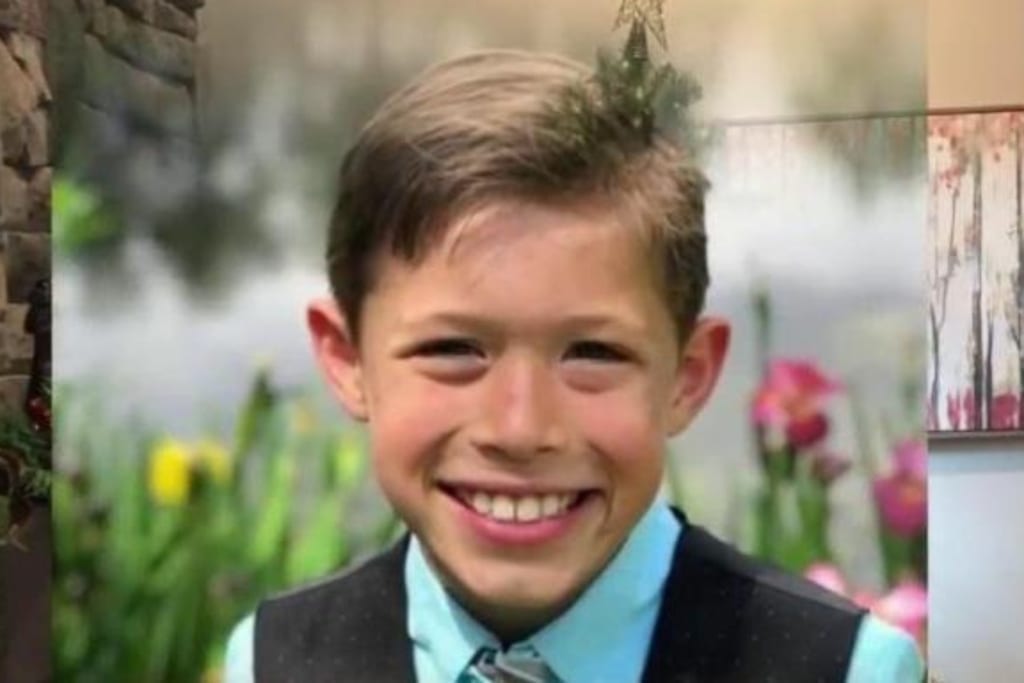 Mailboxes lining the streets in the Heritage subdivision are adorned with orange and blue ribbons in remembrance of an 11-year-old boy who drowned in a creek that runs through the neighborhood in Rolesville, N.C.
On Nov. 12, more than six inches of rain turned the typically calm and shallow waters into rolling whitecaps.
Ty Williams' parents said their son went to go look at the rough waters and slipped on rocks as he tried to cross the creek.
"He was doing what young boys do when you hear and you see something that is fascinating," said Travis Williams, Ty's father. "He went out to explore and then got consumed with the rushing water that he heard up the hill."
Travis Williams worked side-by-side with firefighters for about an hour until his son's body was found in the water. Travis is an elder at North Wake Church and staff member at Southeastern Baptist Theological Seminary (SEBTS) in Wake Forest, N.C.
"It just crushed me," said Liz Williams, Ty's mother. "I didn't know you could cry like that. I didn't know that level of pain existed."
Travis and Liz Williams said they're thankful for the community's strong support and they're clinging to their faith in Jesus Christ as they navigate through the loss of their first-born child.
"The Southeastern family continues to grieve with the Williams family, but we do not grieve as those who have no hope," SEBTS president Danny Akin told the Biblical Recorder. "We are thankful that two Decembers ago Ty gave his heart to Jesus to trust in him for his salvation. To live is Christ and to die is gain. Ty is in the presence of Jesus."
Ty was an adventurous, goofy and kind child who went to great lengths to make people smile. His parents say he never met a stranger and always made sure his friends felt included.
"We watched Ty grow and mold … he was becoming a very just, kind, empathetic, gathering young man," said Travis Williams.
More recently, Ty followed in his parents footsteps in developing a strong love for the Lord.
His favorite scripture was John 3:16 – "For God so loved the world, as to give his only Son, that whoever believes in him should not perish but have eternal life."
"Most nights when we would pray with him, I'd say, 'what do you want to pray for, Ty?' He couldn't hardly find anything specific – whether it was the hungry or the hurting, he wants to help all the people. He doesn't just want to help some. He wants to help all of them," said Liz Williams.
While Ty's time on earth may be over, Travis and Liz Williams find comfort in his new life just beginning.
"He always wanted to know what it was going to be like in heaven," Liz Williams said. "Whether there was going to be superpowers or not. He wanted to know what happened and what it looked like."
With Ty now looking over them all, including his three younger siblings, Zac, Zoe and Cali, the Williams family said they're focused on living a life of purpose and serving others until they can all meet again.
"We're not home yet. Ty is. But that doesn't mean quit," said Travis Williams. "This life isn't about how fast we get home. It's about how well we journey towards home."
Travis and Liz Williams say they are appreciative to the first responders who risked their lives to help locate Ty in the water.
The community is raising funds to build a new playground in Ty's honor at North Wake Church. Those who would like to contribute can click here. When donating, select 'Gifts in Honor of Ty Williams' under Fund.
Checks made payable to North Wake Church should denote 'Gifts In Honor of Ty Williams' in the memo line. Checks can be mailed to the church at 1212 S. Main Street, Wake Forest, NC 27587.
(EDITOR'S NOTE – This article originally appeared at WRAL.com. Reprinted with permission.)