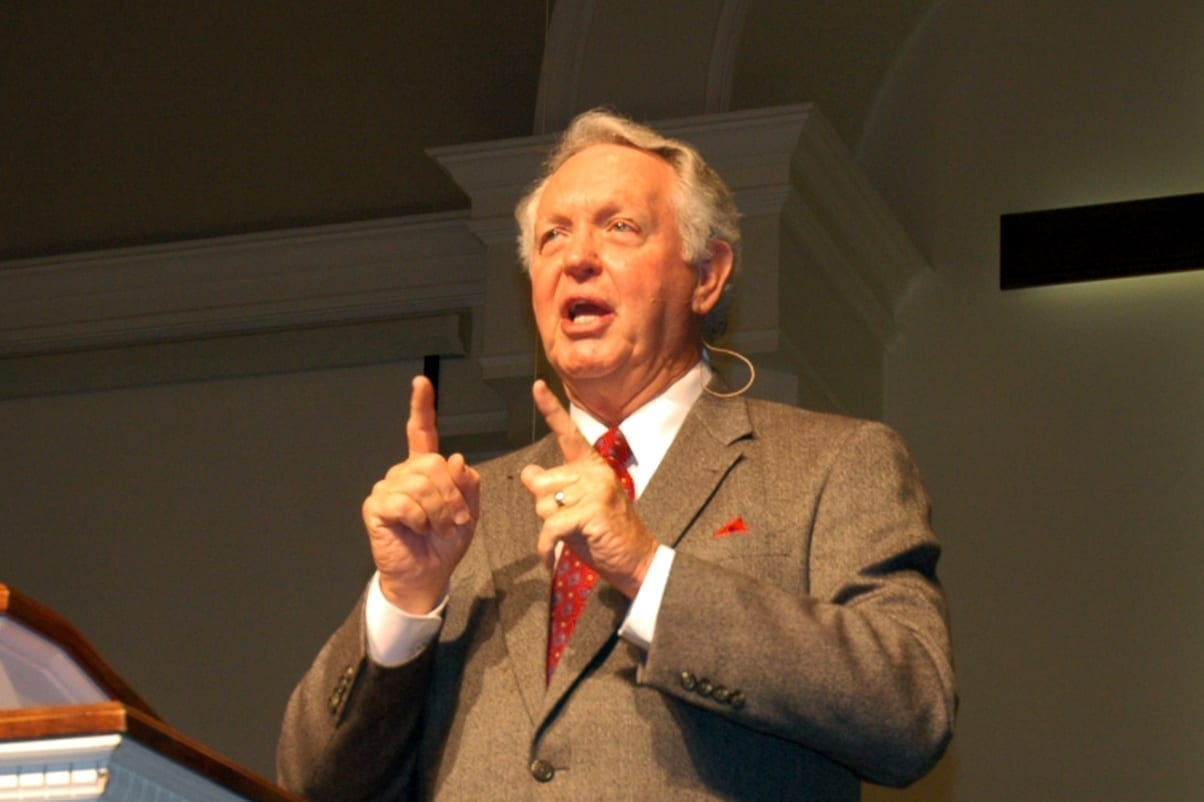 Longtime pastor, mentor and Southern Baptist Convention (SBC) leader Fred Wolfe died Jan. 3 due to complications caused by COVID-19. He was 83.
At 70 years old in 2007, Wolfe heard God's call for him to do something new. So he planted a church.
Wolfe's ministry up to that time had included serving as pastor in North Carolina, Texas, Georgia, South Carolina and Alabama. In addition, his influence in the reemergence of conservative leadership in the SBC had been felt in several roles he held, including chairman of the SBC Executive Committee (EC), trustee of the Home Mission Board (now North American Mission Board) and president of the SBC Pastors' Conference, at which he preached four times. In 1994 he narrowly finished second to Orlando pastor Jim Henry for SBC president.
Fittingly, numerous Southern Baptists testified to Wolfe's reputation earned over five decades of ministry as a "pastor's pastor."
"I was privileged to know Fred Wolfe from childhood as a family friend and as my pastor, and to benefit from his support and encouragement throughout my ministry," said Jason Allen, president of Midwestern Baptist Theological Seminary.
"To some, he was 'Dr. Wolfe.' But to me, and all who knew him personally, he was simply 'Brother Fred.' His ministry was marked by a firm commitment to the inerrancy of scripture, the necessity of the new birth, the lordship of Jesus Christ and living the Spirit-filled life. He was passionate about revival and pursued God's anointing throughout his ministry."
Allen came to faith in Christ as a freshman in college under Wolfe's preaching. "For me, Brother Fred fulfilled the Romans 10 mandate, and for that I'm eternally grateful," he said.
SBC EC President and CEO Ronnie Floyd called Wolfe a "great man of God with a deep commitment to the Lord," adding: "At the same time, he was such a winsome personality who truly loved all people, always willing to laugh with others and enjoy life with everyone. He was a dear friend and brother in Christ."
Southwestern Baptist Theological Seminary (SWBTS) President Adam Greenway commented about the SWBTS alumnus.
"Sad to learn of the passing of Fred Wolfe," he wrote. "He was active in … denominational life and impacted many lives by his witness and work. Our thoughts and prayers are with his family and loved ones tonight."
Former SBC President Steve Gaines was pastor at West Jackson (Tenn.) Baptist Church 30 years ago when he met Wolfe, who was preaching at nearby First Baptist Milan, where Gaines had been a youth pastor.
"We hit it off and became good friends," Gaines, pastor of the Memphis-area Bellevue Baptist Church, said. "Fred was the one who recommended me to Gardendale (Ala.) First Baptist Church. When I arrived there, we experienced revival, and I ended up staying 14 years."
Wolfe would preach for Gaines at West Jackson, Gardendale and Bellevue.
"I texted him the week before last and talked to him on the phone," Gaines said. "I just loved him. He was one of the kindest people you could meet and a lot of fun to be around. When I went to the SBC [annual meeting], I'd hang around with him and Jerry Vines first because they always had so much fun."
Vines, another former SBC president, joined others posting their thoughts on social media on Wolfe's passing.
"Fred Wolfe, one of my dearest friends, slipped away to glory just a while ago. Sad for us. Glad for him," he said on Twitter Sunday evening.
"Sad news from Mobile tonight," tweeted R. Albert Mohler, president of Southern Baptist Theological Seminary. "Fred was a friend and a deeply committed Southern Baptist. Praying for his family."
Jerry Sutton, longtime pastor of Two Rivers Baptist in Nashville, called Wolfe "one of the greatest Christian men I ever knew."
"He was my father in the ministry and my mentor," Sutton said on Twitter. "May he rejoice in the presence of the Lord! Our hearts are broken. Jesus is Lord!"
Half of Wolfe's ministry occurred during his 25 years as pastor of Cottage Hill Baptist Church in Mobile. During that time the church added 13,000 members, with 5,000 of them coming by profession of faith and baptism. After beginning and leading the Atlanta-based Barnabas ministry to pastors for 10 years, Wolfe said he felt God calling him back to the Mobile area in 2007.
Later that year Wolfe started a church for "scattered sheep." That led to planting Luke 4:18 Fellowship, where he would serve as senior pastor until January 2020. At that point the congregation's longtime student pastor, David Bullock, became senior pastor while Wolfe transitioned to founding pastor.
Despite those changes in titles, Luke 4:18 Fellowship's founding pastor insisted on referring to Bullock as "his pastor."
"He truly was one of the humblest men I knew," Bullock said. "He sought the Lord with all his heart and always gave me biblical council."
The founding principle of Luke 4:18 Fellowship – to find the "scattered sheep" – exemplified Wolfe's dedication to the gospel, he added.
"It speaks to the heart of Brother Fred. He truly cared about people."
Funeral arrangements had not been finalized as of Jan. 5.
(EDITOR'S NOTE – Scott Barkley is national correspondent for Baptist Press.)