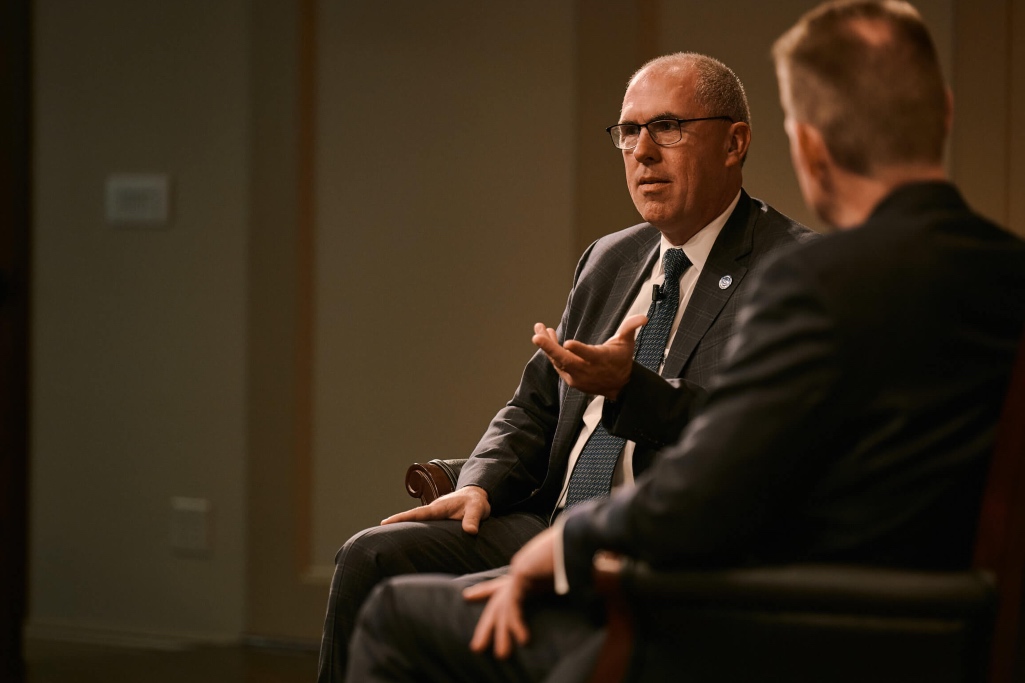 The role of women in pastoral ministry was front and center in discussions on the campuses of at least two SBC seminaries last week.
Jason Allen, president of the Midwestern Baptist Theological Seminary, released a podcast with SBC President Bart Barber Nov. 6 in which the two discuss both theological and practical applications regarding the role of men and women in pastoral ministry.
In the final regular chapel service of the fall semester at Southern Baptist Theological Seminary, a group of key leaders participated in a panel on the topic led by seminary President Albert Mohler. Panelists included Dustin Bruce, Denny Burk and Jeremy Pierre.
Barber says churches dealing with relatively new staffing issue
In Fort Worth, a personal conversation between Allen and Barber turned into a conversation that Allen believed needed to be recorded.
Barber believes that while most Southern Baptist churches are clear on the role of senior pastor being reserved for men, modern churches are dealing with an issue that would not have been understood by most Southern Baptist churches in 1965.
"The idea of what terminology to use with regard to your second pastor would be similar to trying to figure out where you were going to park your second Lamborghini. Churches didn't have more than one member on staff," he said.
Barber reflected on how in his local church they would never have imagined having a full-time staff member to lead in the areas of worship or student ministry.
"We had a song leader when I was a kid, not a worship pastor," he said. "We had youth volunteers, not a student pastor. And so, this idea that a church has a staff that consists of different people with age-graded or talent-based responsibilities is something that's really taken off since kind of the mid-1970s."
Barber and Allen agreed the issue of women in pastoral ministry is a watershed one for Southern Baptist churches because it deals with the biblical authority given to pastors in the local church.
Allen said churches are wrestling through the issue on a local level with what he called a Baptist Faith and Message that is "more descriptive" for churches.
"And the truth of the matter is, look, the Baptist Faith and Message is prescriptive for the entities, and I'll die on that hill, but, it is really more descriptive for our churches. It is. And that's just the truth of the matter," Allen said.
Mohler: New Testament "isn't compatible with the modern ideal of egalitarian opportunism"
In a wide-ranging panel discussion on the state of the SBC, SBTS leaders talked about the relationship of the convention and the local church and Conservative Resurgence before discussing the issue of women in pastoral roles.
Mohler, who started as a student at SBTS in 1980, said the issue was just becoming a hot topic on the campus in those days, "… but it really took on an enormous amount of energy that women should be pastors of churches, that the church had misread scripture for 20 centuries. And that this was the inevitable wave of the future in the society, and thus the church was going to have to be reconciled to it."
Years later, Mohler served on the committee that forged the Baptist Faith and Message 2000.
He said he would have "preferred the New Hampshire Confession language about elders and overseers or bishops" when it came to the office of pastor.
But, Mohler said, Adrian Rogers was very persuasive in the committee. Mohler recalled, "… [Rogers] just came out and said, 'Look, the word pastor is the one word every Southern Baptist understands,' until you get to Saddleback."
Mohler was referencing recent events at Saddleback Church in Southern California, which is by most accounts the largest Southern Baptist church. Last year, Saddleback ordained three women and gave them the title of "pastor." Then, earlier this year, Saddleback founding pastor Rick Warren announced that upon his retirement, he would be replaced by Andy and Stacie Wood – a couple, rather than just one man. Stacie Wood has begun preaching during Saddleback's Sunday services.
Pierre pointed to the use of the word pastor in church positions that would not be equated with those that have the broad responsibilities of elders or overseers.
"I think it's because sometimes in our pragmatic way of seeing things, we can sort of use language in two ways, and that's an unwise way of doing it, right?
"So, we can take a biblical term and then we can use it as an institutional title, and we think we're doing something other than that," he said. "So, I can call someone a pastor in terms of a demarcation of a position without calling them a pastor in terms of what the Bible's talking about. But that's all kind of confusing. It's not good shepherding of the people. It's not a clear message, and it doesn't end up serving folks well."
Mohler added that the use of the word and title can lead to confusion in the local church and across an entire denomination.
Pointing to the recent appointment of an openly married gay bishop in the United Methodist Church as an example, he said, "The New Testament definition of the church and the ministry just isn't compatible with the modern ideal of egalitarian opportunism."
(EDITOR'S NOTE – Brandon Porter serves as Associate Vice President for Convention News at the SBC Executive Committee)