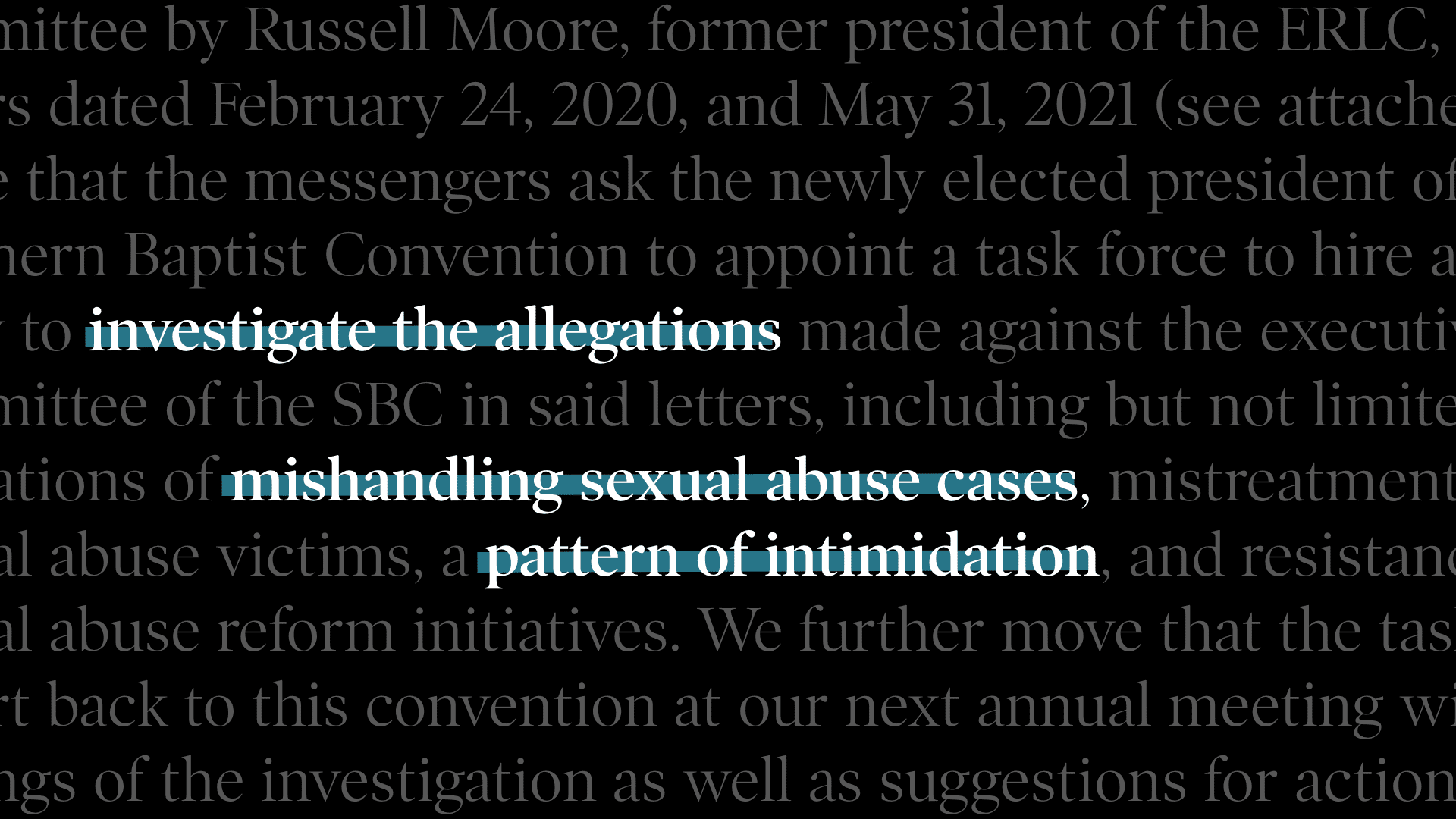 A task force created to oversee an independent investigation into the Southern Baptist Convention's (SBC) Executive Committee released a statement today (Aug. 6) indicating it has asked the committee to waive attorney-client privilege during the inquiry.
SBC messengers initiated the investigation during this year's annual meeting following allegations that Executive Committee members defamed sex abuse survivors, bullied advocates and resisted reform efforts.
The task force said there are also questions about the actions of the SBC Credentials Committee, which was formed in 2019 to consider whether local churches are in "friendly cooperation" with the SBC when claims arise that a church has mishandled sex abuse allegations, engaged in racial discrimination or other behaviors that are inconsistent with the convention's faith and practice.
The seven-member group, appointed by SBC president Ed Litton at the direction of messengers, said it is in the process of selecting a third-party agency to conduct the investigation. Bruce Frank, pastor of Biltmore Church in Asheville, N.C., is leading the task force.
Today's press release was the first public update offered by the group. The statement said more updates will be released at sataskforce.net as the inquiry progresses
"Transparency is critical to this process which the Southern Baptist Convention 2021 set in motion last June in Nashville," Litton told the Biblical Recorder. "Chairman Bruce Frank is doing an outstanding job to make sure this is an independent, thorough and effective investigation. I want to remind all Southern Baptists to pray for the work of the task force and the independent investigation firm they will soon choose."
The task force described waiver of attorney-client privilege on behalf of the SBC Executive Committee, along with "all witnesses and relevant individuals," excluding sex abuse survivors, as "critical to ensure full access to relevant information, complete accountability and transparency, and properly assess steps for reform."
The SBC Executive Committee is scheduled to meet next month, where members will have an opportunity to consider the task force's request.
"It is of utmost importance, therefore, that a fair, honest assessment of our actions and policies be conducted, and that it is undertaken with a heart ready to hear, receive, and repent where errors are found, never minimizing the wrong or the suffering it has created, but grieving over it," the statement said.
The task force said it will ensure that each of the following lines of inquiry receives thorough investigation:
Allegations of abuse by Executive Committee members,
Mishandling of abuse allegations by Executive Committee members between January 1, 2000 to June 14, 2021,
Allegations of mistreatment of sexual abuse victims by Executive Committee members from January 1, 2000 to June 14, 2021,
Patterns of intimidation of sexual abuse victims or advocates from January 1, 2000 to June 14, 2021,
Resistance to sexual abuse reform initiatives from January 1, 2000 to June 14, 2021,
An audit of the procedures and actions of the Credentials Committee as related to sexual abuse.
SBC Executive Committee chairman Rolland Slade was not available for comment.
Allegations against the Executive Committee drew national attention earlier this summer as two personal letters written by Russell Moore, former president of the SBC Ethics & Religious Liberty Commission (ERLC), were leaked to the public by unnamed sources. Moore's letters outlined what he described as patterns of intimidation and resistance on the part of SBC Executive Committee members and staff as sex abuse survivors and advocates pushed for reforms.
Former ERLC executive vice president Phillip Bethancourt released a self-styled whistleblower report that included audio recordings with comments by SBC Executive Committee president Ronnie Floyd and then-chairman Mike Stone. Bethancourt said he believed the recordings corroborated Moore's accusations of "intimidation" and "stonewalling."
North Carolina Baptist leaders joined calls for an investigation into the SBC Executive Committee prior to the annual meeting in June. Charlotte-area pastor Ronnie Parrott co-authored a motion with Tennessee pastor Grant Gaines that led to the formation of the sex abuse task force.
"As a Convention, we preach the beauty of God's grace and the hope it brings not only to those who have suffered, but to those who have done wrong," the task force said in a statement. "If we believe the truths we preach, therefore, we should be the first to pursue repentance and model the very grace we teach every week in our churches. We must also recognize that true repentance requires accurately identifying and uncovering any wrongs done. Bringing light and truth forward, therefore, should never be feared by any in our Convention, but rather should be pursued out of love for God and love for others."
Task force members are listed below:
Bruce Frank (chair), pastor at Biltmore Church in Asheville, N.C.
R. Marshall Blalock (vice chair), pastor at First Baptist Church in Charleston, S.C.
John Damon, chief executive officer at Canopy Children's Solutions
Liz Evan, J.D.
Heather Evans, director at Evans Counseling Services
Andrew Hébert, lead pastor at Paramount Baptist Church in Amarillo, Texas
Bucas Sterling III, pastor at Kettering Baptist Church in Upper Marlboro, Md.
Rachael Denhollander (advisor), J.D.
Chris Moles (advisor), M.A.B.C