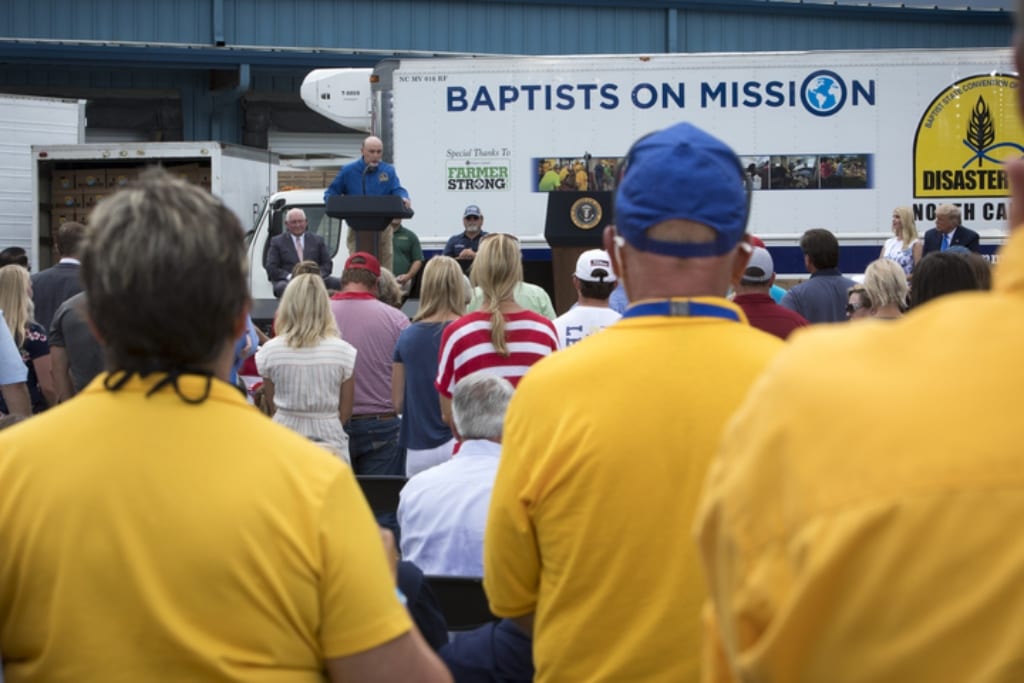 With a Baptists on Mission truck as a backdrop, President Donald Trump highlighted the United States Department of Agriculture (USDA) Farmers to Families Food Box program Aug. 24.
Trump, along with his daughter, Ivanka, and Secretary of Agriculture Sonny Perdue, toured the FLAVOR 1st Growers & Packers facility in Mills River, N.C.
"Today we're here to celebrate the incredible work of the farmers and faith leaders and amazing volunteers who are caring for their community through our highly successful Farmers to Families Food Box program," Trump said to a crowd gathered on the facility's property.
The president announced an additional $1 billion for the program, which has distributed more than one million pounds of food in North Carolina since it began.
"Through this program, the Department of Agriculture is purchasing food from farmers, then local distributors pack and deliver the boxes," Trump said. "And families in need get it, and they get to eat very well. We're tremendously grateful for the 185 employees here at this facility who have packed roughly 7,000 boxes a week."
Trump thanked Baptists on Mission (BOM) for its 200 pickup locations "across your great state."
Richard Brunson, BOM executive director-treasurer, thanked all the many volunteers who have been coordinating and handling boxes at 200 N.C. sites.
"God is a good God, and God is always working for good," he said, referring to Romans 8:28. "And God calls us to work for good in the lives of hurting people."
COVID-19 caused many families to struggle "to meet basic needs, including putting food on the table," he said.
"Being involved in the Farmers to Families Food Box program has given me a much greater appreciation for our farmers and what they do to feed us all. They're some of our most essential workers."
The boxes are helping so many people: "those that are shut-ins; those that are economically challenged; those who've lost a job; those who are suffering in so many different ways; a waitress who had lost her job; grandparents raising their grandchildren who are able to feed their family because of this program," Brunson said.
"For many, it's not just a box of food. It's not just a box of produce. It's a box of hope and love."
In a statement to the Biblical Recorder, Brunson expressed appreciation for the president as well as Perdue for making the program possible.
"We have tremendous elected officials in our state and country on both sides who care deeply about hurting people and work with us to serve hurting people after a disaster," he said.
"We must treat all people and all elected officials with respect, honor and kindness."
Brunson said the organization has "always welcomed and been thankful for all elected officials who have visited our disaster relief sites. We have had tremendous support from elected leaders in our state and country, and we should never take this for granted."
Ivanka Trump, senior adviser to her father, called the Farmers to Families program "truly a win-win-win program. Incorporating American farmers and ranchers, empowering our workforce, and serving families in need is – is about as good as it gets."
She mentioned her visit after Hurricane Florence where she met volunteers serving through BOM. She "got to see firsthand the unbelievable work being done to take care of people in a time of need, which is not dissimilar to what this program was designed and intends to do and has been doing."
BOM serves in many different capacities including disaster relief, medical/dental, agriculture, church renewal, missions, compassion ministries and more. Visit baptistsonmission.org.