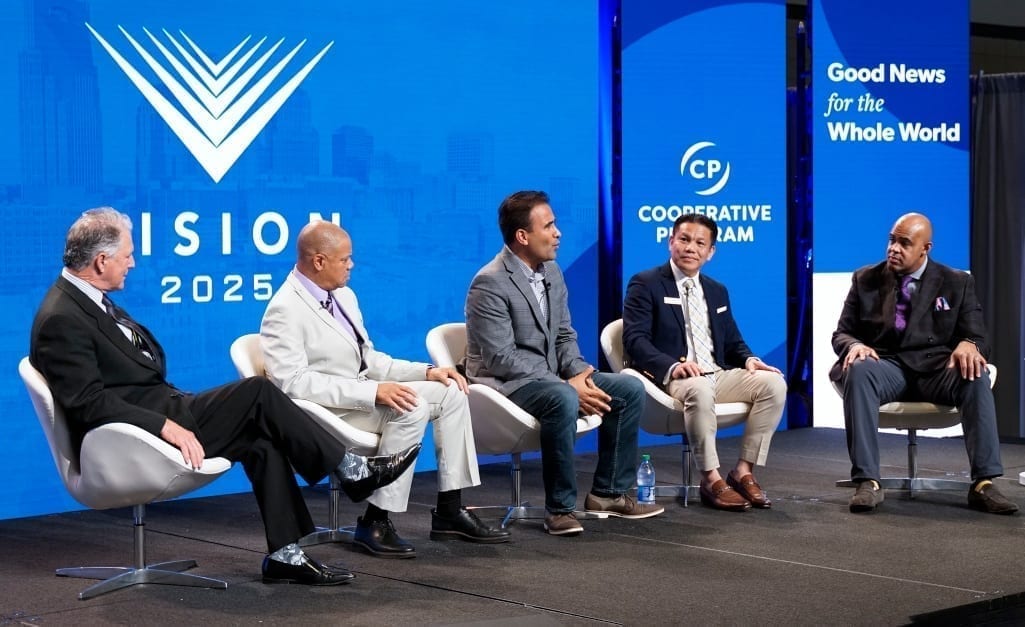 Southern Baptist Convention (SBC) Executive Committee (EC) staff members discussed the topic of "Diversity in the SBC" on the Vision 2025 stage June 16 during the 2021 SBC annual meeting.
Willie McLaurin, vice president for Great Commission relations and mobilization for the EC, moderated the panel titled "When all God's Children Get Together: Diversity in the SBC," which discussed the importance of growing diversity in the convention as well as provided updates on particular Southern Baptist ethnic groups.
Each of the Asian, Hispanic and African ethnic groups also had their own separate panel discussions on the Vision Stage in the meeting's exhibit hall. Summaries of those discussions can be found here, followed by video recordings of each panel.
McLaurin began by stating the executive directors on the panel have a "laser sharp focus" on the 22.3% of Southern Baptist churches that are ethnically and racially diverse.
Peter Yanes, EC executive director for Asian American relations and mobilization, said there are a variety of nationalities represented among Asian Americans and all of them are committed to working together with all Southern Baptists to fulfill the Great Commission.
"We're so excited [EC President and CEO] Ronnie Floyd is highlighting diversity and encouraging churches to partner together," Yanes said. "We have 27 Asian nationalities represented in the Southern Baptist Convention. It's time for all churches across our convention to partner with us and reach all nations for Jesus Christ."
Julio Arriola, EC executive director for Hispanic relations and mobilization, said the greatest need in ministry to Hispanics is church planting as the population of Hispanics in America is more than 60 million.
Arriola said he is encouraged by several developments, including the discipleship of young Hispanic pastors and the beginning of degree programs fully in Spanish at SBC seminaries.
There have been several exciting updates recently among African American churches, according to EC executive director of African American relations and mobilization Charles Grant.
Updates include strengthening partnerships between African American churches and SBC entities, and the addition of George Liele day to the SBC calendar. Liele is known as the first Black Baptist missionary from the U.S.
Ashley Clayton, who serves as the EC's executive director for church affiliation, praised the growing diversity in the SBC and encouraged every church to play a part in ethnic ministries by supporting the Cooperative Program and Vision 2025.
"What every church can do is invest in the Great Commission, and one of the best ways to do that is invest in the ministries of the Southern Baptist Convention through the Cooperative Program," Clayton said.
"Vision 2025 challenges churches to prayerfully consider donating more to see if we can advance the Gospel and reach the world for Jesus Christ. The Cooperative Program effectively and efficiently puts the church right at the center of what God is doing across the world. The Cooperative Program is sort of like throwing a blanket across all SBC missions. It's what we do as Southern Baptists."