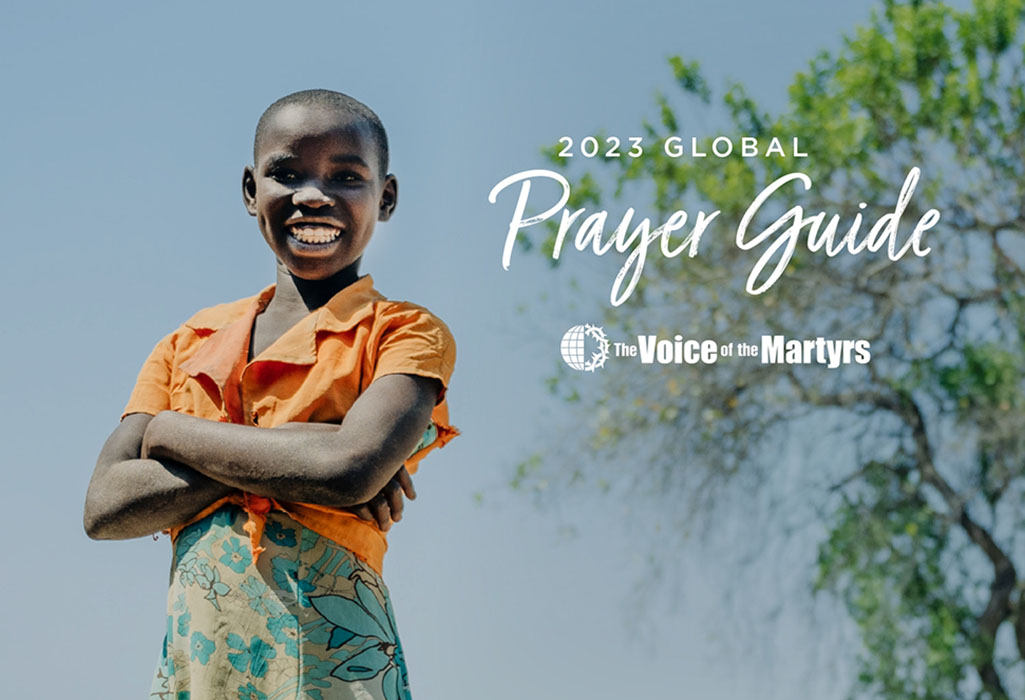 BARTLESVILLE, Okla. – The Voice of the Martyrs (VOM) 2023 Prayer Guide expands by four its list of "hostile" nations where Christians are regularly persecuted for their faith despite governmental efforts to protect them.
The African nations of Benin, the Democratic Republic of the Congo (DRC), Mozambique and Niger join 19 additional nations globally where Christians are routinely persecuted by family, community members and/or extremist groups, VOM said in releasing its guide designed to mobilize prayer for persecuted Christians.
"The ongoing spread of radical Islam on the African continent is increasing the daily danger for our Christian brothers and sisters there," VOM spokesperson Todd Nettleton said in announcing the release of the prayer guide. "The first thing that persecuted Christians ask Christians in free nations to do for them is to pray.
"With this newly updated VOM Global Prayer Guide, every Christian can be equipped to pray with a real understanding of the needs and specific ways to pray."
In addition to the 23 nations classified as hostile, VOM's prayer guide classifies 41 nations as "restricted," where Christians face governmental as well as societal persecution.
The prayer guide, a free resource available here, provides in-depth information about the plight of persecuted Christians in designated countries, thereby equipping Christians to pray for specific and pertinent concerns.
"Every Christian should have a copy of the VOM Global Prayer Guide in their prayer closet or beside their Bible" Nettleton said, "where they will be reminded to pray for these brothers and sisters throughout 2023."
VOM expanded its list of hostile nations to mobilize prayer for Christians in nations where radical Islam is driving increased persecution.
In Benin, which VOM said is considered the birthplace of voodoo, Christianity is seen in the north as a threat to traditional beliefs. The west African country of about 13 million people is about 30 percent Christian, 8 percent of whom are evangelical, VOM said.
In the DRC, Islamic groups "severely persecute" Christians, "raiding villages, destroying churches and brutally killing hundreds of believers," VOM said in its press release.
Mozambique, an eastern African nation of 31 million, is suffering an Islamic insurgency that began in 2019 and "continues to create chaos and instability in the northern province of Cabo Del Gado," VOM said.
The west African nation of Niger, a majority Muslim country of about 26 million, suffers a growing number of attacks from radical Islamists in bordering countries such as Mali, Burkina Faso and Nigeria, VOM said.
In addition to the four countries new to the list of hostile nations, the guide designates as hostile Burkino Faso, Cameroon, the Central African Republic, Colombia, Djibouti, Ethiopia, India, Indonesia, Israel including the West Bank and Gaza, Kenya, Lebanon, Mali, Nepal, Nigeria, Philippines, Mexico (Southern), Sri Lanka, Tanzania and Uganda.
In its annual prayer guide since 1997, VOM has included hostile and restricted nations as populations for whom Christians should pray.
Restricted nations are Afghanistan, Algeria, Azerbaijan, Bahrain, Bangladesh, Bhutan, Brunei, China, Comoros, Cuba, Egypt, Eritrea, Iran, Iraq, Jordan, Kazakhstan, Kuwait, Kyrgyzstan, Laos, Libya, Malaysia, Maldives, Mauritania, Morocco, Myanmar (Burma), North Korea, Oman, Pakistan, Qatar, Saudi Arabia, Somalia, Sudan, Syria, Tajikistan, Tunisia, Turkey, Turkmenistan, United Arab Emirates, Uzbekistan, Vietnam and Yemen.
Among VOM additional prayer resources are the new VOM app providing daily prayer prompts, and the web site icommittopray.com, providing a weekly email of prayer requests and allowing Christians to post specific prayers online. Founded in 1967 by the late Richard and Sabina Wurmbrand, VOM is a nonprofit, interdenominational missions organization serving persecuted Christians in the world's most difficult and dangerous places to follow Christ.
(EDITOR'S NOTE – Diana Chandler is Baptist Press' senior writer.)