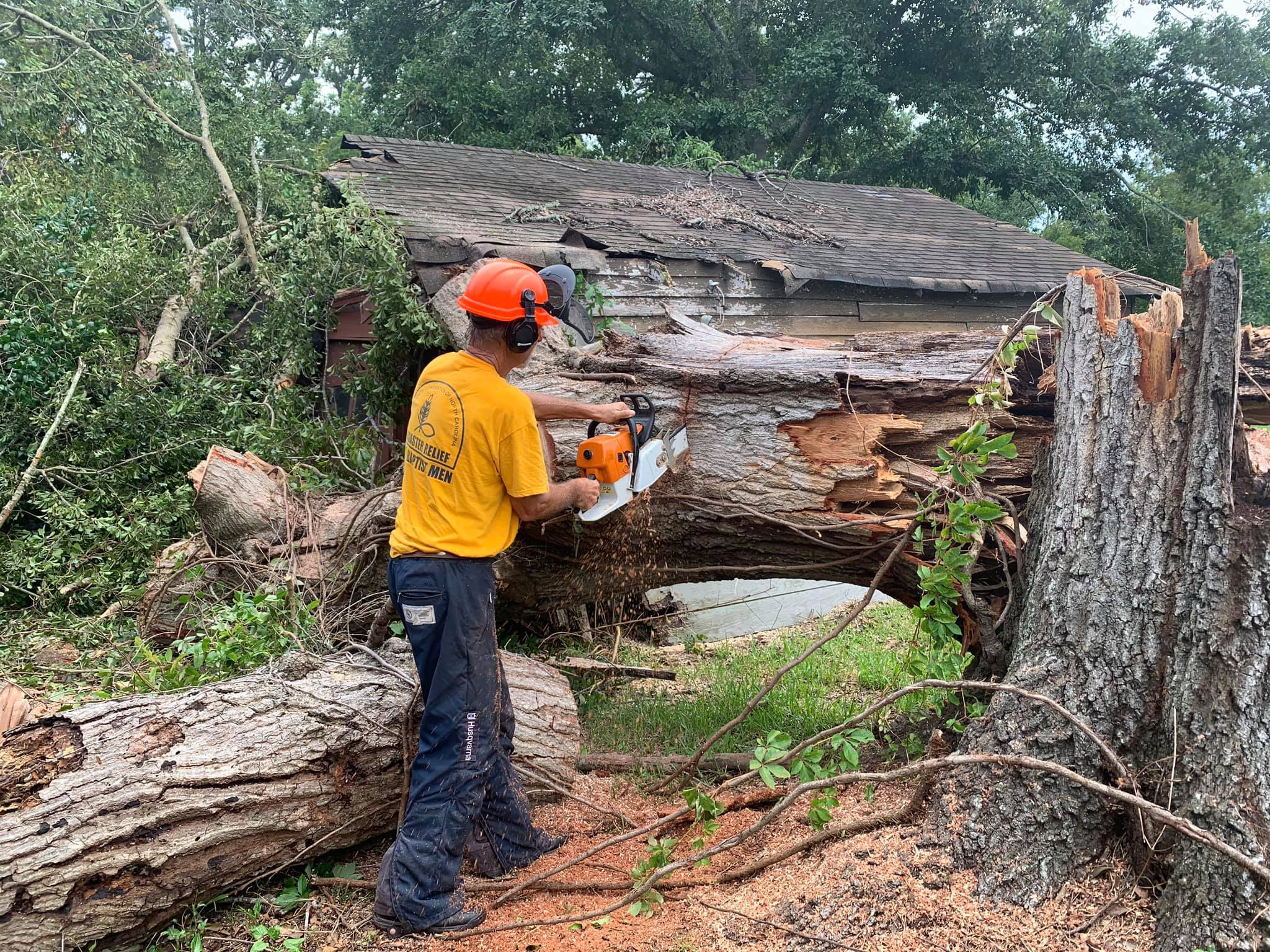 Baptists on Mission (BOM) disaster relief volunteers continue to serve affected communities across North Carolina amid the novel coronavirus (COVID-19) pandemic.
"We have multiple areas of work going on," said Tom Beam, Baptists on Mission disaster relief coordinator, in an email to the Biblical Recorder.
Hurricane Isaias created an EF-3 tornado Aug. 4 that weather officials said was about six football fields wide. The tornado killed two people and injured dozens when it went through an area near Windsor, N.C.
"Volunteers have been cutting trees, tarping roofs and doing yard cleanup," Beam said.
Baptists on Mission volunteers are serving in Bertie County based out of Cashie Baptist Church in Windsor. A feeding operation is open at Memorial Baptist Church in Williamston. Food is prepared at Memorial and distributed at Cedar Landing Missionary Baptist Church in Windsor. Beam said Windsor is in the "heart of the damage."
Through local churches and the Wilmington Rebuild Center, Beam said work orders relating to the recent hurricane are being handled for three counties – Brunswick, New Hanover and Pender.
As of Aug. 10, more than 1,500 meals had been prepared and distributed by about 50 volunteers. Beam expects at least 5,000 meals will be served in Bertie County.
Add to that total, more than 50 recovery volunteers have served with 15 assessors and 10 chaplains.
"Our largest challenge is finding enough volunteers that can commute to volunteer," Beam said. "We are limited in overnight facilities because of the pandemic. We are making it work, and great ministry is taking place."
Beam said assessors are also in Alleghany County as a result of the Aug. 9 earthquake on the state's border with Virginia. The quake, which registered as a 5.1 magnitude, was reported near Sparta, N.C. Officials said there were several smaller earthquakes prior to the largest one reported at 8:07 a.m.
Produce boxes
BOM secured an extension on the first response of Farmers to Family produce boxes and are currently in week five of eight of the second term.
Richard Brunson, executive director-treasurer of BOM, said the organization, which currently operates 23 distribution sites, has applied to continue with the United States Department of Agriculture (USDA) program.
"We are so thankful to have received a USDA grant to provide food boxes to families across our state," said Brunson. "Through this grant we are providing 12,000 Farmers to Family Produce boxes each week to families affected by Covid-19. That's approximately 200,000 pounds of fresh produce and fruit that is being distributed each week."
BOM used its disaster relief network to organize volunteers across the state to distribute the food.
"Churches are ministering to thousands of people in their communities through this effort, and they are doing this in Jesus' name," Brunson said.
In the three months the food box program has been going, Brunson said 3 million pounds of food has been distributed.
COVID-19 response
Since Feb. 21, Brunson said the BOM staff "have been spending the majority of our time on COVID-19 relief efforts."
Crystal Horton, a registered nurse, coordinates educational and safety resources via a website: baptistsonmission.org/coronavirus. The site provides churches and individuals with websites, flyers, videos and posters to help inform people about COVID-19.
The ministry has also donated 40,000 N-95 masks and 10,000 surgical masks to hospitals across the state who needed them. Utilizing the disaster relief network, BOM has a COVID-19 county coordinator for each of the 100 N.C. counties.
"We have had over 600 churches who have said that they want to be a part of a network of churches who are ministering in their communities," he said.
Working with N.C. Emergency Management through its 2-1-1 service and CoronaCommunity.org, BOM has helped identify people who are high risk and have food and or medicine needs. Brunson said more than 500 requests from families have been connected with local churches, and "these churches are helping them on a regular basis."
Using disaster relief funds, BOM provided more than $100,000 for COVID-19 grants for food distributed in local communities. Another $100,000 was given to provide bulk food for churches cooking for people in their communities.
"We will continue to promote essential mission projects across our state and continue to encourage volunteers to help people in ways that protect our volunteers and the people that we are serving," Brunson said, including dental clinics and health screenings.
Regional rallies
Due to Gov. Roy Cooper's announcement Aug. 5 that Phase 2 restrictions would continue, August mission rallies will be delayed until February 2021.
Brunson said there will be a "Facebook Live" Regional Rally on Aug. 20 at 7 p.m.
"Right now there are many needs across our state and we cannot just 'hunker down,'" he said. "If you are high risk, you should not participate."
There are essential projects at strategic locations across the state. If at all possible, BOM is asking people to volunteer time to serve, while practicing the three W's – wear a cloth covering over your mouth and nose, wait at least six feet apart and wash your hands (or use hand sanitizer).
"Please pray for our staff, our board, our volunteers and our churches as we seek to serve others in the coming days," Brunson said.

Visit baptistsonmission.org.
Missions offering
The North Carolina Missions Offering (NCMO) emphasis is still scheduled for September with a week of prayer slotted for Aug. 30-Sept. 6.
"Compelled by Love" is the theme for this year's NCMO and is based upon 2 Corinthians 5:14.
"Like all special offerings, NCMO is down right now, but I think that churches feel that Baptists on Mission ministries and projects are vital and are bringing glory to God and I believe that our churches will pray and give generously," Brunson said.
The goal is $2.1 million and will be allocated by percentage to Baptists on Mission (41%), church planting (28%), mission camps (15%), associational projects (10%) and mobilization ministry projects (6%).
COVID-19 might impact giving, "but God is in control and we are going to keep on working hard to help churches minister to hurting people in their community in Jesus' name especially during these difficult days."
Visit ncmissionsoffering.org.
Prayer emphasis guide
Sun., Aug. 30: Baptists on Mission
Pray for the leadership of Baptists on Mission, also known as N.C. Baptist Men, and the 18 different ministries they support. Ask God to use these ministries and everyone involved in them to take the gospel to people in need and make disciples of Jesus Christ.
Mon., Aug. 31: Church Planting Pastors
Pray for church planters, and ask the Father to draw many people to Jesus through new churches across North Carolina. Pray that God would raise up more church planters across our state.
Tues., Sept. 1: Disaster Relief
Thank the Lord for the work of disaster relief volunteers, and pray for them as they show and share Jesus' love with people in need.
Wed., Sept. 2: Mission Camps
Pray for the directors and volunteers of the mission camps in Red Springs and Shelby as they share the good news of Jesus by serving local residents of these communities.
Thurs., Sept. 3: Church Planting Consultants
Pray for church planting consultants with the Baptist State Convention of North Carolina who help recruit, train and encourage church planters across our state.
Fri., Sept. 4: Baptist Associations
Pray for the local Baptist associations that work with local congregations to reach their communities for Christ by strengthening churches, sharing the gospel and making disciples.
Sat., Sept. 5: Medical/Dental/Health Ministry
Thank God for the medical professionals, pastors and counselors who volunteer their time to bring physical and spiritual help to hurting people. Pray that patients will meet Jesus and know His love.
Sun., Sept. 6: Church Planting Among North Carolina's International Population
Pray for church planters and churches that will be planting churches across the state to reach the increasingly diverse population of North Carolina.