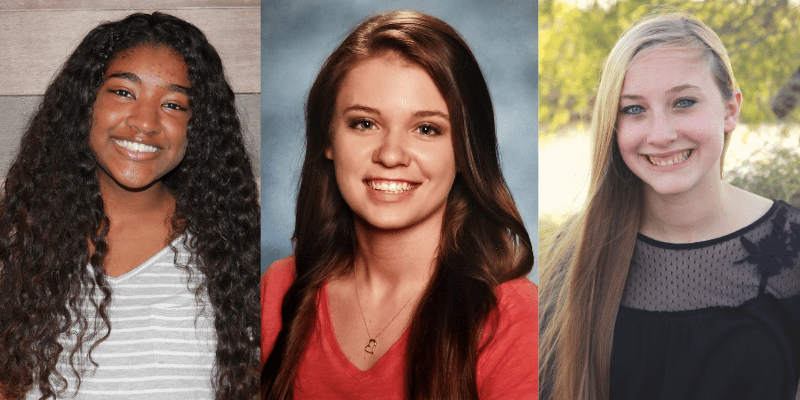 The National Woman's Missionary Union (WMU) has selected three outstanding young women to this year's National Acteens Panel: Hope Howard of Retama Park Baptist Church in Kingsville, Texas; Kayla Moore of Durham Baptist Church in Lewistown, Mo.; and Rana Seddik of Freeman Heights Baptist Church in Garland, Texas.
"We are thrilled to have these young women represent Acteens this year as National Acteens Panelists," said Heather Keller, children's and student ministry consultant for national WMU. "The call to make disciples across their generation is so great, and Hope, Kayla and Rana have a strong history of already making disciples in their communities and in places around the world. We are excited to see them influence other young women this year as they represent Acteens."
Howard, a home-schooled junior, has been involved in Acteens for five years. In that time, she said she's realized missions is not only for missionaries, but for every person who makes a commitment to Christ.
"My heart hurts when I think about billions of people in the world who do not have the joy and hope that I have in my life, and not knowing that they will one day have everlasting life with their Savior," Howard said. "Worse than that even is the fact that they will spend eternity in never-ending punishment. As I have made many, many friends who are lost, the reality really hits on a completely different level when it is your best friend that is going to be permanently separated from Jesus. I feel compelled to do all I am physically able to reach people for Christ."
Moore, a high school senior has been a member of Acteens for six years and has helped lead her Acteens group, Vacation Bible School, Girls in Action retreats, coed events, her youth group and on mission trips.
In the summer of 2019, Moore went on a mission trip to Uganda with her Acteens leader and others. While there, they organized and conducted two Bible clubs, visited mothers of newborns and arranged gifts to distribute among mothers at a hospital for premature babies. They also attended a local Sunday morning worship service and visited a nearby village where they had the opportunity to share testimonies and invite people to church.
Seddik, a high school senior in her seventh year as an Acteen, said, "The main reason missions is important to me is because my faith is a product of missions. Through missions I was introduced to Christ. I was able to understand enough to accept Him in my heart and continue growing in my faith."
Read the full story here.
(EDITOR'S NOTE – Julie Walters is corporate communications manager for national WMU.)