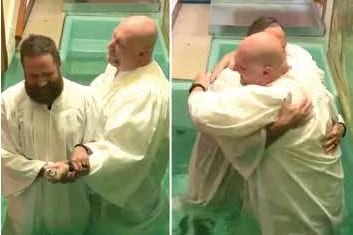 Mark Hoover is the senior pastor of First Baptist Church in Hayti, Miss. His brother Dusty still lives in their old northeast Mississippi stomping grounds near Tupelo. Dusty was the first person to cross Mark's mind once he got wind of Who's Your One.
"My one was my own younger half-brother, Dusty," Mark says. "I witnessed to him long distance."
Given the circumstances of Dusty's life, some may have considered the younger brother's salvation a long shot. But not Mark.
The two brothers shared the same father, but not the same home. In fact, paternal lineage aside, Mark and Dusty's lives were about as opposite as opposite gets.
"We met when we were teens," Mark says. "Our father tragically killed (Dusty's) mother, then killed himself with a gun. I was raised by my mother in a Christian home. I was a friend to my little brother, and he was to me – despite leading completely different lives."
Mark says his brother has had "many heartaches," including a recent divorce. But as it often happens, Dusty's pain pried open a door for Mark to share the gospel.
"He was extremely depressed," Mark says. "But God used my brother's valley and turned it into an awesome witnessing opportunity. I prayed for my one, and God put my brother on my heart."
The relationship Mark began with Dusty while face to face with him in Mississippi transformed into a more digital one as Mark moved away to accept the pastoral call. But Mark's determination to see his brother come to Christ never wavered.
Fast-forward to Sunday Sept. 8, 2019. Dusty is making the three-hour drive from Mississippi to Hayti while Mark is making sure the water in First Baptist's baptistry won't freeze them to death.
"Through phone calls and social media, I shared scripture and encouragement with him," Mark said. "Dusty really started reflecting on God's Word and got saved. And then he drove all the way to Missouri for me to baptize him on Baptism Sunday."
It can probably go without saying that Mark immersing Dusty's body into baptism waters on that September Sunday morning was the highlight of their relationship with each other. Mark says it also added a priceless level of depth to their bond – the kind that goes far deeper than family blood lines.
"I am very blessed to have a brother who is now my brother in Christ as well."
(EDITOR'S NOTE – Gabriel Stovall is an associate editor of On Mission Magazine. Reprinted with permission from On Mission Magazine, North American Mission Board.)