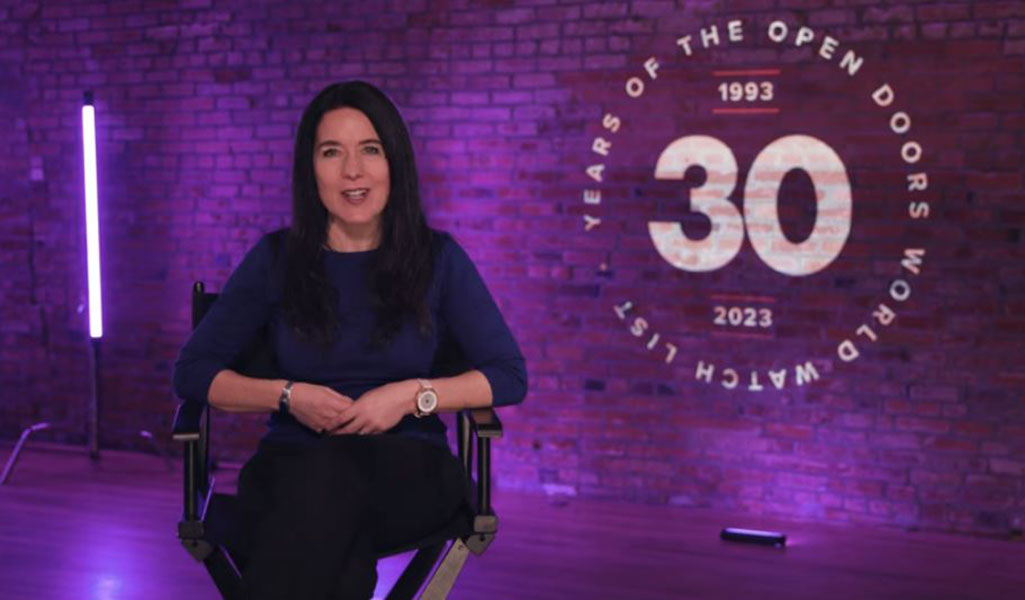 ORANGE, Calif. – Violence against Christians is spiking in Sub-Saharan Africa, driven by violence nurtured in Nigeria by Islamic and Fulani terrorists, Open Doors U.S. said Jan. 17 in its 2023 World Watch List tracking Christian persecution globally.
Nearly 90 percent of the 5,621 Christians killed in the study period were in Nigeria, Open Doors U.S. said, verifying 5,014 such killings there.
"Open Doors only records the events that we can verify. In reality much persecution, including killings, happen in very rural areas, or behind closed doors or in prison camps," Lisa Pearce, Open Doors U.S. interim CEO, said in releasing the report. "So it's likely that the recorded figures are just the tip of the iceberg."
In Nigeria, terrorists including Boko Haram, the Islamic State West Africa Province, militant Fulani and others are known for raiding Christian communities, killing, maiming, raping and kidnappings its residents and demanding exorbitant ransoms.
China is intensifying persecution of Christians through digital surveillance and, with economic and political influence, is spreading its brand of authoritarian persecution to countries including Sri Lanka, Myanmar, Malaysia and Central Asia, Open Doors said.
North Korea returns to the top spot it has held on the list since 2002, excepting 2022 when Afghanistan was ranked as the most dangerous country for Christians. North Korea's enforcement of its Anti-Reactionary Thought Law has spurred much of the persecution there, Open Doors said, giving North Korea its highest persecution score ever.
The law "criminalized any published materials of foreign origin in North Korea, along with the Bible," Open Doors said. "It has led to the imprisonment or execution of teenage boys watching South Korean shows such as Squid Game. However, it is also being used to track down Bibles or any other Christian materials, printed or electronic."
North Korea received the gravest persecution scores possible (100) in the categories of family life, community life, national life and church life, and received 86 in private life, the categories Open Doors uses in establishing its rankings.
Afghanistan is still in the top 10, ranked ninth, with the Taliban targeting those linked to the old regime more so than uprooting the "very small number of Christians remaining," Open Doors said.
The Christian church continues to decline in the Middle East, failing to recover from Islamic State violence.
"This is the cradle of Christianity, and much of the church is losing hope," said Open Doors' Rami Abed Al-Masih, advocacy regional manager for the Middle East and North Africa. "The diet of discrimination and poverty is too much to bear, especially for the young who see no future here as believers."
2023 marks the list's 30th anniversary and its first release after the January reorganization of Open Doors International, a group tracking Christian persecution in nearly 70 countries. Christian persecution is at its highest since the list began, with more than 360 million Christians facing high levels of persecution and discrimination because of their faith, Open Doors said.
Open Doors' West Africa director, identified only as Suleiman for security concerns, said the violence is a threat to families and the church.
"This violence is actually striking at the root of families, which is the foundation of the church," Sulieman said at the list's release. "When you rape a woman, you are destroying the family from its foundation. It will take the grace of God to bring that healing, not just to the woman, but to her children, her husband, to restore them back to a normal life again. … It's a pain that the church, the body of Christ, is going through in some countries and parts of Africa as well."
In Nigeria in particular, Sulieman said, "abductions have become the order of the day. Sometimes they block roads when people are traveling and they abduct people. Other times they raid villages, kill people, burn down houses, destroy food resources and then kidnap people and take them away to unknown locations. And after that, they will make phone calls to demand millions."
The government has been ineffective in stopping the violence, according to many news reports.
"There are many cases where soldiers will protect the Fulani and not protect the Christian communities that are under attack," Sulieman said.
African countries in the top 10, including four Sub-Saharan nations, are Somalia, ranked 2; Eritrea, 4; Libya, 5; Nigeria, 6, and Sudan, 10. Among other Sub-Saharan countries on the list are Burkina Faso, 23; Cameroon, 45; the Central African Republic, 24; Democratic Republic of the Congo, 37; Mali, 17; Mauritania, 20; and Niger, 28.
Completing the top 10 are Yemen, ranked 3; Pakistan, at 7; and Iran, at 8.The full list is available here.

(EDITOR'S NOTE – Diana Chandler is Baptist Press' senior writer.)