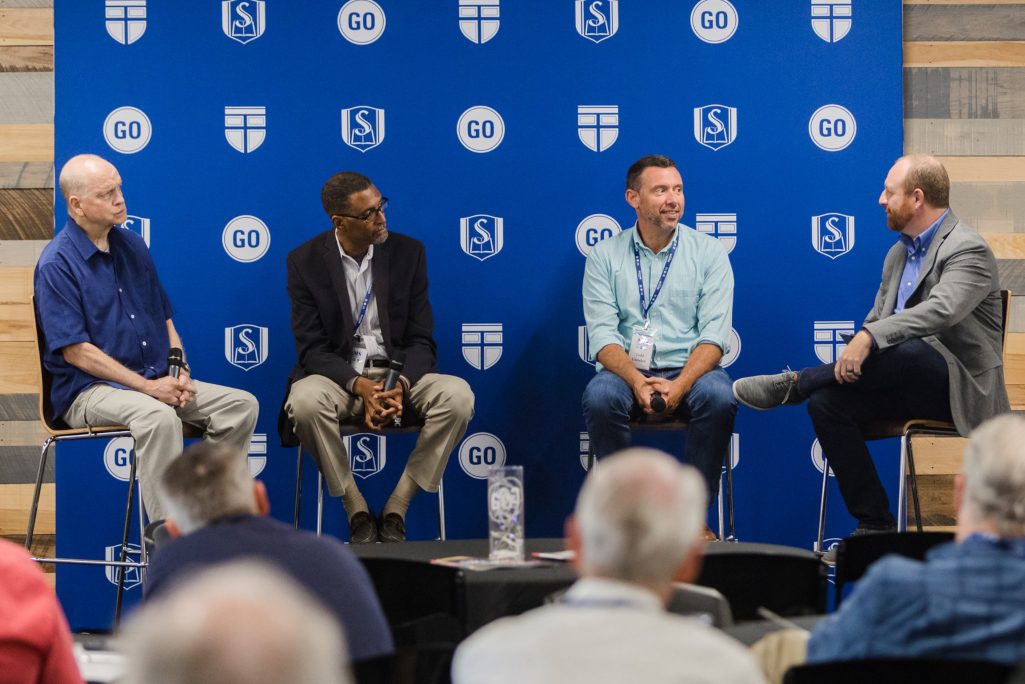 Associational missionaries rank among the primary mobilizers of pastors and churches for the Great Commission across the country, a trio of Baptist leaders told a gathering of pastors and ministry leaders during a recent conference held in North Carolina.
"You are the first and primary mobilizers in our country," said Todd Unzicker, executive director-treasurer of the Baptist State Convention of North Carolina. "It's not the national convention. It's not even the state convention. It's our (local Baptist) associations."
Unzicker's remarks came during a panel discussion titled "Ministry and the Future of the Southern Baptist Convention" that was part of a conference for associational mission strategists (AMS) held Aug. 3-4 at Southeastern Baptist Theological Seminary (SEBTS) in Wake Forest, N.C. Unzicker was joined on the panel by SEBTS president Danny Akin and Kevin Smith, executive director of the Baptist Convention of Maryland/Delaware.
"These (leaders) are invaluable to the future of reaching our nation with the gospel and catalyzing their churches to reach the nations with the gospel," Akin said. "I am their biggest fan, and they are my heroes."
Smith agreed with Unzicker and Akin, adding that associations are the natural place for pastors to connect and partner around missions, prayer and mutual support and encouragement.
"The association is the most intimate and deliberate place for continuous interaction," Smith said. "I can't speak for every state, but more and more pastors I meet are alienated, alone and in need of relationships. … Spiritually, discipleship and relationship-wise, the association is so, so, so, so valuable."
The third annual conference featured panel discussions and workshops on topics such as ministry strategy, missions mobilization, leadership development and more. The event drew 85 attendees, who represented associational missionaries, pastors and other ministry leaders from 11 different states.
"Our focus is to connect and serve our Baptist associations," said event organizer Chris Allen, denominational relations specialist and ministry teams coordinator at SEBTS. "We feel that this brigade is where the center of our churches gather and where our pastors band together."
Unzicker and other N.C. Baptist staff members also led workshops during the conference.
Terry Long and Sandy Mark, state convention staffers in the area of church health and revitalization, led a workshop on church fostering, a process in which a healthy church provides resources to a struggling church.
Unzicker led a workshop titled "Leveraging the Association to Be on Mission." During the workshop, Unzicker facilitated a conversation with attendees on thinking biblically and creatively about how to mobilize local churches to be on mission.
During his talk, Unzicker shared aspects of his personal testimony along with his ministry experiences as an international missionary, associational missionary, local church pastor and now as a state executive.
"I really feel like I'm the least likely person to be standing here before you," said Unzicker, who left his self-described dream job as a sports reporter after coming to faith in Christ and surrendering to God's call on his life. "God, by His grace, saved me in September in 2004, and I haven't gotten over that."
Unzicker shared five guiding principles for associations to be on mission. They were:
The local church is God's "Plan A" for reaching a lost world.
People are the mission.
Prayer must be our top priority.
Let local leaders lead.
We must proclaim the gospel in word and deed.
"God invites us to be on mission for Him," Unzicker said. "The local association is the No. 1 spot for partnership to take place.
"Let's put everything on the table to reach people, no matter what it is. Associations can be on the frontline for that. I can't wait to work with our AMSs to be a movement of churches on mission together."
(EDITOR'S NOTE – Chad Austin serves as content strategist and editor at the Baptist State Convention of North Carolina.)