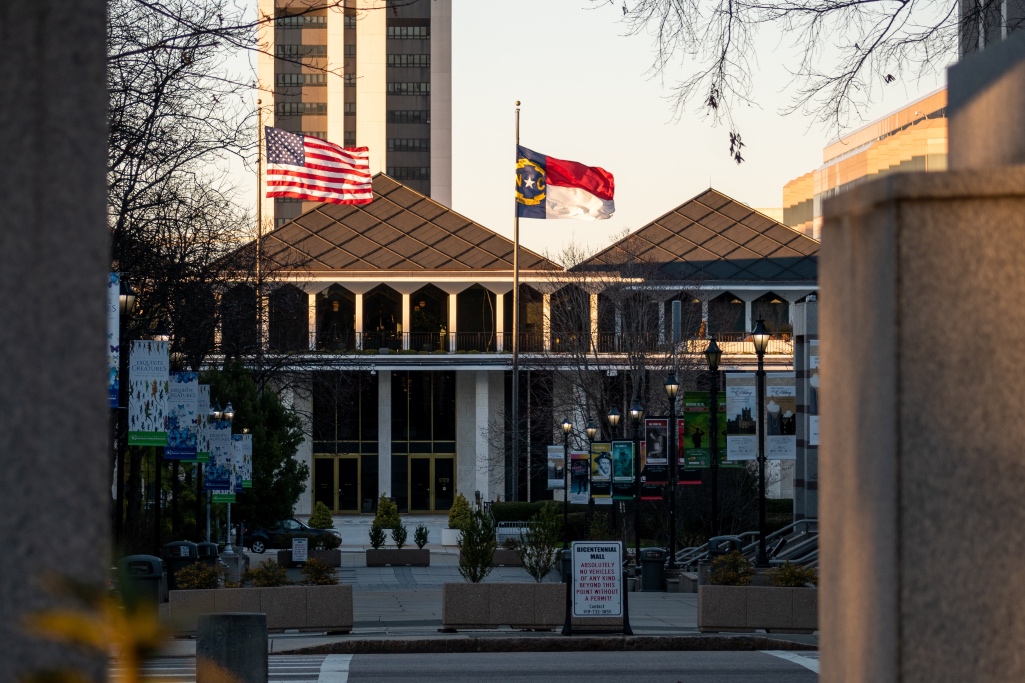 CARY, N.C. – The heads of North Carolina's largest Protestant group and the public policy arm of the Southern Baptist Convention (SBC) have sent a joint letter to N.C. lawmakers encouraging them to override an impending gubernatorial veto of recently passed legislation that would ban most abortions in the state after 12 weeks of pregnancy.
Todd Unzicker, executive director-treasurer of the Baptist State Convention of North Carolina, and Brent Leatherwood, president of the SBC's Ethics & Religious Liberty Commission, wrote to state lawmakers on Friday morning (May 12), thanking them for passing Senate Bill 20 – also known as the "Care for Women, Children, and Families Act" – while also asking them to override an expected veto of the measure by Gov. Roy Cooper.
Last week, state lawmakers passed the Republican-backed legislation in party-line votes in both chambers of the N.C. General Assembly. The measure – which would ban most abortions after 12 weeks instead of the state's current ban after 20 weeks of pregnancy – was sent to Cooper for consideration after passing the N.C. Senate 29-20 on Thursday, May 4. One day earlier, the House of Representatives passed the measure 71-46.
Cooper, a Democrat, immediately vowed to veto the bill, but Republicans have enough seats in the General Assembly to override the governor's veto. Cooper needs every Democrat and at least one Republican in the House or Senate to vote to uphold his veto and stop the bill from becoming law.
North Carolina's Constitution stipulates that if Cooper does not sign or veto a bill within 10 days after it has been presented to him, the bill automatically becomes law. Indications are that Cooper plans to veto Senate Bill 20 this weekend. In a social media post on Wednesday, Cooper called on supporters to join him at a "veto rally" at the Bicentennial Mall in downtown Raleigh at 10 a.m. on Saturday, May 13 – just one day before the deadline to veto the bill which coincides with Mother's Day.
Pro-life advocates have announced plans for a separate rally at the same time on Saturday that will be held in front of the N.C. Legislative Building, located at 16 W. Jones St., in downtown Raleigh.
In their letter to state lawmakers, Unzicker and Leatherwood wrote: "As an elected member of the Legislature, you now have an incredible opportunity before you to save countless preborn lives by overriding the governor's impending veto of the "Care for Women, Children, and Families Act," (Senate Bill 20) which restricts abortions after 12 weeks of pregnancy. We thank the North Carolina General Assembly for passing Senate Bill 20, and now your continuing action is desperately needed."
N.C. Baptist leaders shared a copy of the letter with the Biblical Recorder. State convention officials also said they planned to email pastors and church leaders encouraging them to pray, contact their state senator and representative about Senate Bill 20, and continue to support pro-life efforts and initiatives in their communities.
Since Senate Bill 20 passed last week, Cooper has sought to apply political pressure to try to stop the override of his planned veto. In a social media post shortly after the measure passed in the Senate, Cooper called on at least one Republican "to help sustain the veto of this dangerous abortion bill."
Cooper has specifically named four Republican legislators in multiple forums, calling on them to keep promises "to protect women's reproductive freedom." Those lawmakers are: Reps. John Bradford and Tricia Cotham of Mecklenburg County; and Rep. Ted Davis and Sen. Michael Lee of New Hanover County. Last month, Cotham switched her party affiliation from Democrat to Republican, which gave GOP legislators a veto-proof majority in both chambers of the N.C. General Assembly.
In a pair of national television interviews over the weekend, Cooper continued his appeals and announced plans to hold a series of roundtable discussions across the state to garner support in opposition to Senate Bill 20. Earlier this week, Cooper held events in Mecklenburg, New Hanover and Guilford counties, where he was joined by doctors, abortion advocates and others in an attempt to stop the override of his veto.
In their letter, Unzicker and Leatherwood told lawmakers they understood that "political variables are part of what must be factored into your equation as you make your determinations." Unzicker and Leatherwood went on to write that "the right to life from conception is self-evident" based on theological, scientific and political reasons, while imploring lawmakers "to override this veto in an effort to save as many preborn lives as you can."
Since the U.S. Supreme Court overturned Roe v. Wade last June, North Carolina has become a top destination for those seeking abortions, with many coming from states that have more restrictive bans in place. In the months after Roe was overturned, the number of abortions performed in North Carolina increased 37% – which represented the highest percentage increase of any state in the country – according to the Society of Family Planning.
Unzicker and Leatherwood cited these statistics in their letter as they called on lawmakers to "Advance the cause of life as far as possible so that North Carolina will not be viewed as a last remaining haven for a predatory abortion industry that deserves to join the pantheon of defeated regimes of the past like slavery and eugenics that oppress individuals and oppose human flourishing."
While the current bill bans most abortions after 12 weeks, it provides exceptions in cases of rape, incest, fetal anomalies, and danger to the life of the mother. In cases of rape or incest, abortions would be banned at 20 weeks. In cases of "life-limiting" fetal anomalies, abortions would be banned at 24 weeks. The bill has no restrictions on abortions to save the life of the mother.
In addition, the bill also limits access to abortion-inducing drugs. The bill calls on doctors to conduct an in-person examination before administering, dispensing or prescribing abortion-inducing drugs and to schedule a follow-up visit seven to 14 days later. The bill also prohibits people within the state from mailing abortion-inducing drugs to a pregnant woman.
"You have the chance to usher in a new era of liberty where the state values every life equally and will exercise its God-ordained authority to protect the most vulnerable among us from the abortionist's knife and the toxins of hazardous drugs," Unzicker and Leatherwood wrote in their letter to lawmakers.
Steven Wade, chairman of the N.C. Baptist Christian Life and Public Affairs Committee and pastor of Faith Baptist Church in Youngsville, has publicly praised the legislation and said his committee is working on developing or reviewing a series of pro-life resources for N.C. Baptists. Those resources include information related to ministering to vulnerable families, a prospective pro-life curriculum for churches and guidance on addressing abortion-inducing drugs.
If enacted, the bill would take effect July 1.
In a statement to the Biblical Recorder, Leatherwood said he and the ERLC were "honored" to partner with N.C. Baptists to bring attention to the issues surrounding this piece of legislation.
"The choice now is clear for North Carolina legislators: Override the governor's veto and save as many lives as possible or maintain the state's status as an abortion destination where mothers are preyed upon and preborn lives are extinguished," Leatherwood said. "Rarely do elected officials get the opportunity to make a real, substantive difference for life. North Carolina must not let it pass.
"For that reason, we were honored to lend our support to the efforts of our partners at the Baptist State Convention of North Carolina to call attention to this matter and appeal directly to the consciences of North Carolina leaders."
(EDITOR'S NOTE – This article has been updated with a statement from ERLC President Brent Leatherwood.)