Janina DeHart woke suddenly. The dream that jogged her from her night's sleep gripped her heart.
"I dreamed that we adopted two boys," Janina shares. "The dream was our celebration party welcoming them to our family."
Janina and her husband, Mark, were medically unable to have children. They had discussed the idea of adoption before, but it never went further than conversation. The couple believed that Janina's dream wasn't simply coincidence – it was providence.
"I knew by putting our faith in God that He was going to open doors, and of course, He did," Mark divulges.
As "preachers' kids," Mark and Janina are familiar with Baptist Children's Homes' (BCH) ministry that provides compassionate cottage homes to boys and girls at the organization's statewide locations. However, they did not realize BCH now offered Family Foster Care where couples can be trained and licensed by the ministry to be a foster family.
When Janina learned this information from a co-worker, they set up a meeting with BCH staff and began the process to fulfill their dream.
The DeHarts weren't the only ones with a dream. Brothers Nathen and Tylor, who were previously homeless and living in a tent with their mother, longed for a family. They had been removed from their mother's custody and came to live at one of BCH's cottage homes. The siblings gained a family through their cottage parents, Scott and Connie Cummings and John and Glenda Mercer, as well as the other boys in the cottage.
"They were able to provide for us, and we didn't have to worry about not being able to eat and not being able to do things," Nathen explains.
"We had a shower instead of having to bathe in a creek," Tylor recalls.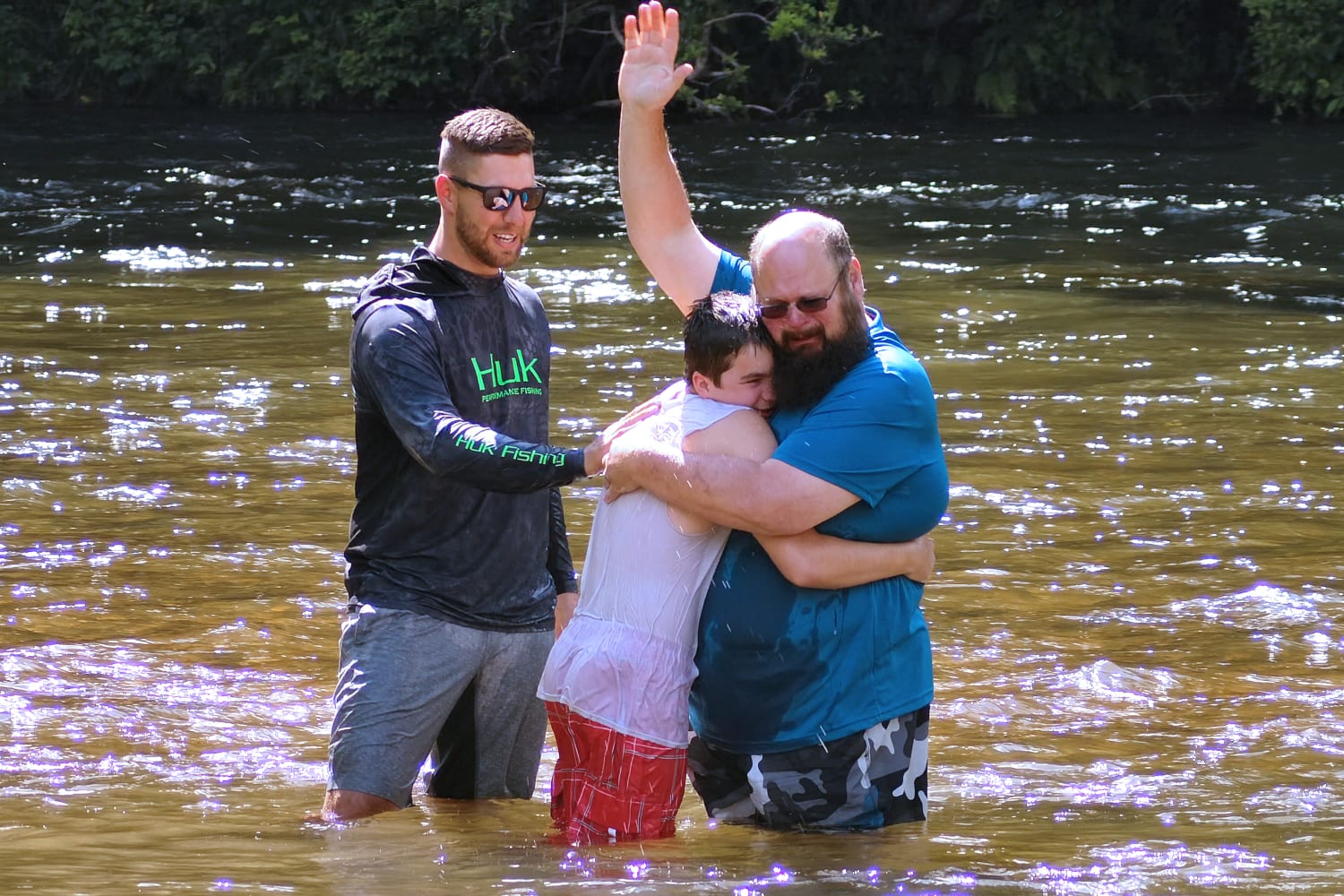 Even though they were receiving the care they needed at the cottage, the boys still dreamed of living in a permanent home with a mother and a father.
"We never really had a dad because our dads left our mom," Tylor says. The brothers had the same mother but two different fathers.
After living at BCH for almost a year, the dreams of the DeHarts and the boys began to come together. The staff arranged for Nathen and Tylor to go on a weekend visit with the DeHarts as the couple's foster care licensing was being completed.
"Here's these two beautiful kids standing there, both grinning from ear to ear," Mark describes. "It's like I had just become a dad right then."
The bond between the boys and the couple grew stronger as they spent more time together. It wasn't long before the DeHarts officially became foster parents to Nathen and Tylor.
"I didn't know I had that much love in me for somebody that I've never known, but I love these boys like they're my own kids," Mark says, his eyes glistening with tears. "I'd do anything for them. I love them to death."
On Oct. 24, 2019, the two dreams became one as Mark and Janina officially adopted Nathen and Tylor. They celebrated with family, friends and BCH staff members during an adoption party like the one from Janina's dream. This would not be the last celebration to take place during the family's first year together. On June 13 a small group gathered at a picnic shelter by the Tuckasegee River. It was not only Nathen's 16th birthday, but it was the day the two brothers would be baptized.
"They became Christians after they moved into the Children's Homes," Janina shares. "They had experiences that first year they were living at the cottage. They each at different times made decisions."
With friends and loved ones watching from the bank, Nathen and Tylor were immersed in the river's flowing waters by a pastor from the family's church and their adoptive father. Mark embraced his sons as each one emerged from the river. With tears streaming down his face, Mark raised his hand skyward and praised God.
"I'm just glad that God is using me and Janina to help these young boys," Mark declares. "I want them to grow up in a Godly home to be able to be a witness for Christ. I know they're going to be; they already are."
BCH, which was founded in 1885, is in 29 communities including locations in North Carolina, South Carolina and Guatemala. The annual offering emphasis is coming in November. A week of prayer is Nov. 15-22, but there is also a month-long prayer guide, along with other offering resources, available. Visit bchoffering.org.
Week of Prayer November 15-22
Sunday: Pray for children and families in your community and across North Carolina.
Monday: Pray for the thousands of lives BCH serves each year through its 29 locations.
Tuesday: Pray for the cottage parents, care givers, chiefs, foster parents and staff who give of themselves around the clock to care for boys and girls.
Wednesday: Pray God will lead couples to be foster parents through BCH's family foster care ministry.
Thursday: Pray for the men and women who live at BCH's nine statewide homes for intellectual and developmentally disabled adults.
Friday: Pray for orphans at Good Shepher Ministries in Quetzaltenango, Guatemala.
Saturday: Pray for BCH president/CEO Michael C. Blackwell as he leads the ministry.
Sunday: Pray that the children and families BCH ministers to will come to know Jesus as their Savior.
A month-long prayer guide is also available at Prayer Guide 2020.pdf.
(EDITOR'S NOTE – This story was updated Oct. 8 to reflect the new total number of locations BCH serves since acquiring Christian Adoption Services.)