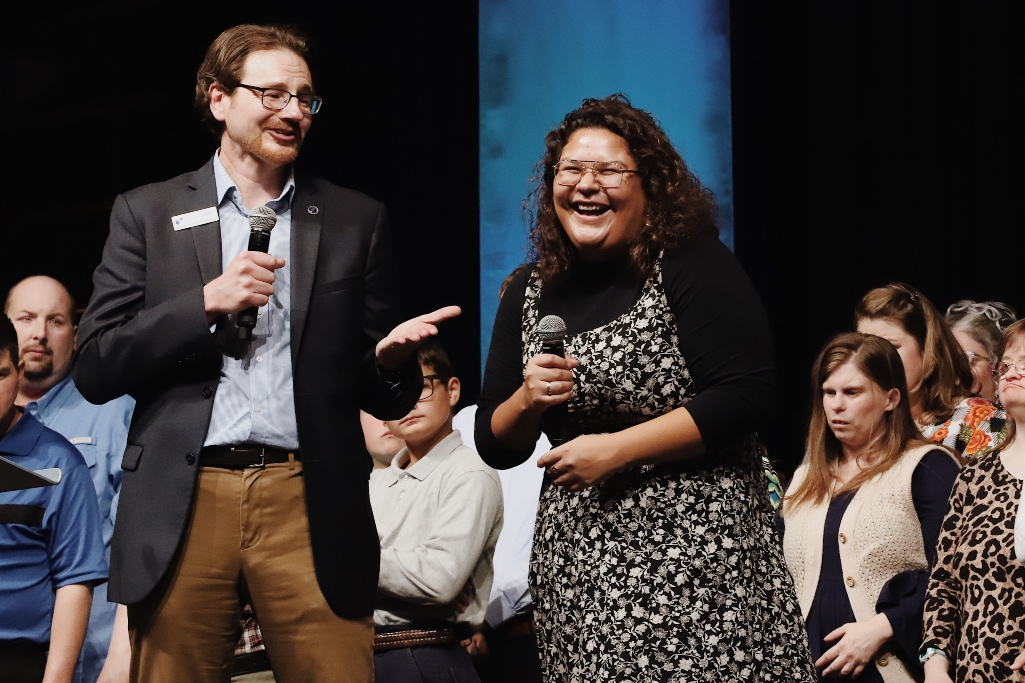 GREENSBORO, N.C. – Representatives from the Baptist Children's Homes of North Carolina (BCH) said they are focused on the organization's future following a challenging season of ministry during a report and presentation to messengers attending the 2023 Baptist State Convention of North Carolina annual meeting.
Nearly 200 individuals served by or serving through BCH's ministry stood on stage singing songs and sharing stories about the organization's impact during a special presentation on Tuesday, November. 7, that concluded N.C. Baptists' two-day annual meeting at the Joseph S. Koury Convention Center.
The theme of the presentation was "Take Heart!" based on Matthew 14:27 in which Jesus appears to the disciples in the midst of a story and says, "Take heart; it is I. Do not be afraid" (ESV).
"Baptist Children's Homes has been through its own storm, and in the midst of that storm – just as he did with the disciples – Jesus was with us saying those same words, 'Take heart; do not be afraid. It is I," said BCH Director of Communications Blake Ragsdale during the presentation.
Standing amid children and adults with special needs who are in BCH's care, Ragsdale added: "For every soul who walks through the doors of the Baptist Children's Homes' ministry, Jesus Christ is there in the middle of their storm saying those words, 'Take heart, do not be afraid, it is I – the great 'I' of the storm.'"
Ragsdale said BCH impacted more than 167,000 lives last year and highlighted two of them – Ciara and Tirrell – in videos.
Ciara spent her teenage years at Baptist Children's Homes after her mom died in a drug overdose and her father ran away from his parenting responsibilities. While in BCH's care, Ciara graduated from high school as valedictorian, and she is set to graduate from the University of North Carolina at Chapel Hill in December.
Ciara joined Ragsdale on stage to share what BCH and its supporters, saying BCH has played an "integral part" of her life's journey.
"I just wanted to say a huge thank you to everyone here and who has been involved with Baptist Children's Homes, especially within the past 10 years," Ciara said. "You all have been with me and my sister throughout our journey from when we first stepped into the cottage, when I accepted Christ on my 16th birthday, and when I was applying for colleges."
Tirrell's life was defined by neglect until he was placed with John and Erin Stuebe, who became foster parents through the "Every Child" foster and adopt partnership between BCH and N.C. Baptists. The couple provided Tirrell with a caring home the boy had never experienced while meeting his physical, mental, emotional and spiritual needs.
Tirrell would soon trust Christ as his Lord and Savior, and just one month ago, his adoption with the Stuebes was finalized.
"Tirrell (is now) a permanent member of the Stuebe family just as he is now a permanent member of God's family," Ragsdale said, adding that Tirrell's success was made possible through the "Every Child" initiative
"Every Child" was first announced during the 2021 N.C. Baptist annual meeting. The initiative's goal is to see every child in the state of North Carolina's foster system find a caring, Christian home.
Keith Henry, BCH Chief Operating Officer, said since the initiative launched two years ago, BCH has trained and licensed nearly 400 couples to be foster families. Several of those families joined Henry on stage.
"Through their obedience to God, we have served 800 children in their homes where they have experienced the gospel lived out," Henry said.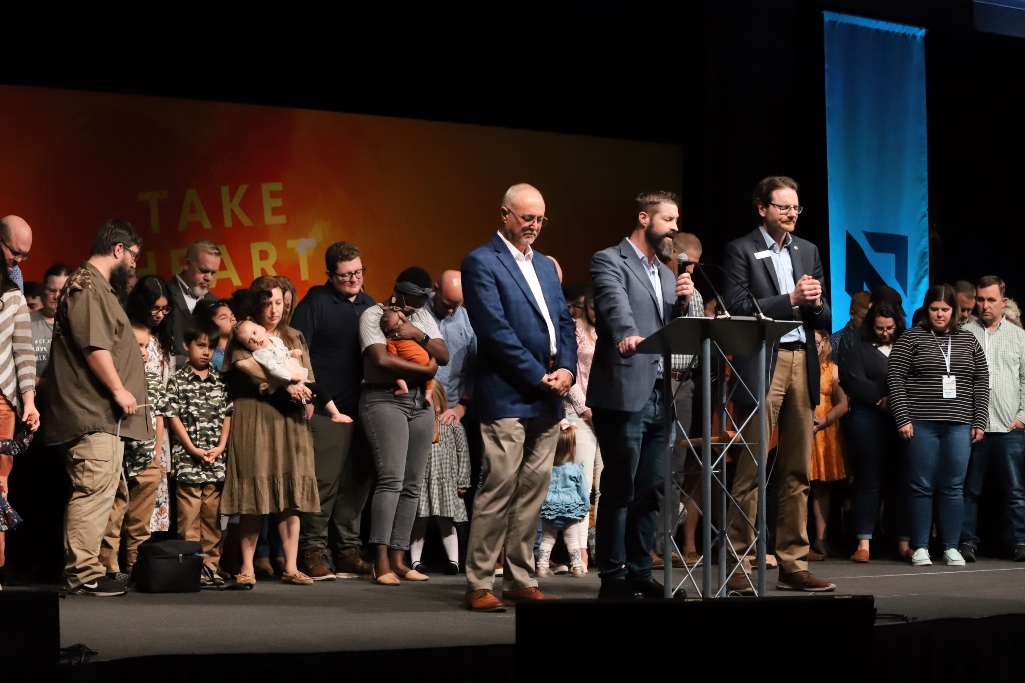 Henry invited Robert Hefner, pastor of Pleasant Garden Baptist Church, to close the presentation in prayer. Henry called Hefner, who serves as vice president of the N.C. Baptist board of directors, one of BCH's "best friends" in ministry and described Pleasant Garden as "one of our most supportive churches."
Prior to the presentation, Gayla Freeman, chair of the Baptist Children's Homes' board of trustees, also thanked N.C. Baptists for their prayers and support during what she called a "difficult season" of ministry following an independent financial review that led to the retirement of longtime BCH President Michael C. Blackwell in September.
"Thank you for your messages of encouragement, prayers, as well as volunteer and financial support during this difficult season," Freeman said. "God has honored the faithful support of North Carolina Baptists as we have seen Him continuing to change lives now and for all eternity."
Freeman also shared that a transition team has been named to find a new executive leader for the Baptist Children's Homes.