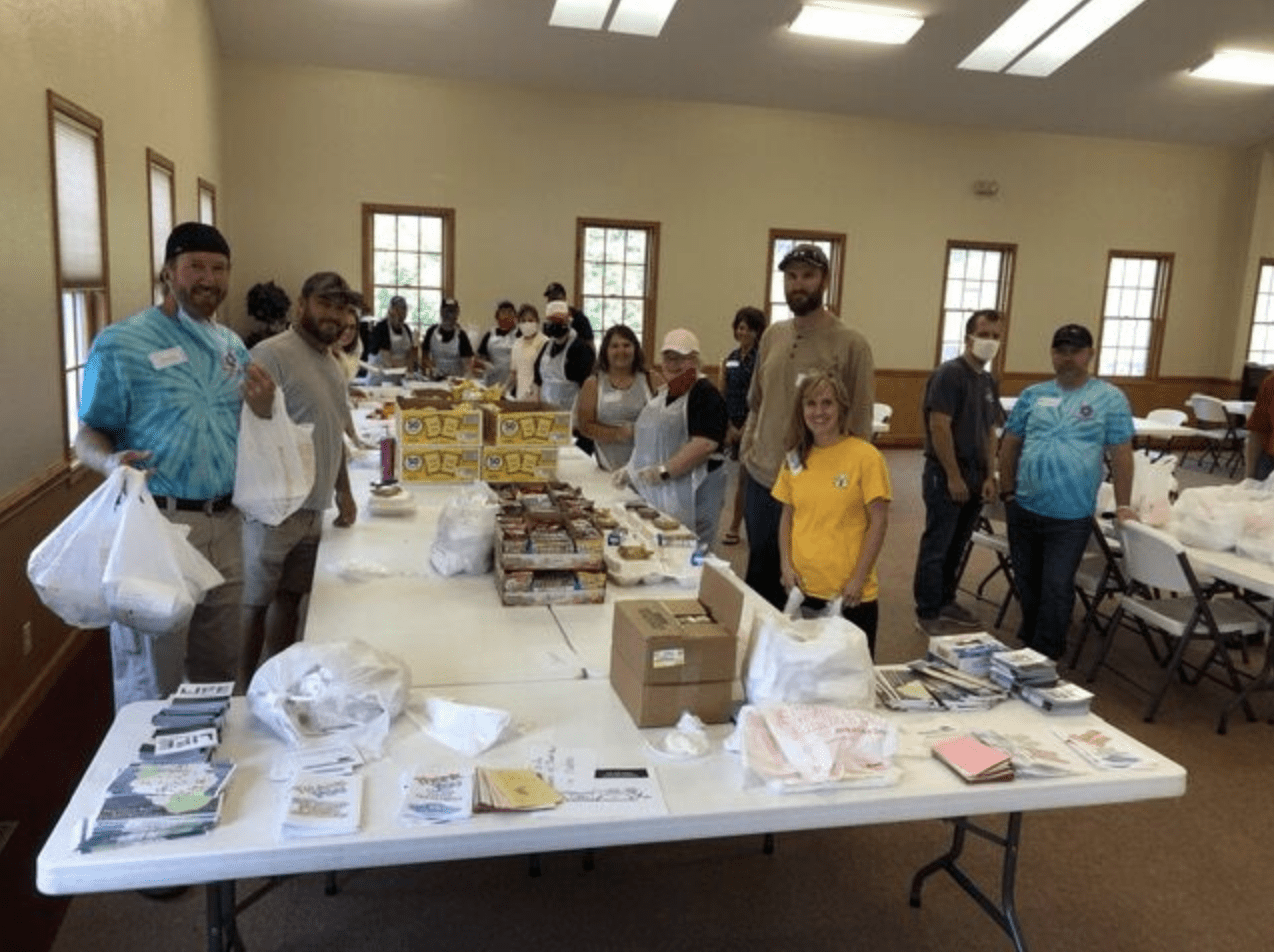 Baptist church volunteers across Haywood County providing a barbecue meal to first responders on 9/11 had as much fun working together for a single goal as they did honoring those who put their lives on the line to protect and defend.
"It's been a great day," said Pastor Jason Miller with Dutch Cove Baptist Church as he helped serve and deliver meals in the Clyde area.
The Haywood Baptist Association planned to serve more than 600 meals out of four locations in the county. The Haywood Community College Public Services Training Facility was used to serve the central area of the county, and more than 200 meals were handed out by 4:30 p.m.
While there was a socially distanced dine-in option, the vast majority of meals were take-out, Miller said.
In addition to a healthy portion of barbecue and sauce, the Ninevah Baptist Church cook team prepared a container of beans to be placed in each meal, which was rounded out with a roll, chips and a cookie. The personal touch included a booklet on brokenness, along with a hand-written thank you note to all the first responders and their families. Some were written by children.
"I had my Sunday School class make cards," said Donna Willett, whose husband, Chris, pastors High Street Baptist Church, which served as the Canton meal distribution site.
Pastor Chris Willett said most of the 250 meals served in the Canton area were assembled and delivered by more than 50 volunteers. While some came in with families and ate at the church, most of the meals were delivered to fire halls, the police department and other first responder sites in the east end of the county. The delivery team offered a prayer at each stop, he said.
"People were very appreciative that we reached out in the current climate," Pastor Willett said, adding that he was personally able to pray with several of those coming in for meals about challenges they were facing.
Miller said when first responders were asked how they would like people to pray for them, the response was often, "pray for our safety and pray for our protection."
"These men and women have the most dangerous jobs in this county," Miller said. "It's an honor to pray for them and serve them a meal."
Carl Moore of Crestview Baptist Church was delighted to spend time "giving back to people who give so much to us," while Emily Lyda of Woodland Baptist Church said she felt humbled.
"They have done so much for us in a time we need them more than ever," she said.
Miller said the Haywood Baptist Association was fortunate to be in a position to put on an event to honor first responders, and said seeing the churches working together was heartening.
Pastor Willett agreed.
"Churches getting to work together was really good," he said. "You don't always get to know everyone."
Bill Wilke, a retired police officer who attends Dutch Cove Baptist Church, was delighted to serve his colleagues.
"It's been a great day working with people from other churches and serving first responders who put their lives on the line every day," Wilke said.
(EDITOR'S NOTE – Vicki Hall is editor of The Mountaineer, which is located in Waynesville, N.C. Reprinted with permission.)