Dan Merritt didn't lose.
In four years as a North Carolina high school track runner, Merritt only lost four times. Each of those losses came to the eventual state champion. So when he finished second in one of his early races as a student-athlete at Campbell University in Buies Creek, N.C., Merritt took it hard.
But it became the best day of his life.
Running had been Merritt's god. The loss left him deflated, so instead of heading to the library to study that night, he sat in the back of a crusade meeting where evangelist and former NFL football player Bill Glass shared the gospel.
When the invitation came, Merritt's legs felt like chains were holding him back. He sat for what seemed like 20 stanzas of the hymn "Just as I Am." Then he felt himself being pushed into the aisle and toward the stage.
"That night, Christ came into my life," Merritt said. "I didn't see any fireworks go off in the sky. I didn't see any neon lights. But the next morning, when I woke up, I knew something had happened to me. The birds sang differently. The sky looks different. The trees look different. Everything looked different. So, I knew something had happened. From that day forward, my life was never the same."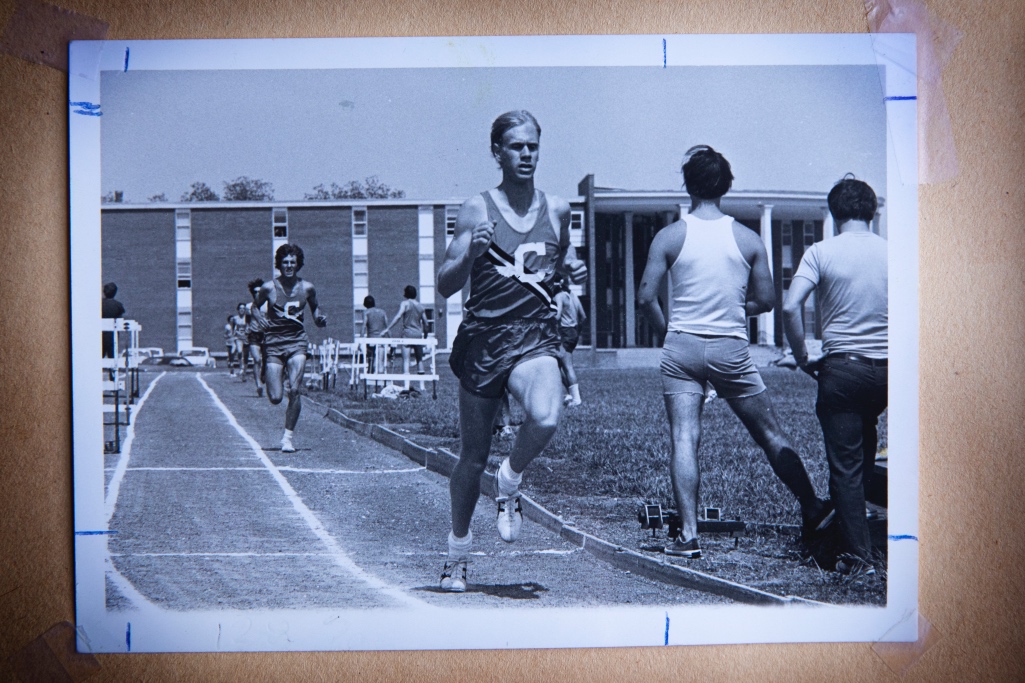 More than five decades later, Merritt still runs four to six miles each day and is an accomplished master's level runner. He also serves as the associational mission strategist with the Surry Baptist Association in northwest North Carolina. For most of those five decades, he has simultaneously pastored churches and coached runners. He says he leans on similar skill sets in both those efforts.
"In both coaching and pastoring, you're dealing with different types of people," Merritt said. "You meet people where they are as an athlete. You meet people in the church where they are and seek to bring them where they should be. Both of them require discipline. Both of them have joys, both highs and lows. Some people never reach their potential, some do. Some quit in sports, and some quit in the church. I've learned a lot about dealing with people in the church by coaching."
In December 2022, Merritt was named to the Surry County Sports Hall of Fame and Ring of Honor for helping coach area high school cross country and track athletes to multiple individual and team state titles.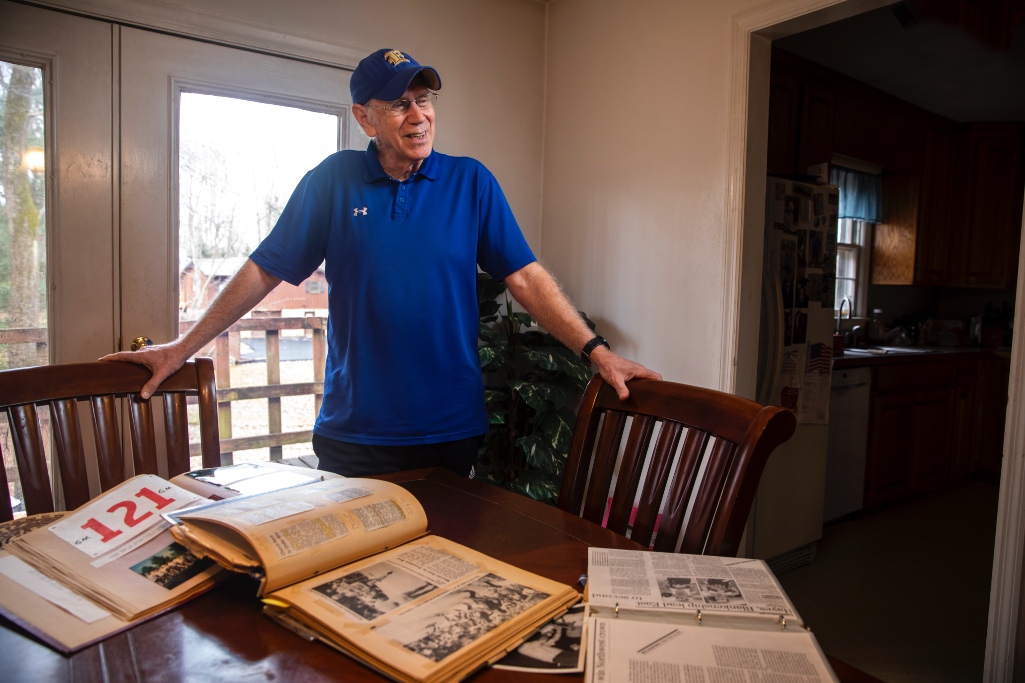 As a young person, long-distance running provided an athletic outlet that fit Merritt's introverted personality. He never had much success at other sports, but he could run by himself, and no one could keep up with him. So when God began to lead him toward ministry just a few months after his conversion, Merritt thought he must have misunderstood.
"I told God, 'I don't even like people. Why are you calling me?'" Merritt said.
But the call became more real as time passed. In the summer of 1971, he surrendered to full-time ministry. Before entering ministry, however, Merritt still had more to accomplish at Campbell. By the time he graduated in 1974, Merritt had captained the cross country and track teams, set numerous school records, was a two-time MVP of the track team, a four-time MVP of the cross country team and named the school's athlete of the year as a sophomore in 1972.
After graduation, Merritt's first pastorate was in Erwin, a small town about 30 miles outside of Raleigh. His ministry almost ended during that time. At 27, a surgery left his face paralyzed. He couldn't blink. He couldn't smile. Most importantly, he couldn't preach.
"I'm sitting here thinking, 'I'm 27 years old. My wife is fixing to have our first child. My livelihood has been taken from me,'" Merritt said. "I had prayed, and I had prayed. And it wouldn't go away."
In desperation, he reached for a phone to call a television preacher so he could ask for prayer. He heard the Holy Spirit say to him, "You think I'll hear his prayers? Why don't you think I'll hear yours?"
Merritt put the phone down and prayed.
"You called me to preach," Merritt said to God. "I can't preach like this. I can't talk. I'll make this promise. When somebody comes into my presence, before they leave, they'll either leave with a smile on their face or with laughter in their heart."
Less than a week later, God had healed Merritt's face.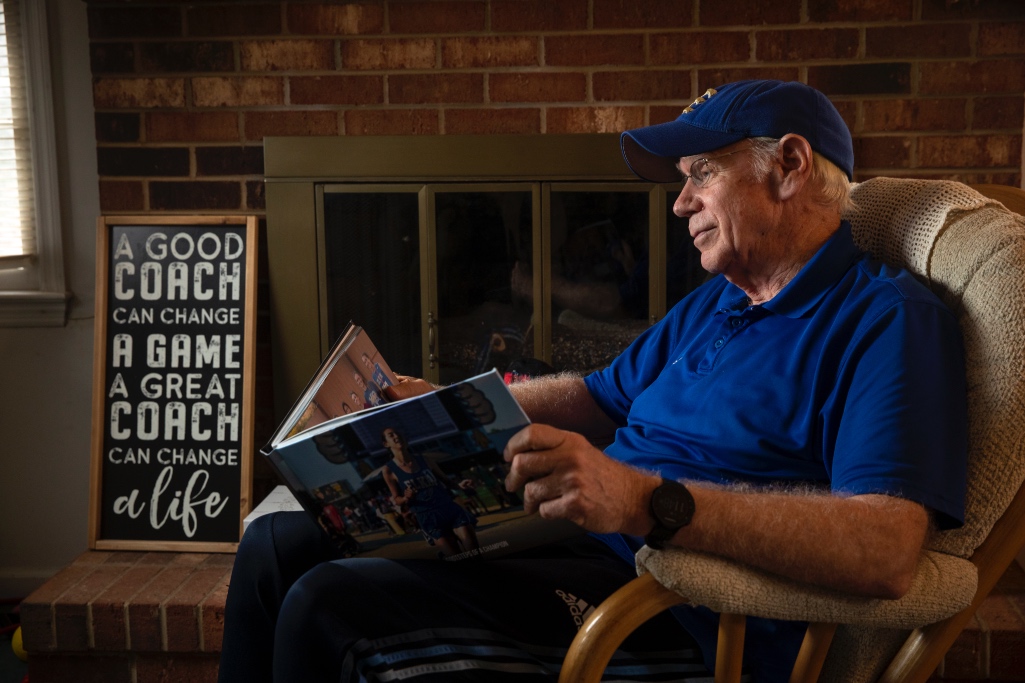 Merritt says God has used coaching to provide a number of ministry opportunities throughout the years. That's one of the reasons coaching has been a part of his ministry for so long. For example, he prayed regularly with the teams he coached, particularly before competitions. A few years back, he told his team he wouldn't be at a meet because he had to officiate a funeral. The high school cross country team called him so he could pray with them before their race.
"It took all I had to pray with them – to think that praying for them had made that much of an impact on them," Merritt said. "I don't remember how that race turned out. But I remember that they wanted me to pray for them. Those are things that kids can take with them that outlast the running aspect. If you teach them discipline and consistency, they can take the same principles that you learn in running and apply it to your life in any area of life."
When doctors diagnosed Merritt with prostate cancer in 2013, he needed 45 radiation treatments. But the cross-country team he coached rallied around him.
"I don't know that I could have made it through that difficult time in my life if not for them – and of course, the good Lord," Merritt said. "They just rallied around me and treated me like a king. I think they ran extra hard for me that year."
Merritt has served as the associational mission strategist at the Surry Baptist Association since February 2017. He believes it's a position perfectly suited for him, as he serves as a pastor to other pastors.
"I absolutely love the job," Merritt said. "The day after they voted me in, I sat at my desk and I said, 'Lord, all those problems I complained about, all those heartaches I went through. And all those times I fussed, why did this happen and why did that happen? Now, I want to thank you, because they have prepared me to sit in this chair.' Because when a pastor comes to me with a problem, 99 percent of the time, I've been through that same situation, so I can share it with them and help them.
"Plus, I knew this area, I lived in this area for 30 years. I knew the people and how they think. I could relate to them. It's just been truly a dream come true."
(EDITOR'S NOTE – Tobin Perry is a freelance writer with more than 20 years of writing experience with Southern Baptist organizations. He can be reached at TobinPerry.com. This article originally appeared in the March 2023 issue of the Biblical Recorder magazine.)