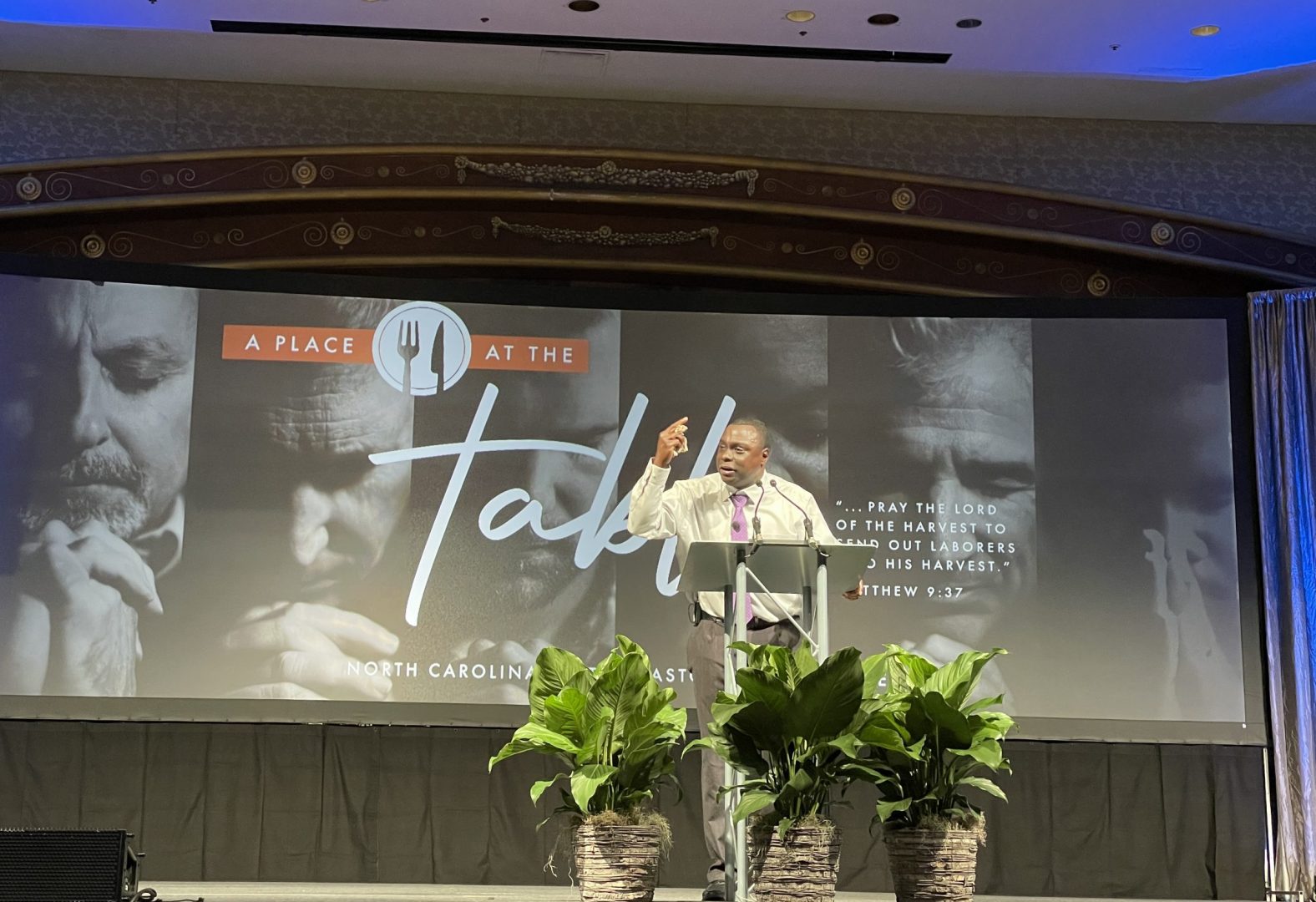 North Carolina Baptist pastors gathered for two days of fellowship and teaching during this year's Pastors' Conference Nov. 7-8, in conjunction with the 2021 Annual Meeting of the Baptist State Convention of North Carolina.
Pastors heard from seven speakers representing local churches and organizations of various sizes, and different regions of the state. Based on the theme "A Place at the Table," speakers shared insights from the lives of seven apostles. Pastors in attendance also elected officers for the 2022 and 2023 conferences.
Eddie Powers, senior pastor of Sandy Ridge Baptist Church in Monroe, shared three values as observed from Thaddeus in John 14. Powers encouraged pastors to refocus on meeting with Jesus, meditating with Jesus and the message from Jesus.
"We gotta come to the table with Jesus Christ, we gotta sit down with Him and listen to His words and what He has to say before we can say anything about what He has to say," he said.
Quintell Hill, lead pastor of Multiply Community Church in Monroe, looked at Paul's exhortations in Romans 10 and offered three key ideas: remember the solution for salvation; remember the scope of those who need salvation; and live sent with the message of salvation.
"We need to be overwhelmed by lostness," Hill said. "He's either Lord of all, or He's not Lord at all. It's for everybody."
David Horton, president of Fruitland Baptist Bible College, invited pastors to learn from Andrew in identifying their role in God's kingdom as uniquely designed and strategically gifted leaders. Horton drew pastors' attention to Andrew's chief desire to bring people to Christ, as he repeatedly does in John's gospel.
JD Tew, senior pastor of Freedom Biker Church in Fayetteville, taught from the life of Matthew. Pastors often use Matthew's story to illustrate God's power to transform lives. Tew called on pastors to believe God will do the same with "Matthew's" in their communities.
"He raises up the laborers, does He not? Aren't we praying for Him to raise up laborers?" he said.
Durham pastor Andy Davis juxtaposed John's experiences of intimacy with Christ and with His majesty. Examining John's encounters of reclining at the table with Jesus in John 13, and of being overwhelmed by God's glory in Revelation 1, Davis said "we need to hold on to both" of these aspects of knowing God.
"He is infinitely above all creatures," he said.
The Lake Church lead pastor Cameron McGill spoke on Matthew 16, highlighting seven aspects of Peter's story: his conversion, his call, his compassion, conviction, contention, compromise and courage.
Michael Cloer, associational mission strategist for the Cape Fear Network of Baptist Churches, urged pastors to examine their own relationships with Jesus. He painted a picture of a "tragedy of a pretend creature" as demonstrated by Judas' passion, education, participation in ministry and association with Jesus and His disciples.
"The real tragedy of Judas was not just that he betrayed our Lord and Savior, but is compounded by the fact that he resisted and rejected the marvelous grace of Jesus Christ," Cloer said.
"Oh the grace of Jesus, the love of Jesus! When we do our worst toward Him, He does His best toward us."
Election of officers
Allen Murray, this year's conference vice president, was elected president of the 2022 Pastors' Conference. Murray, pastor of Centerville Baptist Church in Kelly and a member of the Baptist State Convention of North Carolina's (BSC) board of directors, was nominated by Matt Capps, pastor of Fairview Baptist Church in Apex and president of the BSC's Board. Murray received more votes than candidate Stoney Benfield, pastor of Prospect Baptist Church in Albemarle. Benfield was nominated by Timmy Blair, pastor of Piney Grove Baptist Church.
Branton Burleson, pastor of Grace Baptist Church in Asheville, was elected vice president of the 2022 Pastors' Conference. Burleson was nominated by Robert Hefner, pastor of Pleasant Garden Baptist Church. He ran against Eddie Powers, who was nominated by Union County associational missionary Eric Cook.
Brandon Powell, pastor of Cross Road Baptist Church in Asheboro, was elected treasurer for both the 2022 and 2023 Pastors' Conference. He was nominated by Brandon Watson, associate pastor at Bethlehem Baptist Church in Knightdale. Powell ran unopposed.
For the 2023 conference, pastors elected Jordon Willard, pastor of First Baptist Church of Weddington, as president. Willard also serves on the BSC's board of directors. He was nominated by Quintell Hill, who currently serves as BSC first vice president. Willard won the election against Neal Jackson, pastor of Beulah Baptist Church in Bennett, who was nominated by Cameron McGill.
Matt Ledbetter, pastor of Creeksville Baptist Church in Conway, was elected vice president for 2023, receiving more votes than David Herman, pastor of Pleasant Grove Baptist Church in Creedmoor. West Chowan associational missionary Terry Stockman nominated Ledbetter, and David Richardson, pastor of Peaces Chapel Baptist Church, nominated Herman.
Elections are usually held two years in advance of the event. Because last year's Pastors' Conference was canceled due to COVID-19 restrictions, the election for next year's event took place this week.