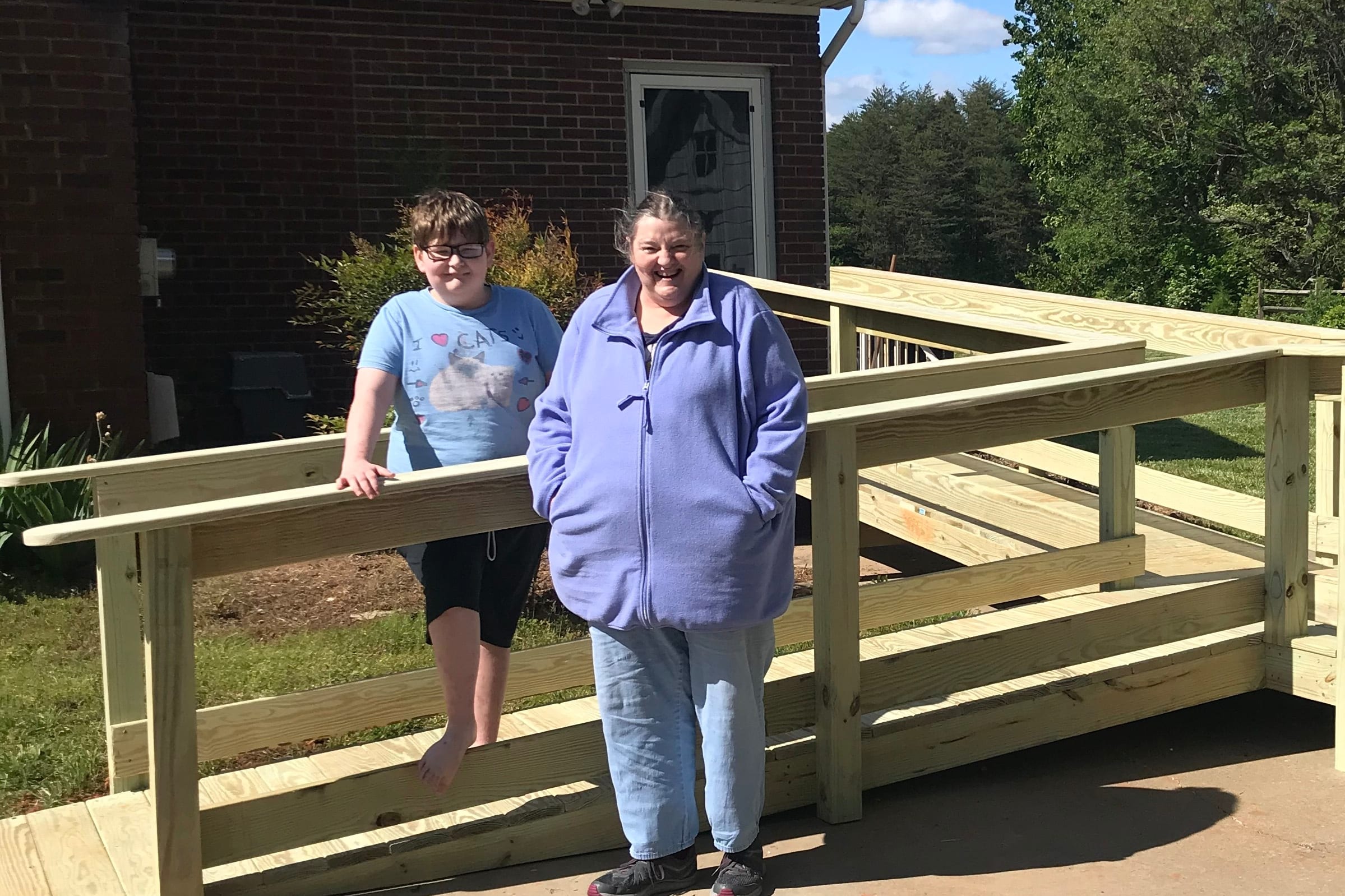 May 1 began with a steady rain as the ramp-building team arrived at Mary Scudillo's home in Rockwell, N.C.
"I offered them a big umbrella, but they were so dedicated, they just started working in the rain," she said. Scudillo was excited to see work begin on the wheelchair ramp, but her voice still had an edge of unease to it – unease she has been living with for months.
Her mother, Barbara Thomas, who needs the ramp, is 77 years old and a resident at Citadel Salisbury, home to the state's worst nursing home cluster of COVID-19 cases as of April 27, according to the Charlotte Observer. 
"I've been trying for more than a year to bring her home. Her condition had finally improved enough to be released, but then like so many others there, she tested positive for COVID. She has recovered now and they told me she can be released May 11 if she has a wheelchair ramp in place," Scudillo said.
Scudillo completed paperwork with the North Carolina Baptist Aging Ministry (NCBAM) in mid-February, which allowed the ministry to start looking for volunteer ramp builders.
"The Call Center overcame several challenges to meet this need, including funding for materials, the number of needs in the area, and then the pandemic," says Melanie Beeson, NCBAM's call center director. "Many volunteers are at an at-risk age group and are self-isolating. We are careful not to ask individuals to put themselves or those they are serving at an increased risk."
Robert Leonard, south central regional director for NCBAM, heard of Thomas' need and thought he could safely and strategically put a building team together so that she could finally come home. Volunteers from Parkwood Baptist Church, Glorieta Baptist Church and Hopewell Baptist Church stepped up to help meet the need.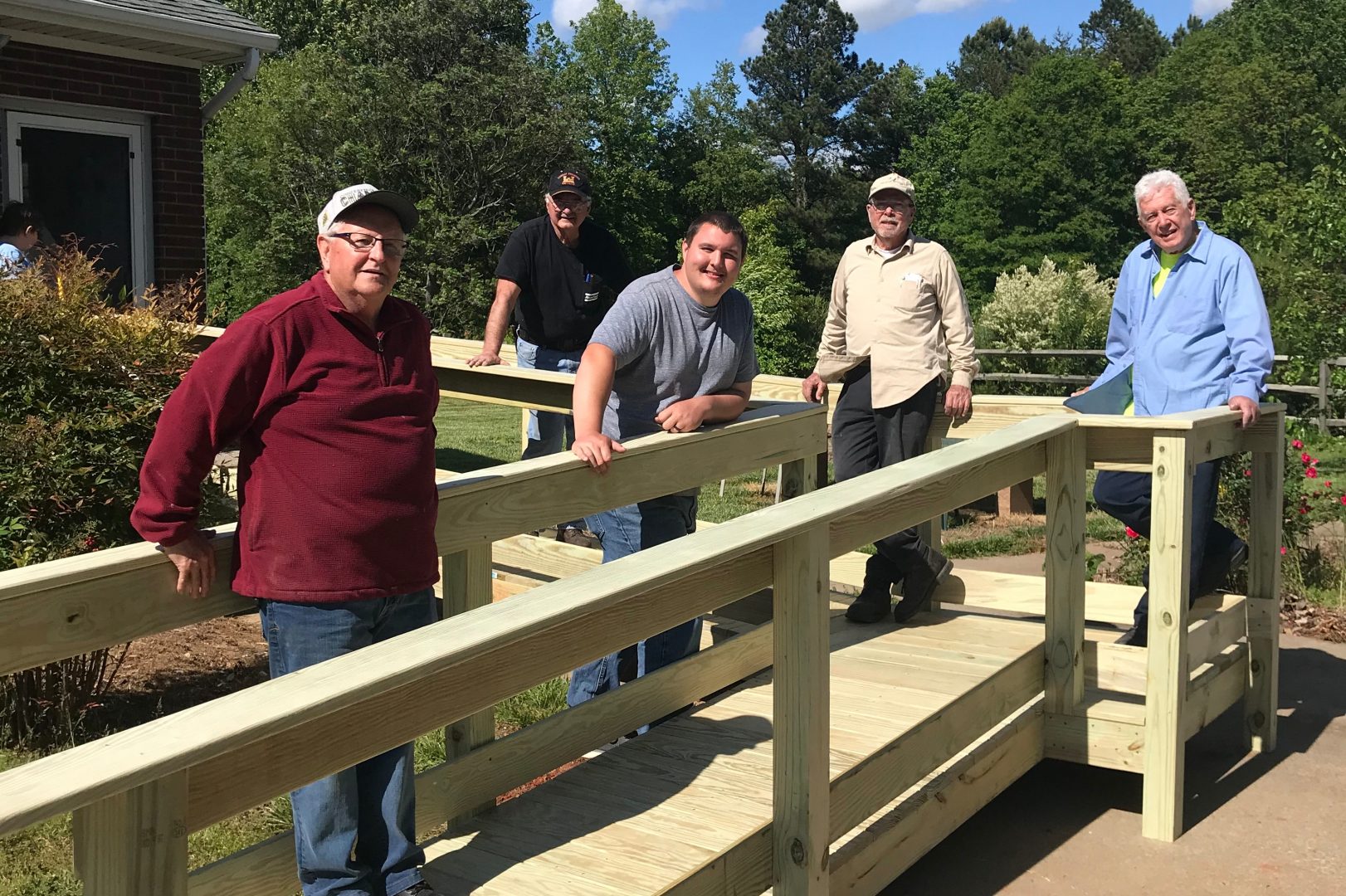 Although they started their work in the rain, the day soon gave way to blue skies and bright sunshine. As the ramp began to take shape, Scudillo's voice began to sound more hopeful.
"It's so exciting to hear the saws and the hammering and to know it's actually happening."
She said May 11 "can't come soon enough" for her or her mother. "When the pandemic began, visitors were not allowed and the past month has been terrible not being able to see each other. We are able to talk on the phone three or four times a day, but it's not the same."
With the ramp completed and the sun out, Scudillo's spirits lifted even more. "Oh, I am just so thankful for the people who do this and for the volunteers who made it possible for my mom to be able to leave the nursing home and to be at home. I know she'll enjoy being out in the sunshine."
During the pandemic, NCBAM has continued to adapt and improve its existing services, as well as create new ones. The Call Center continues to receive calls and work with partners to meet needs. The NCBAM Hope Line (866-578-4673), which opened last summer to help older adults experiencing social isolation and loneliness, now receives more than 100 calls every week. Recent Hope Line callers typically were experiencing anxiety about the pandemic and their sudden loss of social connections. This "warm line" is manned by NCBAM staff and church volunteers trained in active listening and other evidence-based health coach techniques. To learn more about NCBAM outreach, visit ncbam.org or call 877-506-2226.
(EDITOR'S NOTE – Carol Layton is director of communications and administration for the North Carolina Baptist Aging Ministry.)