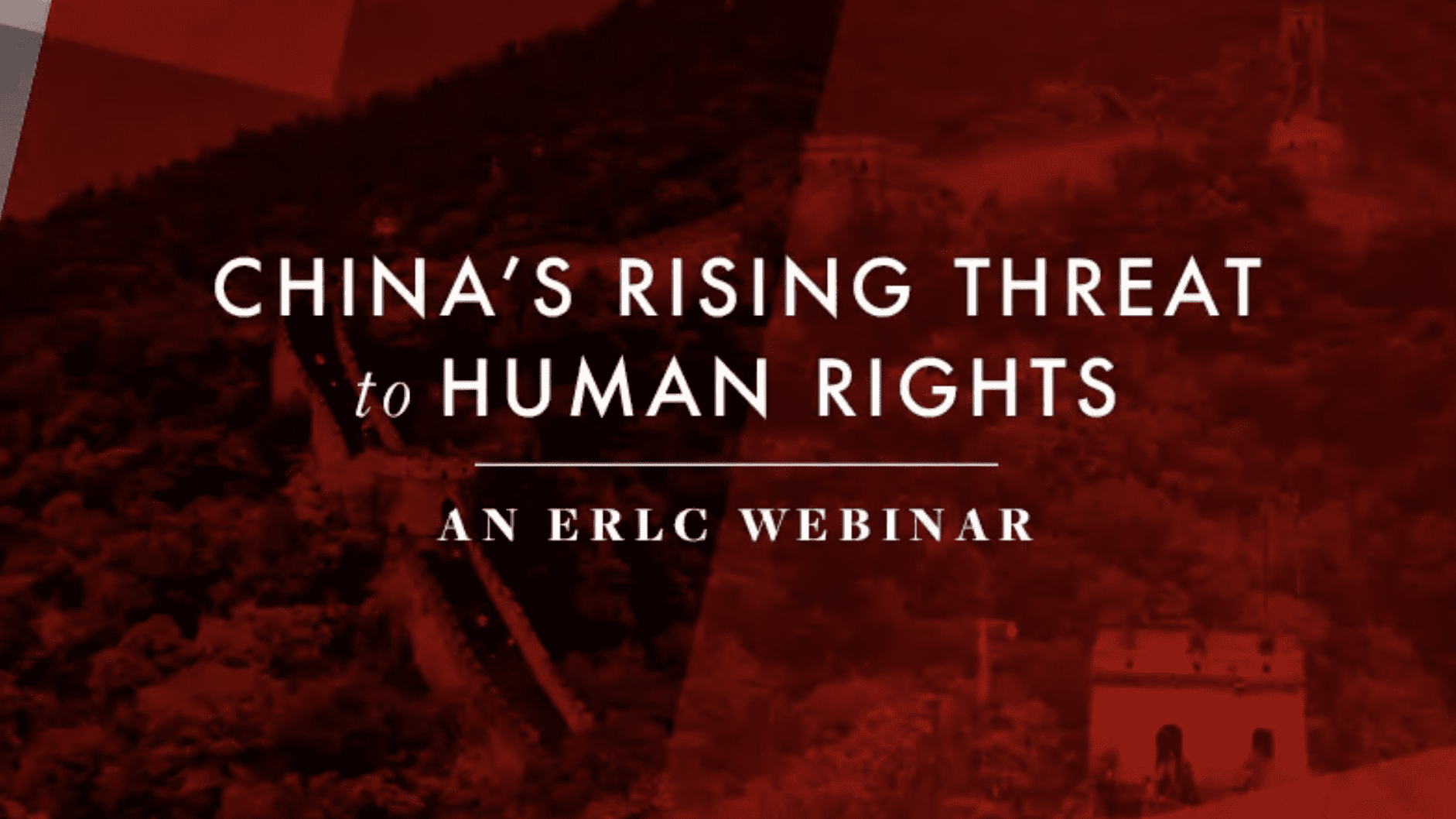 Human rights advocates and Southern Baptist leaders are calling for awareness and tangible action in response to increasing persecution of ethnic and religious minorities in China.
During a webinar on "China's Rising Threat to Human Rights" hosted by the Ethics & Religious Liberty Commission (ERLC) Aug. 21, panelists examined the experience of Uighur Muslims in the western province of Xinjiang. Since 2017, the Chinese Communist Party (CCP) has detained more than 1 million Uighur and other Muslims in what the CCP calls "educational training centers." 
Panelists described the centers as concentration camps, where Uighurs are kept from practicing their faith, and the CCP enforces government surveillance, ideological reeducation, birth control and compulsory labor. Samuel D. Brownback, U.S. ambassador at large for International Religious Freedom, called the treatment of Uighurs "the cutting edge of religious persecution."
"They could now, theoretically, close all the concentration camps, and you would still live in a virtual police state if you were a Uighur in Xinjiang," Brownback said. 
Nury Turkel, an Uighur American attorney and member of the U.S. Commission on International Religious Freedom, said the "conduct by the Chinese government" may rise to the level of crimes against humanity. He listed key elements that define such crimes, according to international law: the act must be part of a widespread systematic attack; the attack must be against a civilian population; and the attack must be launched on discriminatory grounds, including religion and ethnicity.
We ought to be the people who recognize that there are things greater than power and money – the image of God and the humanity of our fellow human beings.

Russell Moore, ERLC President
ERLC President Russell Moore qualified Christian advocacy as support for religious minorities rooted in an understanding of Scripture and human dignity. From the story of Cain and Abel to the Good Samaritan, Christians see the "responsibility to have mercy upon this person as a fellow image bearer of God," he said.
Moore said totalitarian regimes count on power, wealth and economic consequences to intimidate the rest of the world into silence.
"We ought to be the people who recognize that there are things greater than power and money – the image of God and the humanity of our fellow human beings."
Rushan Abbas, founder and executive director of the Campaign for Uyghurs, shared her own experiences of family members being taken from their homes and to internment camps. She spoke of the CCP's oppressive actions toward women in particular, citing data that have shown drops in birth rates because of forced sterilization and abortions.
Many women that do live in their own homes but whose husbands are at a labor camp are vulnerable to sexual abuse and forced marriages, which are designed to assimiliate and colonize Uighur communities, Abbas said.
Abbas asked participants to educate others, understand personal complicity and join in directive, specific action to defend Uighur Muslims.
"As an Uighur Muslim, as an Uighur woman, I'm asking Christians and the leaders in your society to help us," she said.
Authoritarians also count on tribalism, Moore told participants. He cautioned them against ignoring the oppression of religious communities outside their own faith.
"It is our problem," Moore said. "We have to be the people who recognize the image of God in all of humanity."
Moore challenged churches to pray together by mentioning Uighur Muslims and other persecuted peoples by name, "not only to appeal to God together, but also to shape and to form the consciences of those who are hearing here."
The ERLC recently affirmed support of the Uyghur Forced Labor Prevention Act introduced by Congress. The legislation would prohibit goods made with forced labor in Xinjiang or by entities using Uighur labor forcibly transferred from Xinjiang from entering the U.S. market. It also instructs the U.S. government to impose sanctions on foreign individuals who knowingly employ or utilize forced labor of Uighurs or other Muslim minority groups in Xinjiang.
Travis Wussow, ERLC's vice president for public policy, moderated the panel discussion.