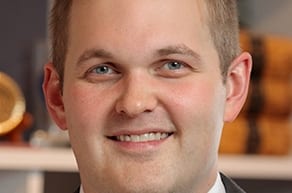 The Southern Baptist Ethics & Religious Liberty Commission (ERLC) announced April 27 a new executive vice president and additional responsibilities for other staff members.
ERLC President Russell Moore named Daniel Patterson as executive vice president. Patterson, who joined the staff when Moore became president in 2013, has served as the entity's vice president for operations and chief of staff. In his new role, Patterson will lead the ERLC's staff, strategy and operations.
Patterson succeeds Phillip Bethancourt, who had been executive vice president since 2013. Bethancourt accepted a call April 26 to be senior pastor of Central Baptist Church in Bryan/College Station, Texas.
Since becoming the entity's president, Moore has entrusted Patterson "with some of the most important work the ERLC has sought to carry out," he said in a news release. "At every step, he has exceeded my already-high expectations, with amazing capacity to manage teams, develop strategy and foster effectiveness throughout the organization, and I'm grateful to God to have him at the helm in this role."
David Prince, chairman of the ERLC's trustees, said Patterson's "new role will utilize his exceptional leadership and organizational gifts in a way that will benefit the strategic mission and ministry of the ERLC as it serves the churches of the Southern Baptist Convention. Perhaps, most importantly, I have long admired Daniel's integrity, wisdom and strength of character."
Patterson described his new role as "an honor of the highest magnitude."
For the last seven years, he has been privileged "to watch the ERLC team come to work every day with a deep desire to serve Southern Baptist churches with faithful advocacy, thoughtful resources and an unrelenting focus on the gospel and our witness," Patterson said in the news release, adding he looks forward to "the opportunity to continue serving our churches in the ERLC's efforts to connect the agenda of the kingdom to the cultures of local congregations for the sake of the mission of the gospel in the world."
Moore previously was dean of the school of theology at The Southern Baptist Theological Seminary, where Patterson and he worked together for about eight years. Prince, pastor of preaching and vision at Ashland Avenue Baptist Church in Lexington, Ky., is also assistant professor of Christian preaching at Southern Seminary.
Moore also announced new responsibilities for three of his cabinet members:
Brent Leatherwood, who has served as director of strategic partnerships since 2017, is the new chief of staff.
Elizabeth Graham, director of events, will also supervise women's initiatives and coordinate the ERLC's pro-life efforts, including Stand for Life and Evangelicals for Life.
Travis Wussow, general counsel and vice president for public policy, will also lead the ERLC's work regarding sexual abuse in churches and the Caring Well initiative.
"If we had conducted a nationwide search we would have identified these same leaders, with their proven giftedness and conviction," Moore said in the news release. "What was needed was a shifting of additional responsibilities, not the hiring of new people, which turns out to be an additional blessing in this time of our country's great economic distress."
In other ERLC staff news, Daniel Darling announced April 22 he will leave ERLC to become senior vice president of communications for the National Religious Broadcasters. Darling has served as the ERLC's vice president for communications since 2013.
Moore also disclosed updated roles for two staff members:
Jason Thacker, the ERLC's creative director, will also be the new chair of research in technology ethics.
Joshua Wester, director of research in the president's office for the last three years, is the new chair of research in Christian ethics.