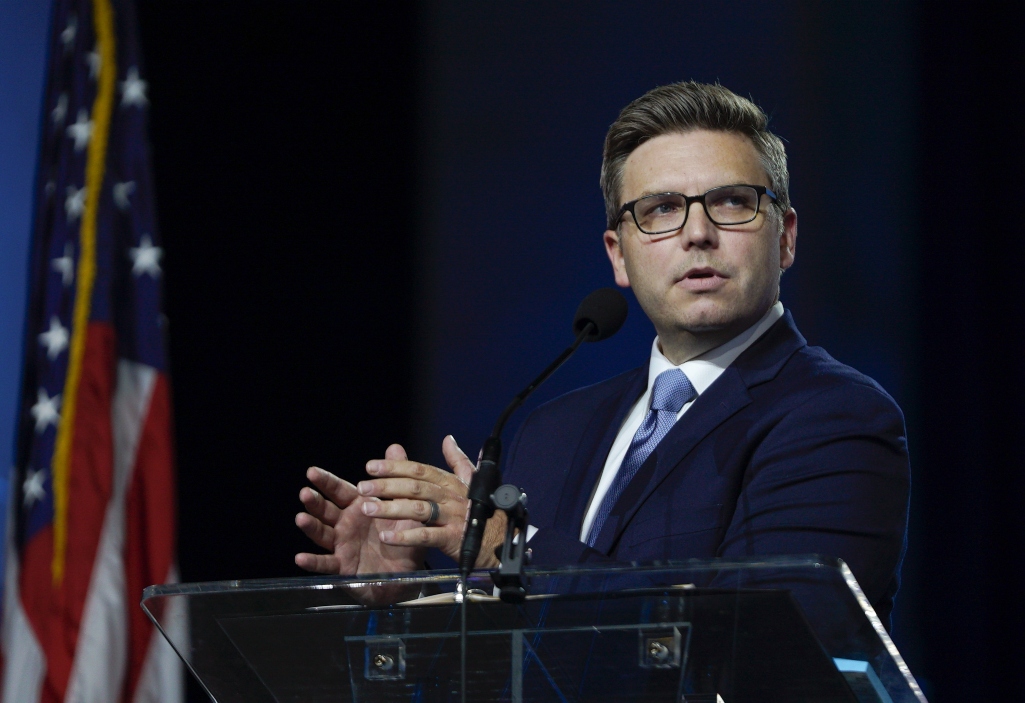 The Southern Baptist Ethics & Religious Liberty Commission (ERLC) has prepared for a post-Roe v. Wade reality while seeking for a "post-abortion world," messengers to the Sothern Baptist Convention's (SBC) 2022 meeting were told June 15.
In giving the ERLC's report, Acting President Brent Leatherwood explained the entity's mindset and work as the country awaits a U.S. Supreme Court decision that may result in the reversal of the 1973 Roe ruling that legalized abortion nationwide.
The high court is expected to issue an opinion by early July regarding Mississippi's ban on abortions of preborn children whose gestational age is more than 15 weeks. A draft opinion leaked in early May appeared to indicate a majority of the court is ready not only to uphold the ban but overrule Roe. If that decision becomes final, abortion policy would return to the states.
"Your ERLC has been diligently preparing for this moment," Leatherwood told messengers, describing the multiple ways "we have pursued every feasible avenue to both equip the church and continue our advocacy for life before a watching world."
He cited the following ERLC efforts:
The Stand for Life Conference, which will be held in collaboration with other organizations Jan. 18-19, 2023, in Washington, D.C., on the occasion of the 50th anniversary of the Roe ruling.
Multiple pastor convenings, which are being held across the country.
An upcoming curriculum for churches.
The ongoing work of the Psalm 139 Project, the ERLC's ministry to place ultrasound machines in pregnancy resource centers throughout the United States.
If Roe is overturned, "we will witness the most significant achievement in the history of the pro-life movement," Leatherwood said. "While overturning Roe will go a long way toward correcting the errors of the past made by the state, it is up to Christians to realize that such a decision—as momentous as it will be—is not the end of the challenge before us.
"In fact, it will represent the starting point for a new pro-life generation, because we will not be satisfied with a post-Roe world," he told messengers. "We are striving for a post-abortion world."
If the high court reverses Roe, Southern Baptists "will have played an instrumental role in getting us to that moment." Leatherwood said. "For nearly 40 years, our churches have made advocacy for life a priority."
That pro-life advocacy by Southern Baptists has included, he said, preaching, praying for the end of abortion, serving mothers targeted by abortion providers, caring for children through adoption and foster care and consistently defending life in court. "All of our efforts have made a difference," he said.
The Psalm 139 Project, which has been placing ultrasound machines in centers for more than two decades, set a goal of 50 placements between December 2020 and January 2023. Leatherwood announced during his report the ERLC has received the needed outside funds to not only meet the goal but exceed it six months ahead of schedule.
Partnerships with the Southern Baptists of Texas Convention, Baptist State Convention of North Carolina, Alabama Baptist State Convention and Florida Baptist Foundation have made it possible, he said.
All gifts to the Psalm 139 Project go toward paying for machines and for the training of staff to operate the machines, since the ERLC's administrative costs are covered by the Cooperative Program, the SBC's unified giving plan.
"Your giving has powered this organization," he said. "Without you sending this organization into the public square, none of this would be possible."
Leatherwood expressed his gratitude to messengers for their votes during the annual meeting in support of reform regarding sexual abuse. The ERLC will attempt to complement the "course you've charted" by updating materials and producing new resources to assist churches while overseeing an assessment of sexual abuse in the convention that was approved by the entity's trustees, he told messengers.
He also thanked messengers for their support of the ERLC in an overwhelming vote earlier in the day to defeat a motion to abolish the entity.
Four messengers asked abortion-related questions of Leatherwood, including Brian Gunter, senior pastor of First Baptist Church in Livingston, La. Gunter expressed surprise that Leatherwood signed a letter in May from about 75 pro-life organizations to state legislators throughout the country that opposed bills, like one in Louisiana, that would make it a crime for a woman to abort her child.
Gunter asked, "Is it really your position that the mother who willfully kills her own child by abortion is never guilty before God, and she should never face any consequences under the law?"
Leatherwood said, "We agree on the bottom line. We want abortion ended. We want it ended today. We want it ended tomorrow. We want it ended as soon as humanly possible."
"Here's the reality," he said. "You're not going to get me to say that I want to throw mothers behind bars. That's not the view of this entity. That's not the view of this convention. It's not the view of the pro-life movement."
Instead, he said, maybe we should "rush in with the truth given to us by the Author of life, showing we are able to bear the burdens of others and offer the healing that comes with grace just as has been poured out for us."
(EDITOR'S NOTE – Tom Strode is Washington bureau chief for Baptist Press.)