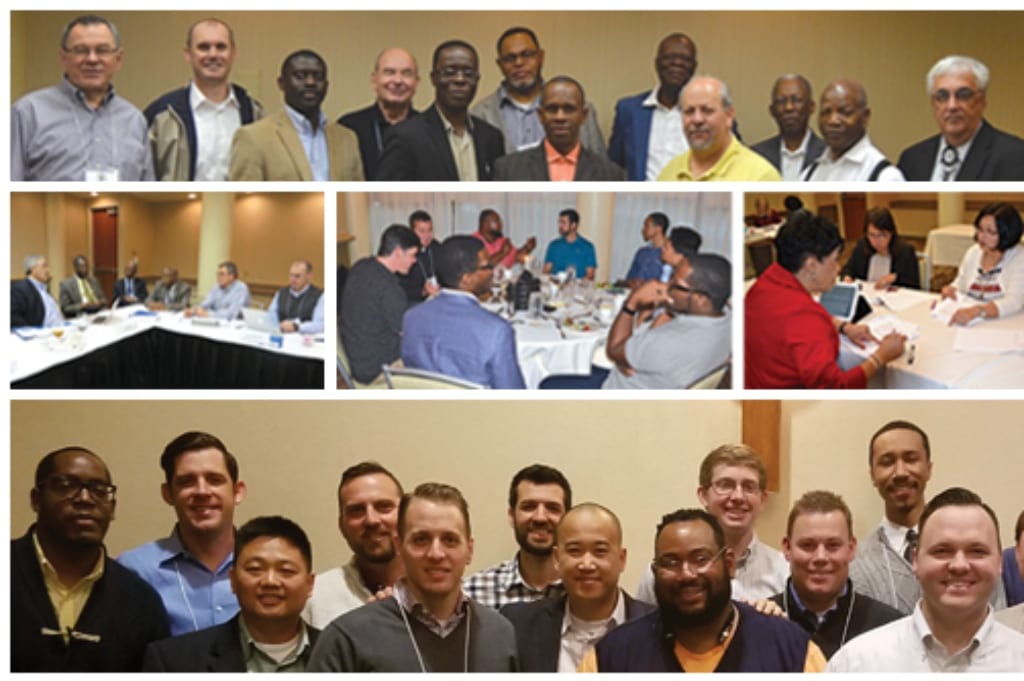 The Southern Baptist Convention (SBC) is growing in three key metrics among ethnic minority fellowships despite a continuing decline among the broader SBC, according to a report the Convention Advancement Advisory Council (CAAC) released June 24.
Southern Baptists comprising six ethnic minority fellowships increased their churches, members, and worship attendance, but suffered declines in missions, baptisms and congregations (a category combining churches and missions), the CAAC said in its 2020 report to its membership and ethnic fellowship leaders.
At the same time, the broader SBC and white Southern Baptists decreased in all categories included in the report, according to the CAAC Dashboard 2020 from the CAAC Subcommittee on Research.
Minority ethnic fellowships comprised 22.3% of the 51,538 Southern Baptist congregations included in the report regarding 2018, the most recent year studied, using data from LifeWay Research and the North American Mission Board (NAMB).
The only rises in baptisms in 2018 were reported among Hispanic, Native American and "Other Ethnic" Southern Baptists, with the largest increase among Hispanic Southern Baptists, the CAAC reported.
Peter Yanes, who leads and coordinates SBC Executive Committee (EC) work among ethnic minority fellowships, said the data is important in building partnerships to fulfill the Great Commission.
"This will provide a better picture and understanding on how diversity and ethnicity should influence our ministry strategy, and hopefully will foster intentional partnership among our churches for the gospel," said Yanes, SBC EC executive director of Asian American relations and mobilization. "There is much more we need to do in order to get relevant data to the local churches and pastors so that frontline decision making is based on relevant data and accurate facts."
Dennis Mitchell and Minh Ha Nguyen compiled the data as co-chairs of the CAAC Subcommittee on Research. The report, combining Annual Church Profile (ACP) data from LifeWay Research and Racial and Ethnic Reports from NAMB's Center for Missional Research, is the latest and most thorough study of Southern Baptist ethnic diversity available from the SBC EC.
NAMB's Center for Missional Research provides more accurate information on racial, ethnic and language categories and names, Mitchell and Nguyen said.
"For example, ACP has only nine ethnic identifications while the [NAMB] reports provide over 30 ethnic and language groups," the two said in written comments. "In addition, CAAC is doing further research to identify ethnic and language groups among the 'Other Asian' category which includes some of the newest ethnic members of the SBC family (e.g. Chin, Nepalese, Burmese, Persian, South Asian, etc.). Often, these overlooked groups are some of the most dynamic ones showing much vitality and growth."
Following are CAAC findings in various ethnic categories.
All ethnic fellowships combined
Growth: 8,696 churches, up 1.02% from 8,608; 1,481,351 members, up 1.46% from 1,459,972; 618,602 in worship attendance, up 6.31% from 581,868.
Decline: 11,504 congregations, down 0.15% from 11,522; 2,809 missions, down 3.5% from 2,914; 27,160 baptisms, down 3.74% from 28,215.
White Southern Baptists
Decline: 40,033 congregations, down 0.91% from 40,400; 38,762 churches, down 0.46% from 38,940; 1,271 missions, down 12.96% from 1,460; 13,331,855 members, down 1.58% from 13,545,666; 4,679,193 worship attendance, down 1.25% from 4,738,620; 219,301 baptisms, down 2.92% from 225,907.
African Americans
Growth: 3,382 churches, up 1.23% from 3,341; 907,420 members, up 0.05% from 907,011; 258,970 worship attendance, up 3.69% from 249,744.
Decline: 3,920 congregations, down 0.23% from 3,929; 538 missions, down 8.5% from 588; 9,428 baptisms, down 15.35% from 11,137.
Hispanics
Growth: 3,509 congregations, up 0.09% from 3,506; 2,275 churches, up 2.39% from 2,222; 234,658 members, up 7.34% from 218,614; 142,454 worship attendance, up 4.83% from 135,894; 8,053 baptisms, up 20.32% from 6,693.
Decline: 1,234 missions, down 3.89% from 1,284.
Asian Americans
Growth: 2,095 congregations, up 1.06% from 2.073; 1,615 churches, up 2.09% from 1,582; 93,784 worship attendance, up 0.43% from 93,382.
Decline: 170,093 members, down 0.89% from 171,631; 480 missions, down 2.24% from 491, and 4,358 baptisms, down 24.80% from 5,795.
Southern Baptist Asian Americans include Cambodian, Chinese, Filipino, Hmong, Japanese, Korean, Laotian and Vietnamese.
Native Americans
Growth: 913 baptisms, up 1.00% from 904.
Decline: 431 congregations, down 0.92% from 435; 390 churches, down 0.25% from 391; 41 missions, down 6.82% from 44; 35,829 members, down 12.40% from 40,900; 15,301 worship attendance, down 4.05% from 15,947.
Other Ethnic and Language Groups
Growth: 516 missions, up 1.78% from 507; 133,351 members, up 9.47% from 121,816; 108,093 worship attendance, up 24.39% from 86,901; 4,408 baptisms, up 19.59% from 3,686.
Decline: 1,550 congregations, down 1.84% from 1,579; 1,034 churches, down 3.54% from 1,072.
The Other Ethnic and Language Groups category is composed of multiple groups including Haitians, Nigerians, Kenyans, Middle Easterners, Brazilians, Slavic people, Jewish people and other language groups.
The findings are in concert with 2019 ACP data released in June, which shows SBC declines in baptisms, members, missions, and worship and Sunday School attendance, alongside a 0.16% increase in the number of churches.
The CAAC report, in its third year, was conceptualized and designed by Ken Weathersby, who retired in late 2019 as SBC EC vice president for convention advancement. The CAAC said it plans to continue the dashboard for the next five years to establish sufficient information to analyze trends.
(EDITOR'S NOTE – Diana Chandler is Baptist Press' general assignment writer/editor.)