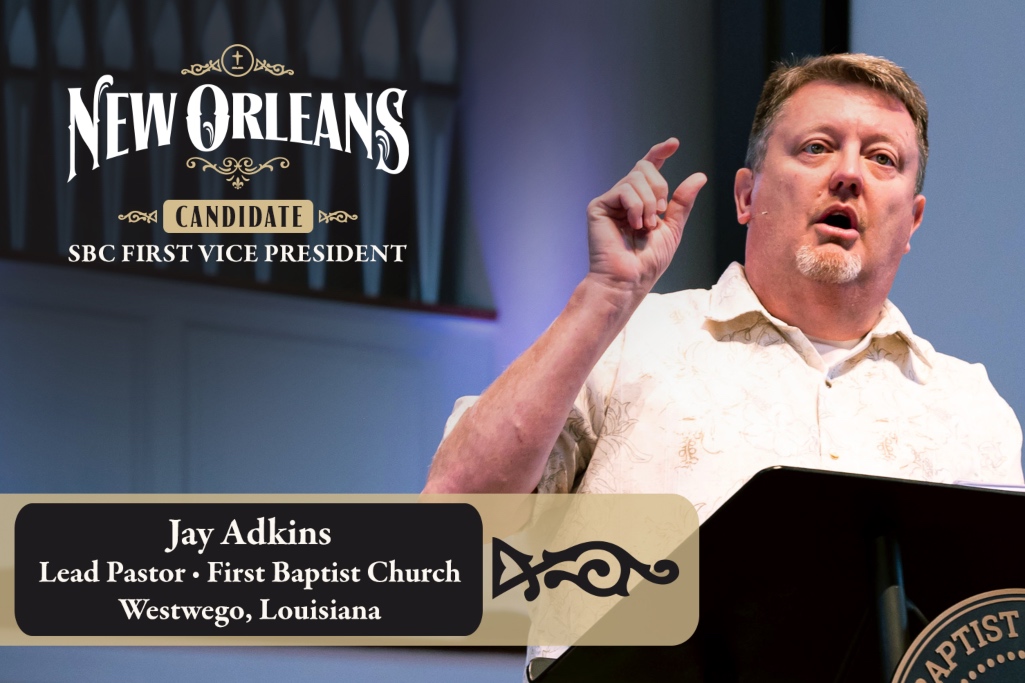 NEW ORLEANS (BP) – Fred Luter, former SBC president and pastor of Franklin Avenue Baptist, announced Tuesday (Feb. 14) that he intends to nominate fellow New Orleans pastor Jay Adkins for the office of first vice president at the 2023 SBC Annual Meeting this June. Adkins pastors First Baptist Westwego on the west bank of the city.
Luter and Adkins have served alongside one another in the city for more than two decades. Adkins has led First Westwego – a normative-sized church – since 2002.
"As a faithful small-church pastor, [Jay] is representative of the vast majority of churches that make up the Southern Baptist Convention," Luter said in an email to Baptist Press.
Luter also called Adkins a "committed advocate" of local association work noting he has served the New Orleans Baptist Association as moderator, as a member of the administrative team, as a member of the AMS search committee, and as a member of the associational council of pastors.
Adkins has experience on the state and national levels of the Convention and currently serves as the chair of the local encouragement team for the 2023 Annual Meeting in New Orleans. He has previously served on both the tellers committee and the committee on nominations.
According to Annual Church Profile information and church records, First Baptist Westwego reported seven baptisms in 2022 and averaged 85 in weekly worship. The church collected $125,970 in total undesignated receipts, with $10,822.59 (8.59 percent) given to Cooperative Program causes.
Adkins is a graduate of Leavell College and has both an M.Div. and Th.M. from New Orleans Baptist Theological Seminary. He and his wife, Michelle, have two sons.