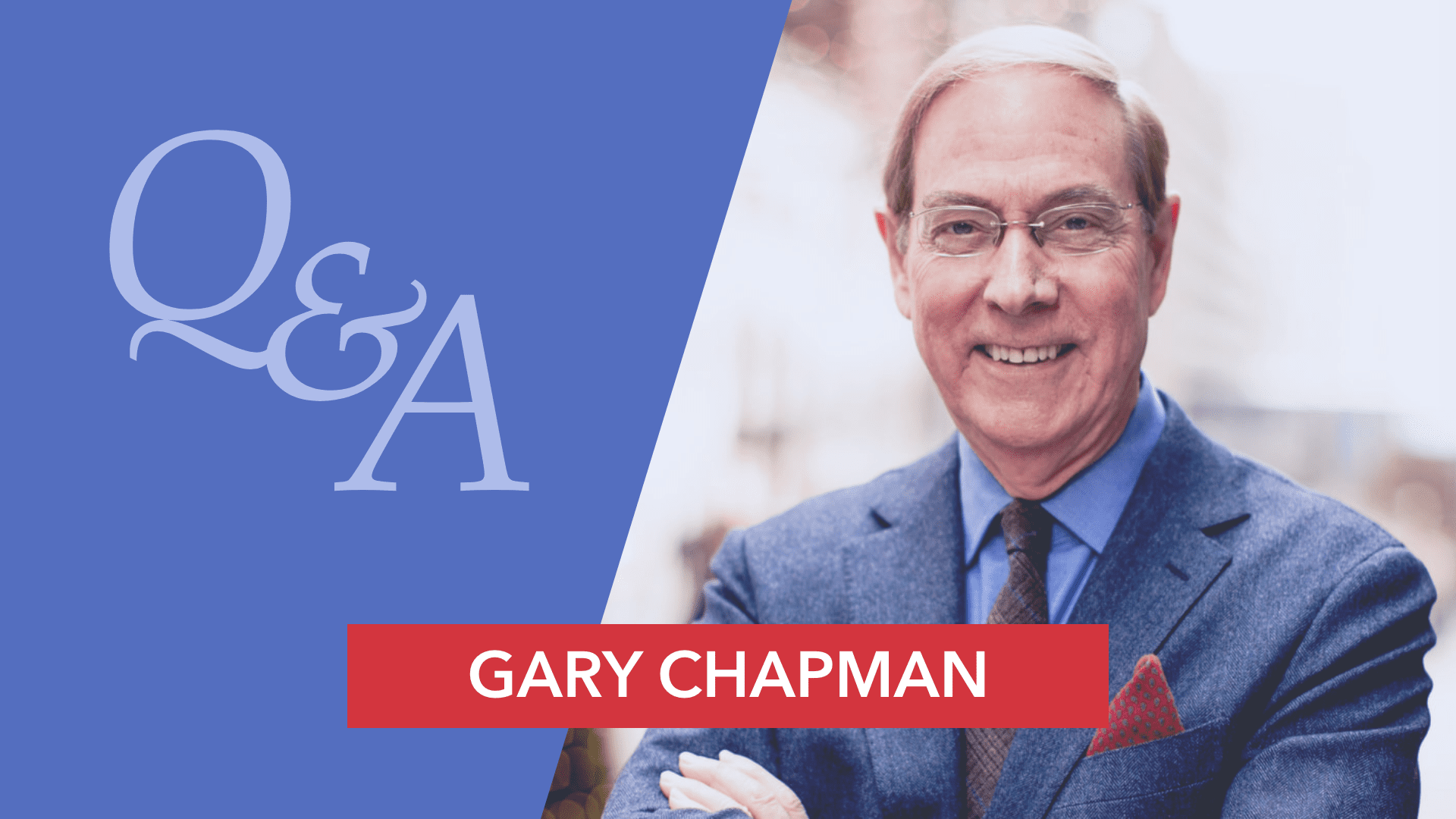 Gary Chapman is a well-known marriage counselor, author and radio show host who serves at Calvary Baptist Church in Winston-Salem, N.C. He recently sat down with the Biblical Recorder for an interview about ministry, mental health and marriage. What follows is a lightly edited transcript.
Q: How long have you served at Calvary Baptist Church?
A: I just finished 50 years this past April. It is an honor to serve in one church for so long. I did 10 years of college ministry. And then I turned that over to somebody. I did 10 years of single adult ministry. That's where I got immersed in the whole separation and divorce thing. My second book came out of that. I have always directed our adult education program here, even while focusing on these two groups. The counseling, you know, just started and became a significant part of my ministry.
Q: How do you stay 50 years at one church?
A: Well, I think because God ordained it, you know. I never came here with the intent of staying 50 years. I came here with the idea that I'd probably serve a couple of years as an associate pastor, and then I'd probably go somewhere and pastor. I worked with one pastor for 30 years, Dr. Mark Corts. He was here 39 years.
Q: It's been a challenging 15 months for pastors. What advice are you giving pastors?
A: The pandemic is a significant reality for pastors. However, the idea of how you handle the pandemic has led to pastors dealing with numerous challenges and fractions within the church. There are just so many things and questions that pastors have had to wrestle with during this whole year. The most important thing is our relationship with God, because sometimes we can get so caught up in doing work for God that we don't stay tuned in with Him. The most important thing that pastors can do is stay tuned in with God.
I'll never forget being in college at Moody Bible Institute. When I was a student, I talked to the postmaster on campus, and the conversation of Billy Graham came up. He said to me, "Do you know what I pray for Billy Graham? I pray that God will keep his heart." That made such a profound impact on me. I've prayed regularly, ever since that time, that God keeps my heart because we know that everything flows out of the hearing. Everything. If God keeps our hearts, then we're not going to stray too far.
So that's what I pray, you know, and that's what I would say to pastors. Just pray that God will keep your heart or don't get pulled off into the right or the left or turn around and go backward. Keep my heart so that whatever I encompass, I will have your direction on where I'm to go. Along with that, pray for wisdom. God, give me wisdom.
Q: What would you say to pastors who are dealing with the pressure and obstacles of pastoring?
A: I would say to pastors amid the pressures that the source of the pressures acknowledge that we can't do it without Him. Sometimes as pastors, we feel like, "I've got this down. I know how to prepare sermons. I know how to preach. I know how to do this." We fail to acknowledge our desperate need for God and to pray for His wisdom, insight and direction. The scripture says, "If you lack wisdom, ask God." So you ask God for wisdom on how to lead the church. God gives wisdom if we reach out for it.
Q: What's your belief on pastors seeking mental help and counseling?
A: Emotional health, mental health, spiritual health – they're not disconnected. They're somewhat connected, but they're not the same. Even a person who is having a positive relationship with Christ can still suffer from depression and anxiety. Some of the mental health issues have to do with the chemicals in the body and the brain. Others have to do with our experiences – the scars that we have that we've brought with us to the present. All of us have scars. A counselor is simply a person outside of yourself who can listen to you, hear you, empathize with you, see where you're coming from and what might be helpful to you where you are.
Q: How did the "The 5 Love Languages" get started?
A: Well, the short answer is God. The long answer is God. That's all I know. I think it addresses one of our deepest emotional needs, the need to feel loved by the significant people in our lives. On the human level, what has happened is couples will read it and then take the quiz. You know, the love tank begins to fill up, and they feel drawn to each other rather than arguing with each other. And then I think they want their brother and his wife, their sister and their husband, their mother and their daddy to read the book.
I can still remember teaching it at my home church, Calvary Baptist Church, and teaching others for 10 years before it was even published. It was probably the most accessible book I've ever written. Because I had discovered this at least 10 years before I wrote the book, and I had used it over and over with couples and parents in my counseling office. I used it in small groups and teaching teams. I had seen how the transformation works.
Q: What advice do you give pastors on how to serve their spouse?
A: I would encourage every pastor, every leader, every Christian couple to have a night out regularly. You just go out, just the two of you, and go to a restaurant. Sometimes it might not be eating. Perhaps taking a walk together or going to a movie. Do something every week together like that takes you out of the routine that you're in.
Let your wife be the priority. The scriptures are clear and every preacher has preached on them. Husbands, love your wives like Christ loved the church and gave Himself for it. I think an essential question that pastors should ask themselves should be: "If every married couple in my church had a marriage just like mine, would I be happy with that?"
Our model is more important than our preaching. I don't mean the message is not more important than the gospel. Our model to our people of how a husband treats a wife and how a husband responds to his children is more important than what we're telling them. They're going to pick up more on our model than they are on our preaching.