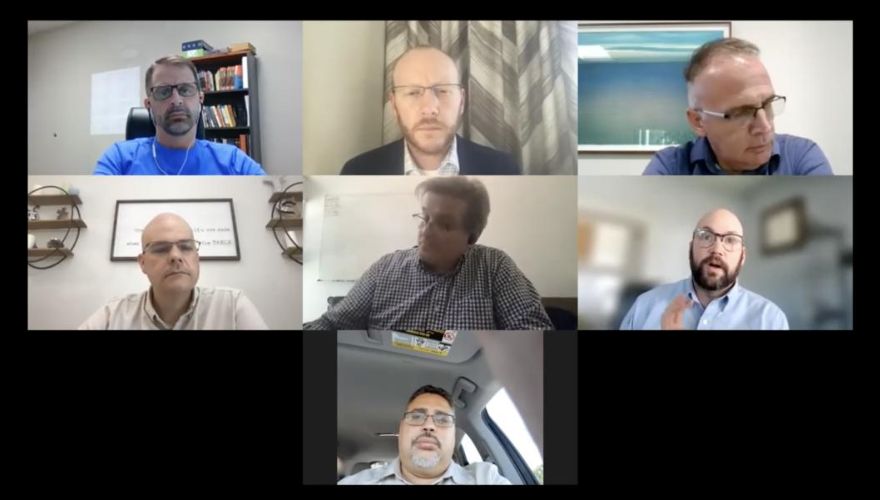 TALLAHASSEE, Fla. (BP) – An immigration bill advancing through the Florida legislature would infringe upon religious freedom of churches to minister to immigrants there, pastors and other evangelical leaders say.
Senate Bill 1718, introduced by Republican Sen. Blaise Ingoglia, would accuse churches of a class three felony of smuggling if they provide transportation to undocumented immigrants, whether knowingly or unknowingly of the immigrants' status.
On a March 30 webinar hosted by the Evangelical Immigration Table and World Relief, Gary Shultz Jr., senior pastor of First Baptist Church of Tallahassee; Jody Ray, missions pastor of Chets Creek Church in Jacksonville; and Jose Vega, Chets Creek minister to internationals, all said the bill would adversely impact their ministries to immigrants, including such benign outreaches as driving community members to worship service or meals.
The bill adversely impacts the very heart of Chets Creek's identity as a church, Ray said.
"Just a month from now we're actually breaking ground on a multimillion-dollar building that its sole purpose is compassion ministries towards the refugee and immigrant population here in Jacksonville," he said. "So ministry to immigrants is really at the core of who Chets Creek Church is.
"And any law that would hinder our ability to care for those in need would be a violation of our religious freedom, the ability to carry out our missional call. So Senate Bill 1718 has the potential to hinder that and as a church here in Jacksonville, hinder the core piece of what we do."
In addition to its Sunday service in English, Chets Creek holds Sunday worship services in Spanish, Burmese, the Khmer language of Cambodia, Portuguese and the African language of Kinyarwanda, Ray said. The church has citizenship and ESL classes.
Webinar participants asked Florida Gov. Ron DeSantis and the Florida Legislature to oppose the bill or amend it to protect church ministries from liability. Their plea is pastoral and nonpartisan, the leaders said, and expressed hope that the bill's violation of religious liberty is an oversight.
Senate Bill 1718 stipulates offenses under Section 787.07 of Florida Statutes to include anyone who "transports into or within this state an individual whom the person knows, or reasonably should know, has entered the United States in violation of law and has not been inspected by the Federal Government since his or her unlawful entry from another country; and conceals, harbors or shields from detection, or attempts to conceal, harbor, or shield from detection, in any place within this state, including any temporary or permanent structure or through any means of transportation, an individual whom the person knows, or reasonably should know, has entered the United States in violation of law and has not been inspected by the Federal Government since his or her unlawful entry from another country."
Schultz mentioned First Tallahassee's ministries to the homeless, refugees, those in crisis pregnancies, sex trafficking survivors, and those eligible for English as a second language classes.
"In all of that we're trying to do what Jesus commands us to do, which is make disciples of all nations, to minister to people who need to hear the Gospel, whom God has brought to our front door and to our community. We're also trying to do what Jesus commanded us to do and love our neighbor as ourselves," Schultz said. "This bill in particular raises some troubling implications of what we might have to do and not be able to do in fulfilling those scriptural commandments.
"And in no way would I as a pastor want to have to tell my pastoral staff, or our deacons or our church members that there could be legal ramifications for ministering, for transporting people in need. And we're called to love people not only with the Gospel, spiritually, but physically as well, and to help with issues like transportation, healthcare, financial assistance, and other things that could potentially be challenged by this bill."
In addition to Southern Baptist pastors, webinar participants included Dale Schaeffer, district superintendent of the Florida District, Church of the Nazarene; Steve Gregg, associate pastor of Creekside Community Church, an Evangelical Free Church of America congregation in Gainesville; Gabriel Salguero, pastor of The Gathering Place, as Assemblies of God congregation in Orlando, and president of the National Latino Evangelical Coalition.
World Relief President and CEO Myal Greene moderated the panel, noting among many World Relief partners the Ethics & Religious Liberty Commission of the Southern Baptist Convention.
"As an organization guided by the principles of Scripture," Greene said, "we're committed to both serving and welcoming immigrants, including those without legal status who often are among the most vulnerable, while simultaneously respecting the law and the role of governing authorities that Scripture tells us God has established to maintain order."
Pastors said if the bill becomes law, they'll continue in ministry with certain safeguards, none of which would protect them from the law.
"Certainly we could have to consider and we would have to communicate," Schultz said, "the possible legal ramifications of this bill. My hope is that we would continue to do what we're doing to minister to all of those populations."
Salguero agreed.
"We're going to continue to do what Christ called us to do," Salguero said. "We are the church, and our moral and pastoral commitment is to be His hands and feet. But we'd have to clearly communicate the possible legal ramifications to all those ministry volunteers and ministry people."
DeSantis' office has been made aware of objections to the bill, Salguero said, but no one on the call said they had spoken to the governor directly about the legislation. The bill is still in committee, according to the Legislature website.
DeSantis' office did not respond to Baptist Press' request for information by deadline.
(EDITOR'S NOTE – Diana Chandler is Baptist Press' senior writer.)