The recent coronavirus pandemic failed to keep North Carolina Baptist Ministers' Wives from its annual retreat July 13-15 at Caraway Conference Center in Sophia, N.C.
"We have always done ministry together," said Janice Drum, who tackled the theme "A Focused Vision" based on 2 Corinthians 4:12 during the three-day, two-night retreat.
Drum is the wife of senior pastor Hampton Drum of Tri-City Baptist Church in Conover. "I am all in. I am married to the sweetest, purest, godliest pastor."
A July 14 morning session had Drum leading the minister's wives through listing a top quality of their husbands.
"I want to be careful … but at the same time, I need to say it has always been a union – a oneness – in ministry with my husband," she said.
Through Ephesians 5:22-33, wives can learn about the picture of Christ and His love affair with the church.
"I still believe in the truth that God wrote about marriage," Drum said. "Because if you see Ephesians 5 like Paul wrote it in your covenant relationship with the Lord, you'll see your marriage not only as a covenant relationship with the Lord but you'll also see your husband's relationship with the church."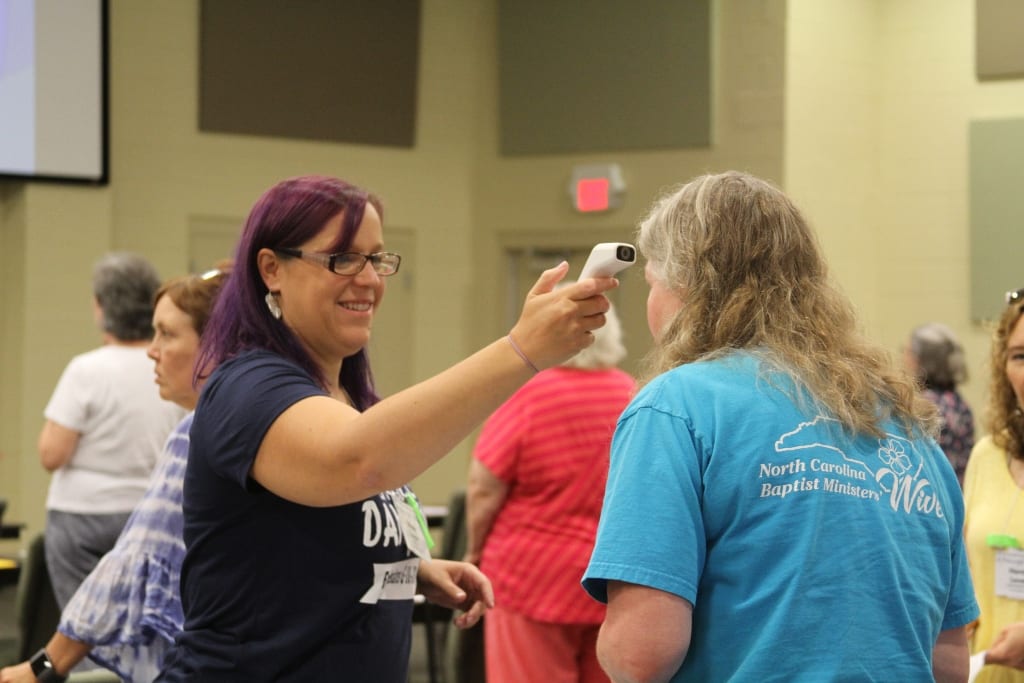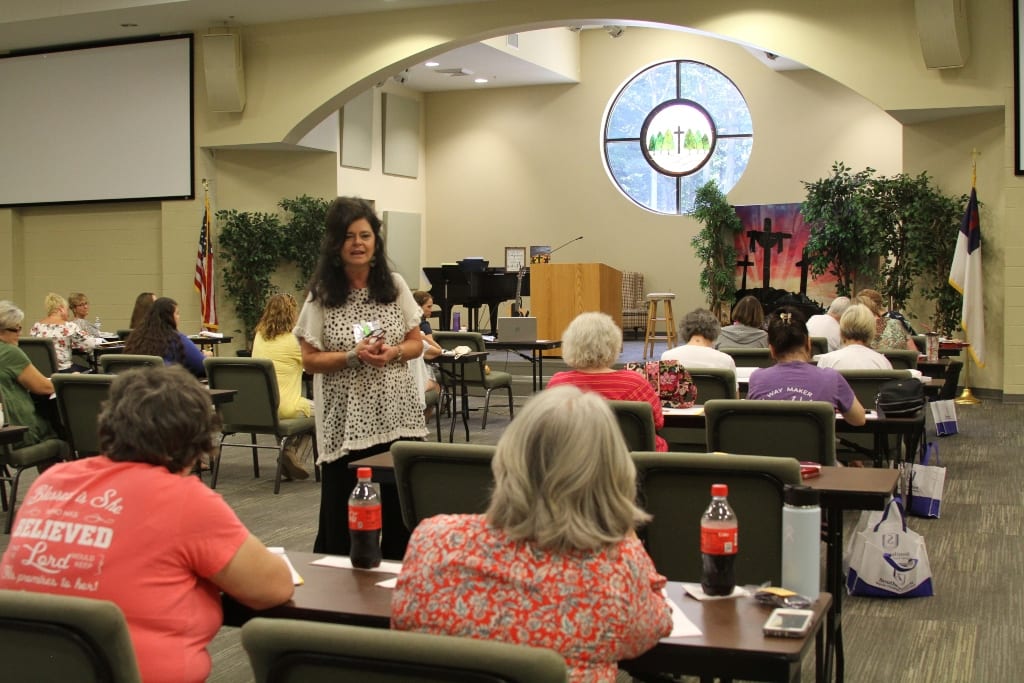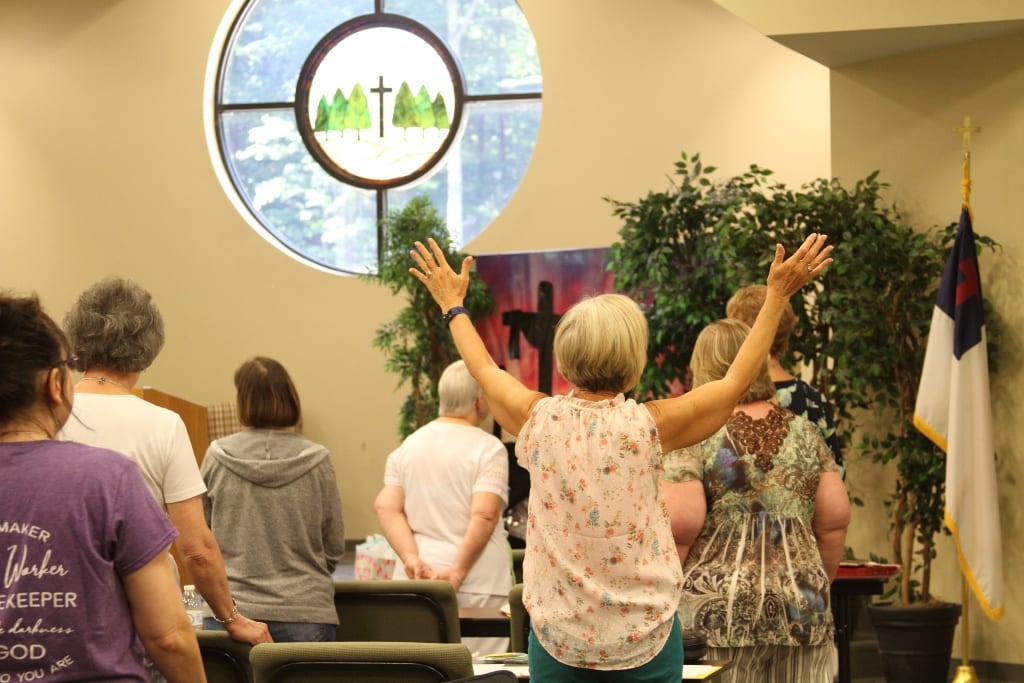 BR photos by Dianna L. Cagle After temperature checks at the North Carolina Baptist Ministers' Wives retreat July 13-15, Janice Drum of Tri-City Baptist Church in Conover served as the main speaker. Deborah Lockey of First Baptist Church of Morehead City led the music.
Scripture describes the husband as the head of the wife, "'even as Christ is the head of the church.' It's beautiful if you allow yourself to see it."
Drum talked about the love her husband has for the people he serves in the church. She described their relationship as stronger when she remembers "what the Lord has done for me."
Drum said her husband pushes her in her walk with God, keeping her accountable.
"Husbands should love their wives as Christ loved the church, unconditionally and sacrificially," she said, quoting Ephesians.
"A husband who fails to properly love his wife makes it hard … to submit to him."
As a couple, they have wept together on their knees, done Bible study together, set goals and worshipped together. Scripture says husbands and wives have unique roles, she said.
"We are equal in the sight of the Lord in salvation in repentance," she said.
"But God has called him to be the authority … and I am to submit to him as my pastor."
The annual retreat offers the ladies time together to support and pray for one another.
Cheryl Reeves, minister's wife to Jerry Reeves, pastor of Piney Grove Baptist Church in Lenoir, has been coming to this retreat almost every year since 2001, when the couple started serving at Piney Grove. Another minister's wife invited Reeves to a breakfast on a February morning.
Because of the "icy, horrible conditions," Reeves and the woman who invited her were the only wives who attended. "She and I probably spent three hours together that day," said Reeves.
"We connected," and she said, "you're coming with me to the retreat."
Reeves said the retreat is a blessing. While she sees many familiar faces each time, there are younger women who attend as well. She said individuals in the group offer encouraging texts or calls.
The group took temperatures each day and offered space for appropriate social distancing.
A color-coded option was given to participants so they could choose the kind of interaction they wanted during the retreat: green = OK with hugs and high fives; yellow = OK with talking not touching; and red = I am keeping my distance.
Many chose to wear green and did not wear masks. There were only three chairs at each table in the dining room during meal time, and tables in the conference center were spaced out with roommates being asked to sit with one another at tables set up for two.
Music was led by Deborah Lockey, worship leader and director of youth and senior adult ministries for First Baptist Church in Morehead City.
Its next meeting is scheduled Nov. 9, just before the Baptist State Convention of N.C. annual meeting in Greensboro. The group meets during a morning session of the N.C. Pastor's Conference.