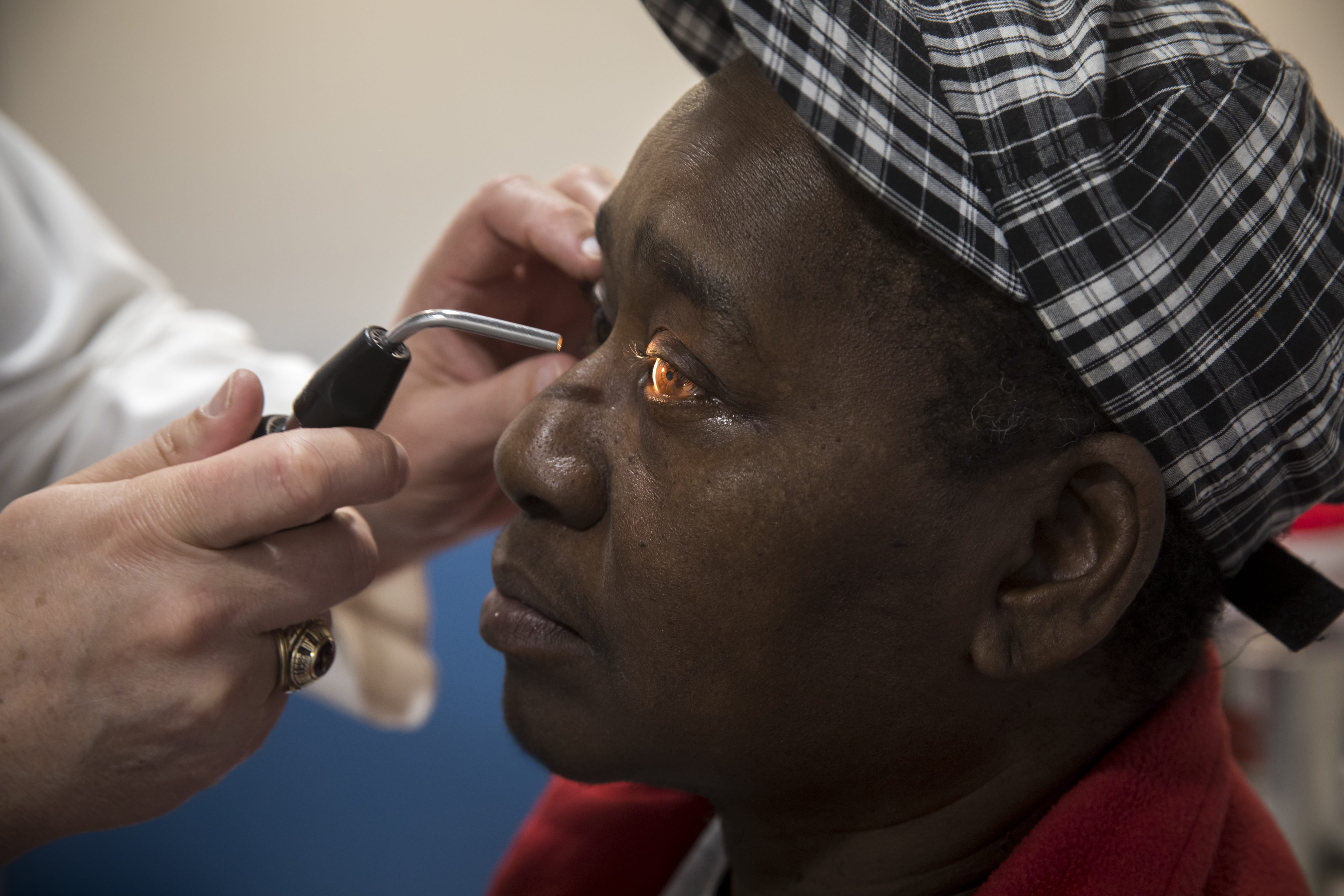 The addition of a new health screening bus in February upgrades the service already provided by North Carolina Baptists on Mission, also known as N.C. Baptist Men (NCBM).
"It was all God," said Crystal Horton, NCBM health screening coordinator, who credits the Goodwill Foundation, along with several other anonymous donors.
Problems with the previous bus caused the ministry to close several clinics early.
"It was definitely hindering the functionality of the clinic," said Horton, who has been in this ministry position for about five years.
"For us, we're trying to help Christians get personally involved in missions, and there are lots of medical and dental professionals along with volunteers who have gifts that are greatly needed by hurting people," said Richard Brunson, NCBM executive director, in an interview with the Biblical Recorder. "This is another way to minister in Jesus' name; if you look at the miracles Jesus did, the majority involved ministering to people's physical illnesses and hurts. What a great way we have to help churches meet needs in Jesus' name in their community."
The new Winnebago mobile unit, designed by Dan Matthews at Capital City Customs in Raleigh, offers a new reliability not available with the older 2004 model acquired in 2015.
First clinic
The health screening mobile unit's first clinic was in February.
"The first outing was great," said Horton, who previously worked as a surgical nurse and on clinical cancer research trials.
Barton College in Wilson sent nursing students to aid at registration, take vital signs and do finger sticks.
The students get credit for community volunteer service, Horton said. It's also a good opportunity to share with them early in their medical career the opportunities available through NCBM – disaster relief; medical reserve corps; and medical and dental buses.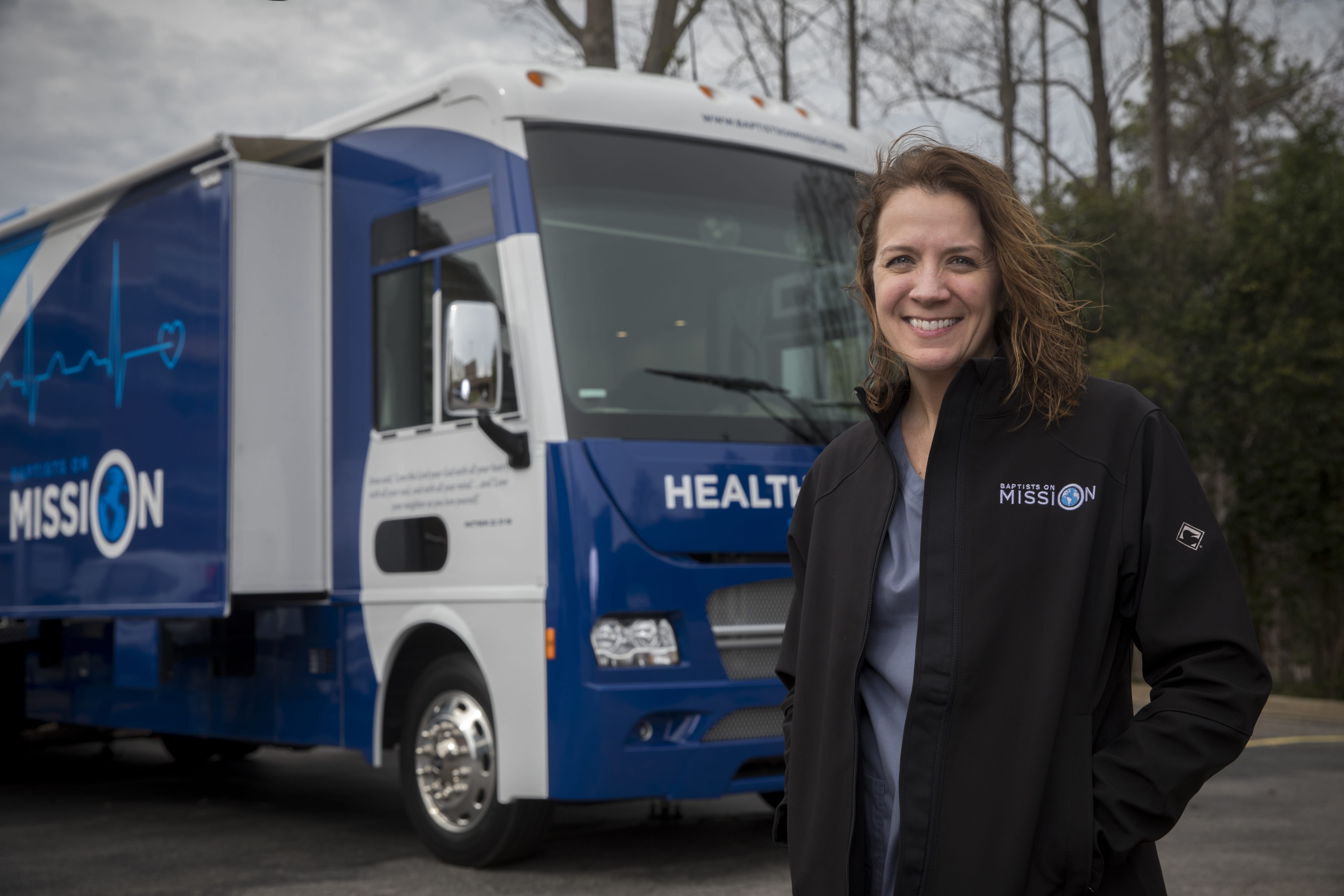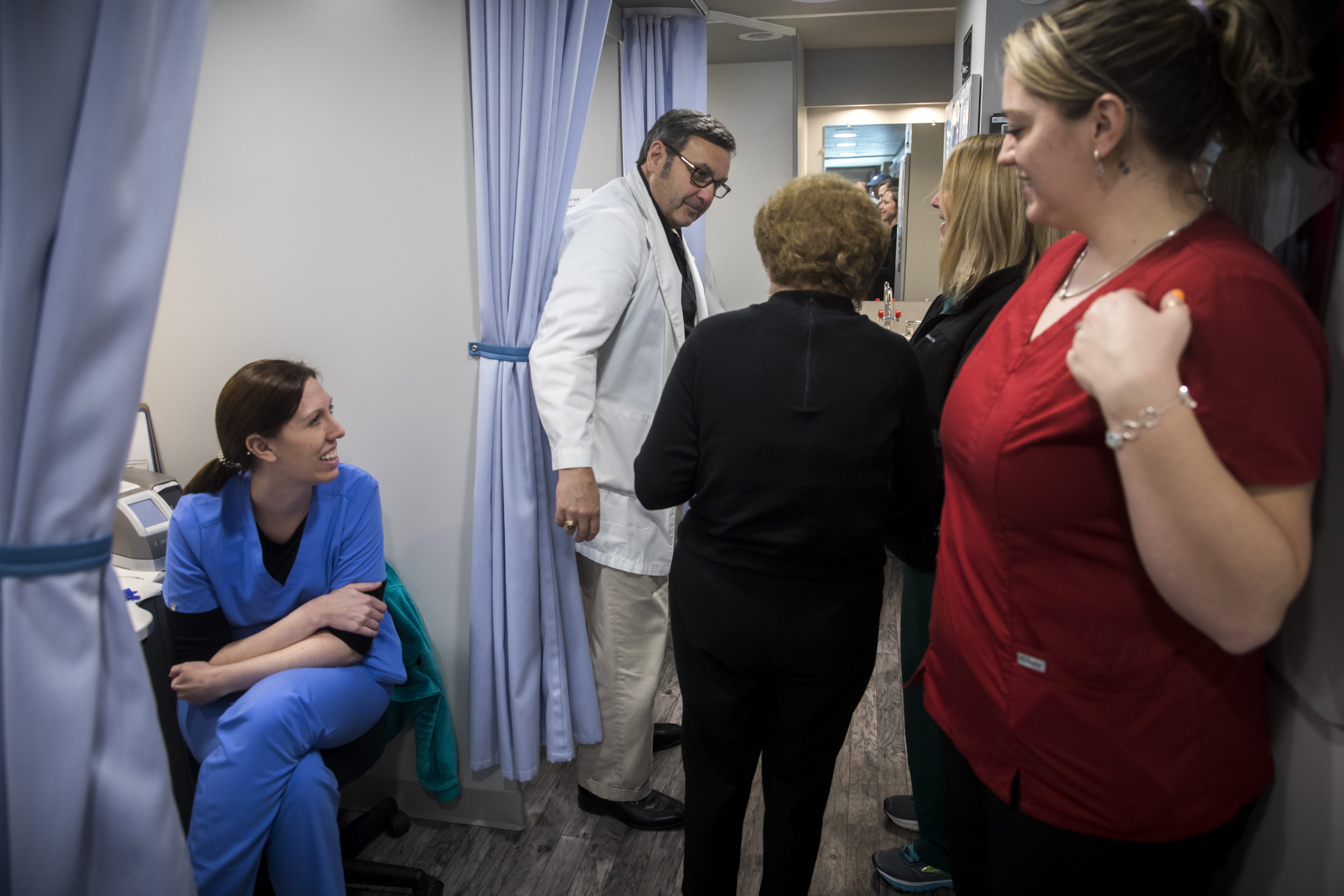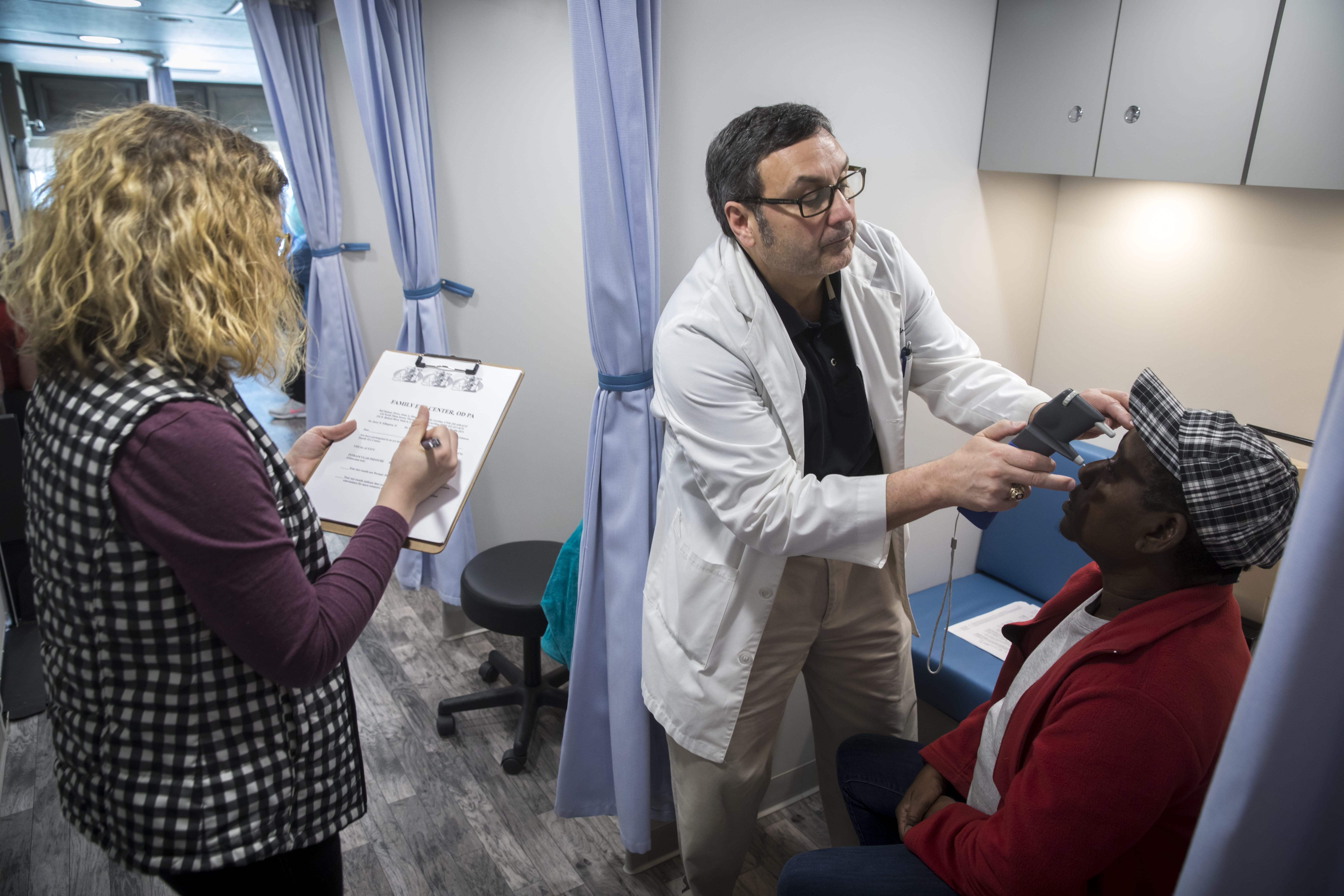 Crystal Horton, health screening coordinator, and Julie Dolinger, medical/dental ministry coordinator, as well as numerous medical volunteers offer much-needed services to people across North Carolina on the health screening mobile unit.
BSC photos by K Brown
The new unit optimizes space, including putting a scale in one of the seats to weigh patients when getting their vitals and basic information. It has a diesel engine, air brakes and solar panels to charge the batteries.
"We are very proud of the unit and of the job Matthews did," said Horton, who first encountered NCBM through a medical mission trip to Haiti in 2010. The updates allow for better flow when patients come through, Horton said. The depth of the exam gives foresight into the next 10 years of a patient's life. Finding issues and making even small changes can alleviate symptoms that could cause greater stress on one's body.
Still in use
Once removed from service, the retired dental units have been used by Truett Baptist Association as a stationary ministry.
The previous medical unit was purchased used. NCBM renovated it, but there was still a lot to learn. Horton's direction of the ministry the first three years led to the current design of the new unit.
"Reliability is a lot of it," Brunson said. "That unit was an old unit. We bought it used so we could learn how to set up and run a clinic. If we had built, we wouldn't have built it the same way."
Brunson said NCBM has tried to think through each of the units it renovates and creates. As with feeding units, the type of food served and the way the food is cooked has changed over the years.
"If we take care of it well, we should get 15 to 20 years out of a unit," said Brunson.
North Carolina has two mobile dental units currently in service.
Each of those units as well as the new health screening bus are already booked for this year and have already started booking dates into 2021. Most of the clinics are on the weekend because of the availability of dental and healthcare professionals, who generally work during the week.
Added staff
Julie Dolinger joined the NCBM as medical/dental ministry coordinator in July 2018.
"The opportunity to take the dental trucks to churches and communities and meet that physical need of my tooth is killing me, but let's also talk about how much Jesus loves you and the opportunity for them not only to hear but to see it in action," said Dolinger, "so that is the most amazing part of this job."
Dolinger, who is an X-ray technician, tries to always go to first-time clinics to be "extra support and encouragement."
She worked in the imaging field for 18 years. She started as a dental volunteer and hosted her first clinic in 2012.
"I knew the truck," she said. "I knew the supplies."
Horton, who is a fellow church member at Clearview Church in Henderson, let Dolinger know of the opening. When Dolinger came on board, a new dental unit arrived the next day (July 10, 2018).
"It is still a lot of learning," she said. "I never thought I would know so much about diesel engines."
She has worked to make the dental units organization as similar as possible so frequent volunteers know where items are.
In 2019, between the two dental and one health screening unit, volunteers saw more than 3,000 patients. There were 15 professions of faith.
Dolinger said an eight-hour clinic can average seeing between 20-25 patients, depending on the needs.
A deposit of $200 will hold the day. From that, NCBM subtracts 65 cents per mile, a generator charge, per patient charge and NCBM invoices the clinic host for any costs over that amount.
"It's a ministry," she stressed. "It's not a money-making thing, and it's never intended to be that way.
Dolinger said churches of any size may host a clinic.
"This is a great local mission trip for your church," she said. "They can visit with patients, make lunch or provide child care. Your parking lot becomes the mission field.
Both Dolinger and Horton said the units are usually part of a half-day or whole-day of events sponsored by a church or association. They both work to develop relationships with colleges who offer medical/dental degrees so they can build up a broader volunteer base for the future.
The dental units have been used on an annual basis at the North Carolina State Fair, Western State Fair and both the Cabarrus and Cumberland county fairs.
Drivers are also volunteers and are encouraged to be a team of two people. Set up of each unit takes about an hour. Units can be booked for one day, a week or up to 10 days at fairs.
Each September is the North Carolina Missions Offering (NCMO) emphasis. The NCMO funds each of the units operating expenses, including supplies, offsetting some clinic fees and maintenance. Visit baptistsonmission.org.
(EDITOR'S NOTE – Former dental ministry coordinator Joanne Honeycutt provided some background information for this story.)