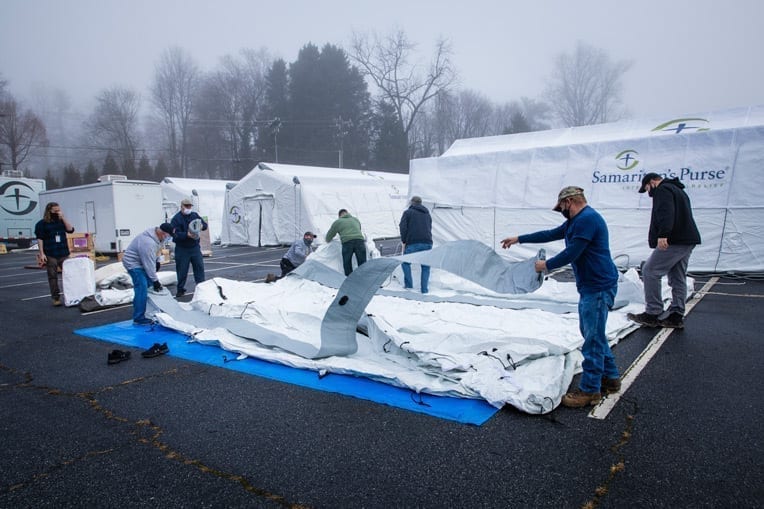 Samaritan's Purse, a humanitarian group headquartered in Boone, N.C., erected a 30-bed emergency field hospital over the weekend in nearby Lenoir, N.C., to treat COVID-19 patients. A spokesperson for the organization said five local hospitals are "overwhelmed and at capacity as case numbers in the state continue to climb."
"This spike is expected to sustain or accelerate into February, and the additional resources the emergency field hospital will provide can help assure we can address the needs of all patients," a spokesperson for Caldwell UNC Health Care told The News & Observer.
The field hospital in Western North Carolina is the fourth temporary medical facility operated by Samaritan's Purse in response to a COVID-19 pandemic that began in early 2020. Other locations included Italy, the Bahamas and New York City.
"We have deployed Emergency Field Hospitals around the world in response to hurricanes, earthquakes, and disease," said president Franklin Graham in a news release. "Now, it is needed in our backyard. We are grateful we can come alongside North Carolina hospitals in Jesus' name to care for patients suffering from the coronavirus."
Confirmed daily cases of COVID-19 have surged in the past week, reaching a record of more than 9,500 cases across the state on Jan. 1. Caldwell County, the location of the new field hospital, recorded more than 600 cases in the last seven days, according to North Carolina's Department of Health & Human Services.