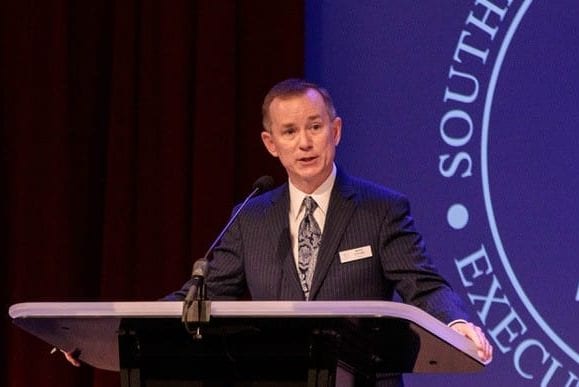 (Updated Feb. 20)
The Southern Baptist Convention (SBC) Executive Committee (EC) voted Feb. 18 to conduct a review of the Ethics & Religious Liberty Commission (ERLC) by authorizing a "study task force" to determine whether the ERLC's "past and present activities" are affecting Cooperative Program giving.
The EC's action came in response to alleged "ongoing concerns" that the ERLC is not adequately fulfilling its convention-approved ministry assignments.
EC chairman Mike Stone told reporters the alleged concerns were "largely anecdotal but increasing in number."
Stone is set to lead the task force, which will include six other EC members appointed by him. The recommendation to conduct a review came from the EC's Cooperative Program sub-committee.
The task force will establish "a formal process by which we can receive information and determine the level that this issue is affecting the Cooperative Program," said Stone.
"I'm fully aware that we may find, as we did in 2017, that what we are hearing is not as significant in fact as it is in perception. What we want to find is where the facts lead us," he said during a press conference.
The January 2020 Cooperative Program report from the EC indicated the SBC share of cooperative giving is up by almost 4% ($715,059) compared to the same period last year. Total Cooperative Program giving has been trending downward since 2009, according to SBC annual reports.
An ERLC spokesperson told Baptist Press, "The ERLC could not do what it does without the sacrificial giving of churches. We hear from our churches every single day with questions about some of the most complicated issues imaginable. In every case, we work to serve our churches with gospel-focused answers.
"Occasionally, we receive questions from Southern Baptists about the work we do. Thankfully those questions are easier to answer. That's because, every day the men and women serving at the ERLC stand for the unborn, advocate for religious liberty, work to address the crisis of sexual abuse, and labor to equip men and women to answer ever-changing questions in light of the everlasting promises of our Lord."
In response to questions from a reporter, Stone denied the task force is an attempt to remove ERLC President Russell Moore from his position, adding that "fake news" was a factor in shaping perceptions of the ERLC.
"A lot of people believe things that are on dubious blogs, and that even affects and suppresses Cooperative Program giving," he said. "So, one of the things that I would hope that we could do is put some definitive point on what is fact and what is not. The real issue is just related to Cooperative Program, and again, Dr. Moore's leadership of the ERLC is not even in view in this task force."
The task force created Feb. 18 is similar to one formed in 2017 by the SBC EC to monitor the activities of Southern Baptist entities to determine whether their actions were adversely affecting Cooperative Program giving.
The 13-member ad hoc committee in 2017 heard from executive directors of state Baptist conventions that 75 churches across the SBC "were withholding, designating or escrowing Cooperative Program funds."
While only 14 churches were confirmed by the committee, they were estimated to have diverted around $1.5 million away from the Cooperative Program, according to the committee's final report.
The final report also indicated that the percentage of churches redirecting or withholding cooperative funds was "lower than anticipated" and the stated reasons varied widely.
The ad hoc committee also said "varying opinions of political candidates" was one of the more common reasons offered by churches for why they were redirecting or withholding Cooperative Program giving.
According to the latest SBC Annual Report, the ERLC's ministry assignments are as follows:
Assist churches in applying the moral and ethical teachings of the Bible to the Christian life.
Assist churches through the communication and advocacy of moral and ethical concerns in the public arena.
Assist churches in their moral witness in local communities.
Assist churches and other Southern Baptist entities by promoting religious liberty.
(EDITOR'S NOTE – Seth Brown, executive editor at the Biblical Recorder, contributed to this report.)