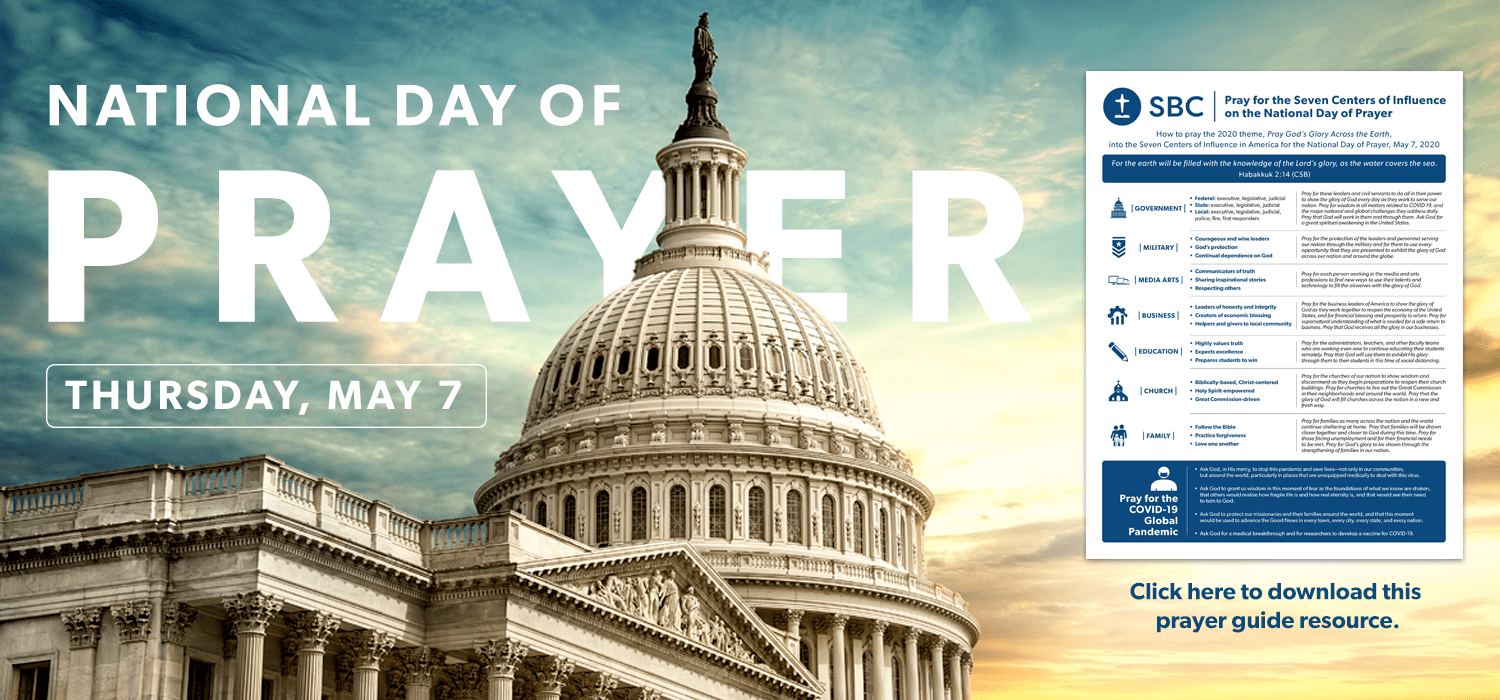 Christians will mark the 69th National Day of Prayer (NDP) May 7 with several virtual prayer and socially distanced events throughout the day, culminating with an ecumenical virtual prayer program broadcast nationally from 8-10 p.m. EDT that features several Southern Baptists.
Kathy Branzell, a Southern Baptist and this year's NFP Task Force president, will co-host the evening broadcast with evangelist Will Graham, vice president of the Billy Graham Evangelistic Association.
"It's amazing in this time that we can shelter in place and still reach around the world," said Branzell, a member of Celebration Church in Hoschton, Ga., in a National Day of Prayer video. "Our national coordinators, our national area leaders, state coordinators and event coordinators are preparing to meet with you virtually, on Facebook and Skype and Zoom, and so many other different platforms."
Rick Warren, senior pastor of Saddleback Church in Lake Forest, Calif.; musical artist Michael W. Smith, evangelist Nick Hall and evangelical pastor Robert Morris are among those scheduled to join Branzell and Graham in the national broadcast.
"Pray God's Glory Across the Earth," based on Habakkuk 2:14, is the NDP 2020 theme. The national observance broadcast will be available at NationalDayofPrayer.org, on the NDP Facebook page, GodTV, Daystar, NLC, BrioTV, Moody Radio and Bott Radio Network.
Ronnie Floyd, president and CEO of the Executive Committee of the Southern Baptist Convention (SBC) – and former president of the NDP – called it a "privilege to have a day on the calendar annually called the National Day of Prayer." With roots dating to 1775, the NDP has been held annually since 1952 and is celebrated on the first Thursday in May. A presidential proclamation accompanies the national observance.
"Each year, this is always significant and timely," Floyd said. "But this year is like no other than we have known in modern history. The present and future challenges in America are so huge, only God can see us through. Now is the time to pray for America."
In addition to the national broadcast, the NDP annually spurs some 60,000 local and state gatherings across the nation. During the COVID-19 pandemic, Christians are replacing in-person events with prayer walks and drives, drive-in prayer meetings, conference calls, Facebook Live events and Zoom and Skype video gatherings, according to Dion Elmore, NDP vice president for marketing and public relations. Elmore said he expects millions to participate.
"While the number of people gathering in person may be different this year, the prayers we pray will be multiplied and amplified through new and creative approaches, combined with unprecedented access to digital platforms," Elmore said. "In homes, neighborhoods, communities, cities, and states, our NDP coordinators are planning to mobilize unified, public prayer for America while still observing recommended physical distancing measures."
Calling the local gatherings "highly unifying for communities," Floyd emphasized their importance and encouraged Christians, even as they're perhaps prevented from meeting together physically because of the COVID-19 pandemic, to gather groups to pray together in virtual settings. He suggested using a prayer guide, created by the SBC Executive Committee, to conduct a meeting of between 20 minutes and one hour.
"Technology really simplifies the reality that anyone can conduct a prayer gathering with friends or families or neighborhoods, or workplaces or churches," said Floyd, who added that the prayer guide, which includes prayer points based on the seven centers of influence in America, "focuses everyone on praying for America."
In addition to local events and the official NDP broadcast, two significant online gatherings are scheduled Thursday:
– At 2:30 p.m. EDT, SBC President J.D. Greear will host an online prayer gathering. Greear is calling for Southern Baptists to pray and to consider fasting, as well.
Floyd is scheduled to participate, as are Marshal Ausberry, the SBC's first vice president; Noe Garcia, the second vice president; and several other Southern Baptist pastors, church planters and missionaries. The gathering will be streamed live in several places, including the SBC Executive Committee's and Baptist Press' Facebook pages.
"This should not, of course, replace any programming you already had planned," Greear said. "Instead, it's simply another resource for us to join together and cry out to the Lord together."
– At 7 p.m. EDT, a PowerPoint Ministries livestream prayer event will feature Vice President Mike Pence, Secretary of State Mike Pompeo and U.S. senators Marco Rubio and Tim Scott.
The event will be hosted by Jack Graham, pastor of Prestonwood Baptist Church in the Dallas area. Christian leaders scheduled to participate include: Greg Laurie, Joni Eareckson Tada, Tony Evans, David Jeremiah, Greg Matte, Franklin Graham, Tim Tebow and others.
The broadcast will be streamed live at PowerPoint Ministries' Facebook page.
Many virtual gatherings are planned throughout the day, including in the northeast U.S. where the bulk of the 70,000 COVID-19 deaths have occurred.
"The northeast is aflame with multiple online, Zoom and Facebook Live events going on," said Mary Bruce, the northeast leader for the NDP. "State coordinators have a variety of social-distancing events happening. There is more prayer than ever could have been provided by a hundred people here or a hundred people there. There is prayer everywhere. Truly, the earth is being filled with the knowledge of His glory."
Maryland state coordinator Angelo Rajadurai will join guest speakers in prayer from 8 a.m.-6p.m. EDT on PRAYTV, Bruce said.
Among prayer events preceding the NDP, Floyd hosted a national prayer call May 5 in conjunction with "Praying on the Mountain," an online prayer gathering for spiritual awakening and revival. Additionally, NDP hosted the Facebook Live event "GloryShines Out of the Darkness," May 5, featuring worship, prayer, Branzell's personal testimony and musical performances by gospel and contemporary Christian recording artist Mandisa.
(EDITOR'S NOTE – Diana Chandler is Baptist Press' general assignment writer/editor.)