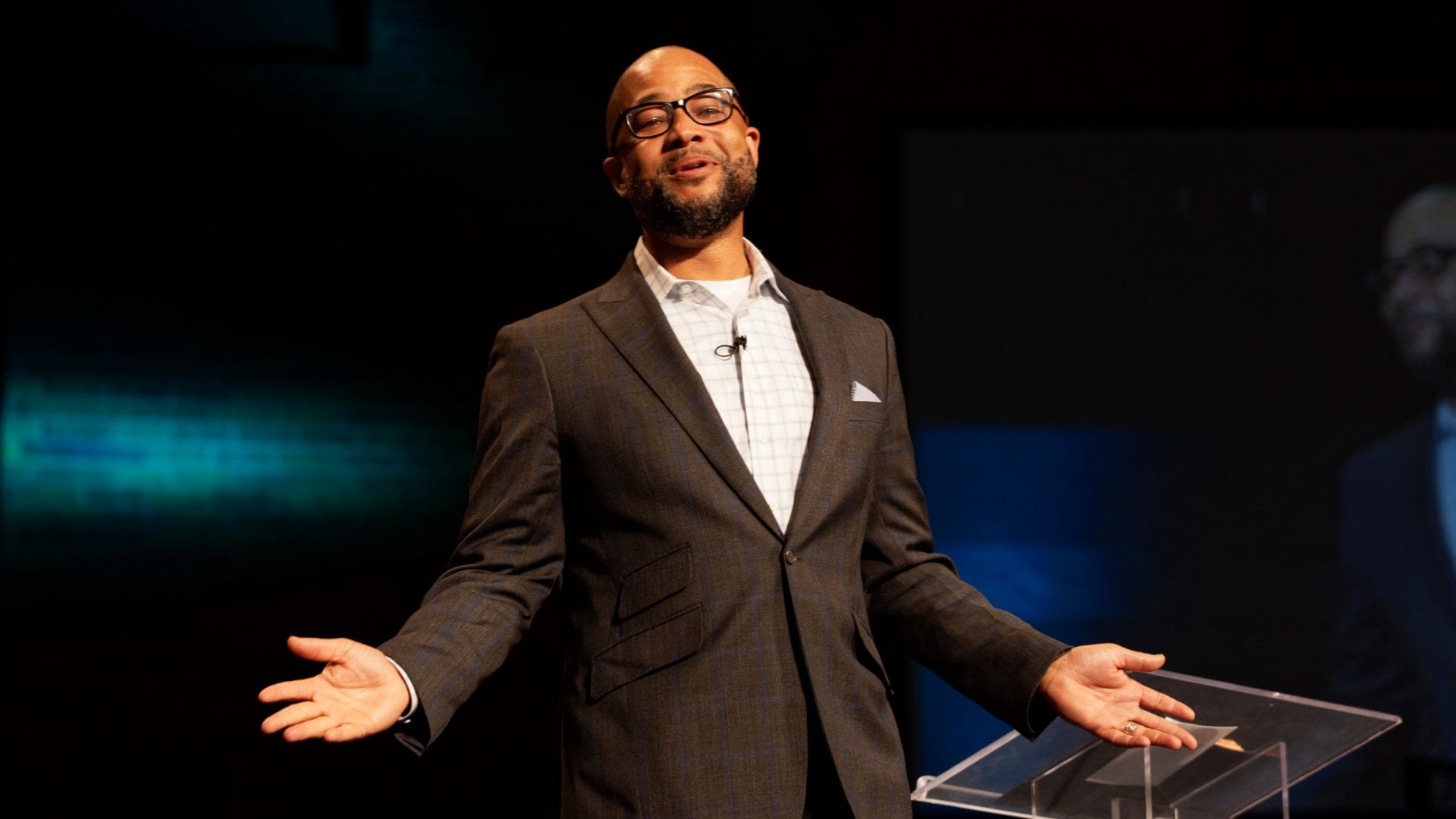 Well-known preacher Bryan Loritts will join the pastoral staff at The Summit Church in Raleigh-Durham beginning June 1, the church announced during online worship services this weekend.
Summit pastor J.D. Greear called Loritts "one of the most gifted pastors and preachers in the United States" during the announcement.
As one of the church's executive pastors, Loritts will oversee leadership development, work with the church's ethnic diversity initiative and join the multi-campus preaching team, according to an email Greear sent to church members today (May 24) that was obtained by the Biblical Recorder.
"He has been a leader in the movement of churches seeking to reflect the gospel through multiethnic reconciliation, a true reconciliation that demonstrates the power of the gospel to bring people together as one," Greear wrote.
Loritts, 47, was most recently the lead pastor of Abundant Life Christian Fellowship in Mountain View, Calif., a congregation affiliated with the Church of God. He previously served as a staff member at Calvary Church in Charlotte, N.C., pastor at Trinity Grace Church in New York City, co-founded a multi-ethnic advocacy group called The Kainos Movement and has authored six books.
In recent years, Loritts has been a regular speaker at the N.C. Missions Conference, an annual event organized by Baptists on Mission (formerly known as N.C. Baptist Men).
Loritts helped start Fellowship Memphis church in 2003, which he led until 2015. His tenure as lead pastor at Fellowship Memphis included a controversial situation where the church's worship director, Rick Trotter, was accused of criminal sexual misconduct. Trotter was also Loritts' brother-in-law.
Greear's email summarized information that Loritts "freely disclosed" about the incident.
Helping Southern Baptist churches prevent sex abuse and care for victims has been a hallmark of Greear's leadership as president of the Southern Baptist Convention since 2017. When a series of investigative news reports revealed more than 700 cases of sex abuse in Southern Baptist churches over two decades, Greear called for a convention-wide "Caring Well" response to help churches develop better policies and practices.
Greear said in the email it was "through this lens" that the church's leadership team "thoroughly familiarized" themselves with the "grievous incident" at Fellowship Memphis.
Here's what happened
In 2016, at least four alleged victims told the Memphis Commercial Appeal about a 2010 incident where Trotter placed a hidden camera in a restroom at Fellowship Memphis. A female church staff member discovered the device and reported it to church leaders.
Loritts told The Summit during the interview process that he immediately informed church elders and fired Trotter when he found out about Trotter's misconduct, according to Greear's email. Greear also said victims were notified and Loritts "instructed his team to contact the authorities."
It is unclear how Fellowship Memphis leaders identified victims of Trotter's voyeurism.
The alleged victims who spoke to the Commercial Appeal said church co-founder John Bryson discouraged them from going to the police. Two of them said they were minors at the time of the incident.
An officer with the Memphis Police Department told the Commercial Appeal in 2016 that no one filed a police report about Trotter's voyeurism in 2010.
"Pastor Bryan confirmed that he wholeheartedly supported the prosecution of the individual, if the victims so desired, and on more than one occasion, he encouraged it," Greear's email said. Fellowship Memphis leaders recused Loritts of any involvement in the matter due to his family ties to Trotter, according to Greear.
Trotter was arrested in 2016 for taking illicit pictures of women during worship services at another Memphis church, Downtown Church, where he began working 18 months after being terminated from Fellowship Memphis.
Bryson and Richard Rieves, lead pastor at Downtown Church, released a joint statement in 2016 that acknowledged Trotter's misconduct in 2010. The statement denied claims that minors were involved and that victims were discouraged from reporting the incident to authorities.
The statement confirmed Trotter's "inappropriate conduct of a sexual nature" and said the 2010 incident was immediately reported to the "lead pastor at the time," which was Loritts. The statement said the victims were adults and they were asked by church leaders whether they wanted to press charges.
Downtown Church leaders said they were fully aware of Trotter's misconduct when they hired him on a contract basis in 2011, and then as a full-time employee in 2014.
Upon his arrest in 2016, news reports indicate that Trotter confessed to secretly recording women at Downtown Church and other locations, such as an airplane and a Chick-fil-A restaurant he managed. Trotter was sentenced to 60 days in jail as part of a plea deal. He is currently registered as a sex offender.
"We grieve the situations at Fellowship Memphis and Downtown Church, but we are grateful for the convictions that have guided Pastor Bryan throughout this process," Greear's email said. "Please pray for him and pray for The Summit Church as we continue to seek to make Christ known through a movement of disciple-making disciples and recommit ourselves to doing whatever it takes to reach all people."