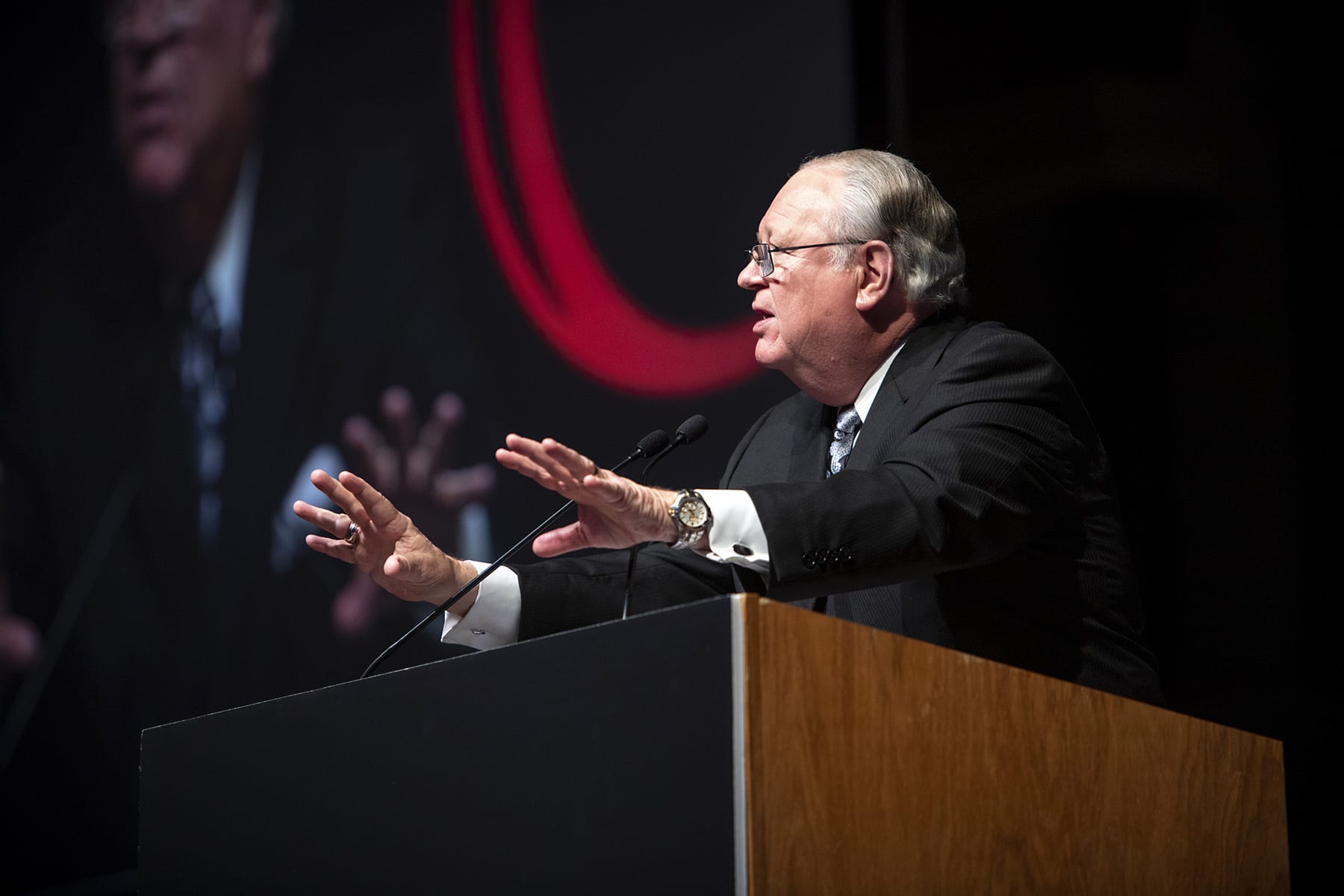 On April 11, 2006, Milton A. Hollifield Jr. was elected as the fourteenth executive director-treasurer of the Baptist State Convention of North Carolina (BSC). In a special session of the convention, held at Calvary Baptist Church in Winston-Salem, 1,066 messengers voted to approve the new leader with no apparent opposition. According to a report in the April 29, 2006, edition of the Biblical Recorder, Don Warren, chairman of the BSC board of directors, officially nominated Hollifield. Robert Jackson, chairman of the search committee, told messengers Hollifield was the committee's choice and "an answer to our prayers."
Born in Marion, N.C., Hollifield grew up in Swannanoa where his father served as a pastor. He is married to Gloria (Sullins) Hollifield of Black Mountain. They have one son, Judson, who lives with his wife, Jamie, in Asheville, N.C., and two grandsons.
Hollifield received a bachelor of arts degree in psychology from Mars Hill College in 1977 and a master of divinity degree from Southwestern Baptist Theological Seminary, Fort Worth, Texas in 1980.
He pastored West Shady Grove Baptist Church in Blue Ridge, Texas while in seminary. Upon return to N.C., he served as an associate pastor of West Asheville Baptist Church for two years. From 1982-1991 he pastored First Baptist Church of Stanley and then became the executive director of missions for the Gaston Baptist Association. In 1993 the General Board of the Baptist State Convention elected Hollifield as director of the Evangelism Division, a position he held for 13 years under two executive director-treasurers of the convention.
In recognition of his 10-year anniversary with the BSC, the Biblical Recorder presents the following summary of some of the key changes that happened during Hollifield's service as executive director-treasurer.
Before Hollifield was elected, some Baptist institutions in the state were taking steps to change their relationships with the convention. In 2005 the Committee on Nominations had rejected some nominees suggested by entity presidents who previously had not experienced challenges to names they brought forth. It was reported that the committee denied nominees from churches that were affiliated with the liberal-leaning Alliance of Baptists or were members of churches not affiliated with the Southern Baptist Convention.
Biblical Recorder
Biblical Recorder editor Tony Cartledge announced in the Feb. 18, 2006, edition that the Recorder would choose a portion of its directors for 2007. The action took advantage of a provision in BSC bylaws that allowed colleges, institutions and agencies to nominate up to 50 percent of its own directors. In return, the respective entity would give up an equal percentage of funding from BSC. However, the Recorder never followed through on its intention, and Cartledge retired in July 2007. The Recorder's directors continue to be elected by BSC.
Retirement homes
The Baptist Retirement Homes (BRH) announced Jan. 18, 2006, that its trustees had adopted amendments that changed the corporation's bylaws with regard to the election and removal of trustees. BRH president Bill Stillerman said he was not asking for a severance from the BSC, but wanted the board to choose its own directors.
BRH began electing its own directors, and funds for the ministry were held in escrow for at least one year before all funding was removed from the convention's budget. BRH never officially filed for legal separation as required by BSC documents. Although the board has not established an official relationship of friendly cooperation with BSC, the organization continues to work directly with local churches in the state.
Woman's Missionary Union of North Carolina
Ten days after Hollifield began serving in his new role, the Woman's Missionary Union of North Carolina (WMU-NC) held its annual "Missions Extravaganza" at Ridgecrest Conference Center. At the meeting delegates approved bylaw changes that effectively loosened the organization's ties to BSC, according to a report in the April 29, 2006, edition of the Biblical Recorder.
Changes included removing the word "auxiliary" and a statement from bylaws that said the WMU-NC "shares a common religious purpose with the Baptist State Convention of North Carolina and shall operate as an auxiliary of the Baptist State Convention and shall cooperate with the program of the Baptist State Convention of North Carolina as it relates to the promotion of Christian missions and ministries locally and globally."
The new language of the bylaws stressed the historical relationship with BSC and the "common heritage as laborers together in Christian work …" It added that WMU-NC "may also cooperate, as it deems advisable, with other entities that share a common purpose in promoting Christ-centered and Bible-based missions and ministry locally and globally."
Other bylaw changes separated the organization from the human resources department of BSC and established an autonomous business plan. The organization chose to move its offices out of the Baptist Building in Cary. The changes prompted BSC's budget committee to remove WMU-NC from the annual budget in 2007 and the State Missions Offering in 2008.
Baptist colleges and universities
Prior to 2006, five Baptist colleges and universities were discussing a new relationship with BSC. Formal discussions continued between the presidents of the educational institutions and BSC officials through 2006 and 2007 until the messengers at the November 2007 convention approved a new relationship. The schools gave up Cooperative Program (CP) funding over a period of four years in exchange for the opportunity to elect their own trustees.
In 2008 three North Carolina Baptist schools elected their first trustees from churches not affiliated with BSC. Wingate University, Gardner-Webb University and Campbell University elected trustees from churches that were either not Baptists or not affiliated with BSC. The three schools, along with Chowan University and Mars Hill University, no longer receive financial support through the CP budget.
New ministries
Out of the vacuum created by changes in the relationships with WMU-NC and BRH, churches called for new ministries to fill the void. At the November 2008 annual meeting messengers approved the creation of Embrace Women's Ministry and North Carolina Baptist Aging Ministry (NCBAM). Both ministries launched the following year. Neither ministry was a duplicate of the organizations they replaced.
The new ministry to senior adults was developed under the auspices of the Baptist Children's Homes of North Carolina (BCH). BCH President Michael C. Blackwell said the new ministry did not plan to duplicate or compete with Baptist Retirement Homes. Instead, Blackwell said it was designed to assist churches and associations in three areas: education to help senior adults in such issues as identity theft and adult day care; practical ministry such as in-home assistance with meals and handyman work; and personal services such as transportation. Sandy Gregory became the director and continues in that role.
Messengers voted to release $880,000 that was being held in escrow from BRH for use in the new NCBAM ministry.
Embrace launched in 2009 with the focus on evangelism, discipleship and missions. The focus of the new ministry was to engage women with the gospel, help form Bible studies and equip women to minister locally and globally. The ministry to women is part of the organizational structure of BSC staff. Ashley Allen was brought in as the director of Embrace and still provides leadership to the ministry today.
Also at the 2008 annual meeting the N.C. Baptist Foundation (NCBF) announced a new church loan program. Loans are now provided at better rates than churches can get through banks, according to Executive Director Clay Warf. The loans are funded through investments from N.C. Baptist churches and individuals. In seven years the new fund has provided loans to 100 churches in 45 N.C. counties totaling $60 million. NCBF has approval for up to $75 million in additional church loans.
Although the five universities, BRH and WMU-NC have chosen to alter the way they relate to the convention, the Baptist Children's Homes of N.C., the N.C. Baptist Foundation, N.C. Baptist Men (now called Baptists on Mission), Fruitland Baptist Bible College, the Biblical Recorder and the N.C. Baptist Hospital (also known as Wake Forest Baptist Medical Center) have not changed relationships with BSC under Hollifield's leadership. Each continues a healthy cooperation with the churches and ministries of the convention.
Financial cooperation
The increasing percentage of BSC funds allotted for global ministries stands out as one of the most notable aspects of Hollifield's 10-year tenure.
He emphasized in a 2012 Biblical Recorder guest column, "As believers in Jesus Christ we are responsible for fulfilling the Great Commission. … We cannot accomplish this task on our own."
The expressed commitment to missions is significant, considering the downward trend of total CP giving by N.C. Baptist churches over the same 10-year span. Total giving decreased by nearly 20 percent while the percentage BSC set aside for missions rose by 7 percent.
In both 2006 and 2007, the BSC forwarded 33 percent of its total CP budget to the Executive Committee of the Southern Baptist Convention (SBC) to be distributed among SBC mission agencies, seminaries and other entities. From 2008 onward, that number began to rise by one-half percent each year until it reached 37 percent in 2015. The trend took a sharp turn when messengers approved a three percent increase for 2016, bringing the global ministries allocation to 40 percent ($11.8 million).
At the same time the BSC began increasing its global ministries giving, Hollifield also led the convention to simplify giving mechanisms.
Throughout the 1990s, four giving plans were created, allowing churches to choose how their CP gifts were divided among various state and national entities. They provided moderate churches the ability to choose a plan that designated a portion of their gifts directly to the Cooperative Baptist Fellowship, affiliated colleges and universities, or other missions entities. Other plans allowed conservative churches to opt for a more traditional, BSC-SBC distribution of funds.
Ongoing committee inquiries into the plans' efficiency revealed that a majority of churches were using one plan. As a result, the convention approved a simplified plan. According to a 2008 Biblical Recorder report, he told the Board of Directors, "Keep this phrase in mind … a simple plan with options."
Christian education
The agreement with five Baptist colleges and universities to reduce CP funds allocated to the schools in exchange for increased independence in the election of trustees resulted in a reduction from nearly $6 million in 2008 to zero in 2012. Some funds were set aside for student scholarships at the five Baptist colleges.
In 2015 the BSC board of directors voted to transfer administration and oversight of the Baptist college scholarship program from the convention to the NCBF.
Scholarships for undergraduate and graduate students from cooperating N.C. Baptist churches who attend one of the five affiliated educational institutions are now funded through an endowment established by NCBF, rather than CP funds. The funds totaled more than $1.2 million in 2006 and had been gradually decreased to $300,000 in 2015, before making the transfer to NCBF. Some of the recovered educational funds were used to increase resources assigned to Fruitland Baptist Bible College.
Hollifield Leadership Center
The executive committee accepted a $2.5 million offer on the sale of the Hollifield Leadership Center in July 2013. After years of financial losses, the center ceased weekly operations at the end of 2012, but remained available for weekend retreats in 2013.
BSC purchased the 30-acre facility on Lake Hickory in 2000 to use for retreats and training events. It was made possible by a significant gift from Gwendolyn Hollifield, who is not related to Milton Hollifield.
Proceeds from the sale were applied to the New Beginnings capital campaign at Caraway Camp and Conference Center near Asheboro. A new 299-seat auditorium was named in her honor. Caraway, the N.C. Baptist Assembly at Fort Caswell and Fruitland Baptist Bible College have all added new facilities in the past 10 years as well.
Collegiate ministry
On April 11, 2013, the BSC Executive Committee approved a new five-year strategy to better assist churches in disciple-making. The new structure included a change in the BSC's collegiate ministry. At the time there were nine full-time campus ministry positions and partnerships with churches on 15 other campuses. The majority of North Carolina's almost 200 college and university campuses were not being engaged by North Carolina Baptists.
Campuses with full-time staff positions included Appalachian State University, Boone; East Carolina University, Greenville; North Carolina State University, Raleigh; University of North Carolina (UNC), Chapel Hill; UNC-Asheville, UNC-Charlotte, UNC-Greensboro, UNC-Pembroke, and Western Carolina University, Cullowhee. The new structure eliminated many campus ministry positions but provided staff to equip churches to have more of a presences on college campuses. Church ownership became the core of the new strategy which recognized there is not simply "one way" to reach North Carolina's diverse population of college students. Local church ownership meant every campus in the state could potentially have the witness of a Baptist church.
Under Hollifield's leadership, the board of directors voted unanimously in 2015 to sell the Battle House, the former Baptist campus ministry property at UNC-Chapel Hill for $1.55 million.
They also approved the sale of properties at East Carolina University and UNC-Asheville. The property at UNC-Pembroke was transferred to the Burnt Swamp Baptist Association.
This year the former Baptist Campus Ministry property at N.C. State University was sold for $860,000, and the former facility at Appalachian State University was sold for $500,000. Proceeds from all of these sales were placed into a special account used exclusively for collegiate partnerships.
Shifting funds away from campus ministers and campus properties was controversial when first announced, but since 2014 BSC collegiate ministry has grown from nine campuses to a gospel presence on at least 30 campuses. More students are hearing the gospel today from Baptist churches than they were before the change.
A new vision
The new vision announced by Hollifield in 2013 was labeled, "Impacting Lostness Through Disciple-Making." The new strategy led to realignment of the staff. Prior to this time BSC staff was organized into five ministry groups with a total of 22 teams. Now, there are four ministry groups with 19 teams.
Brian Davis, associate executive director-treasurer, said a key component of this change involved combining the former congregational services and evangelization groups.
"The combining of these two groups has been driven by a key shift in philosophy; a shift that is the foundation of the strategy: disciple-making," Davis said. He said the new "ministry is driven by the philosophy that disciple-making is the combined effort of evangelism and discipleship that results in disciples making disciples."
Great Commission Partnerships (GCP) and Church Revitalization are among some of the new teams. The GCP office was established to engage unreached and unengaged people groups around the world.
The office works with local, national and international partners.
The church revitalization team was established by the Executive Committee in November 2014 as an outgrowth of impacting lostness through disciple-making.
Through it all, personnel has played an integral part in Hollifield's tenure. Davis and John Butler, executive leader of business services, were brought in early and have been at the convention during all the staff changes. When Hollifield began, there were 97 full-time convention employees. Currently, there are 89 full-time employees.
This number only includes convention staff and not the number currently working at Baptists on Mission, Fruitland, any of the camps or conference centers or WMU-NC.
In 2008, the Board of Directors adopted "7 Pillars for Mission and Ministry," reflecting the BSC's core values.
After a Vision Fulfillment process that included 16 listening sessions across the state, the core values were revised in 2011. Visit ncbaptist.org/7pillars to learn more about the "7 Pillars."
The changes emphasized a focus on disciple-making and included ministry with internationals, unreached and unengaged people groups as well as younger church leaders.
Hollifield's unchanging vision from the beginning still remains, "By God's grace, the Baptist State Convention of North Carolina will become the strongest force in the history of this convention for reaching people with the message of the gospel of the Lord Jesus Christ."