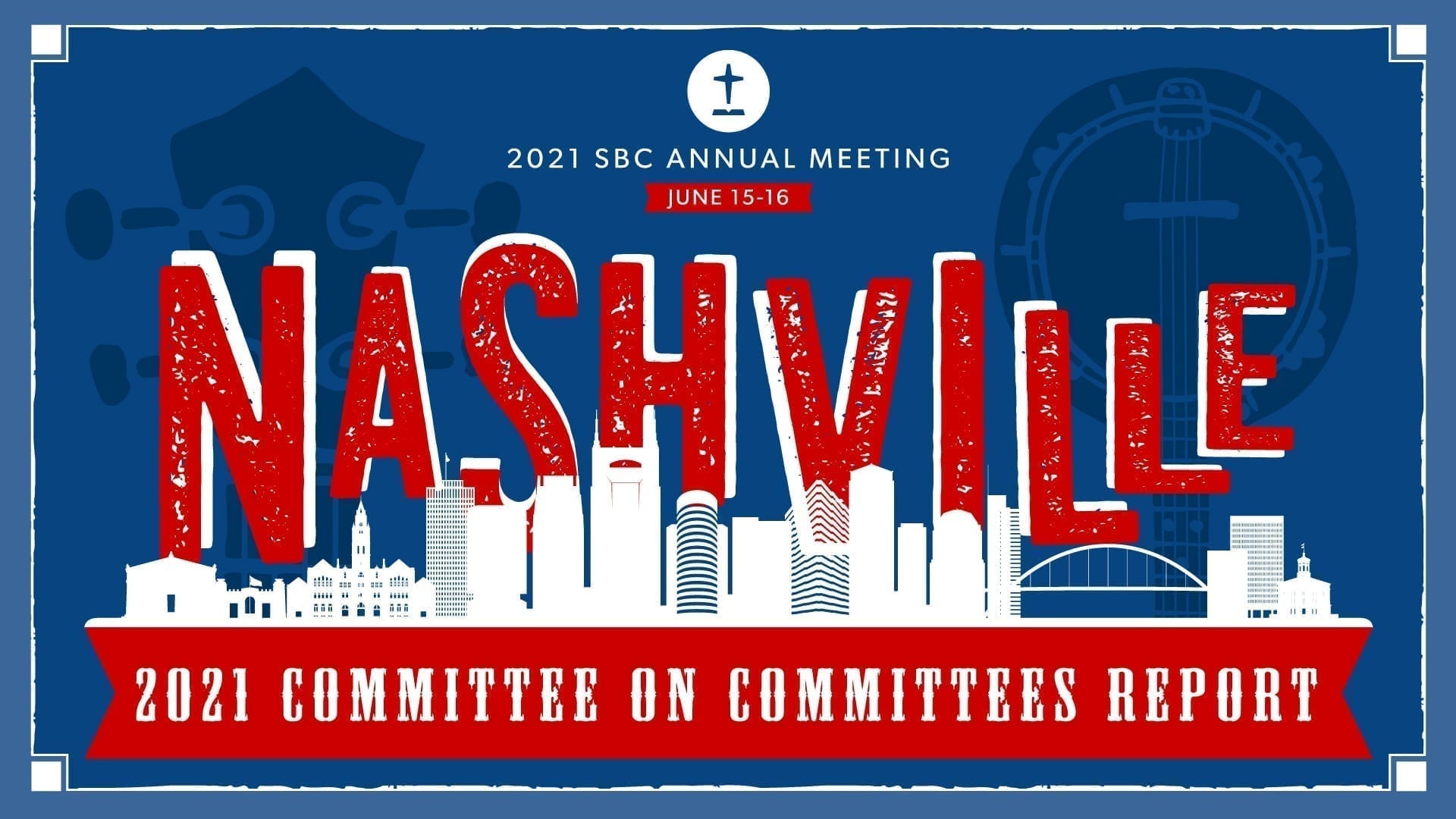 The 2021 Committee on Committees has released its report.
Appointed by the Southern Baptist Convention (SBC) president, the Committee on Committees nominates the Committee on Nominations and any special committees that are authorized during convention sessions.
The proposed 2021-22 SBC Committee on Nominations members are:
(State Convention, Name, Church Membership)
* indicates layperson from each state or regional convention
Alabama
Brett Pittman, Highland Park Baptist, Muscle Shoals, Ala.
*Guy Phillips, Highland Baptist, Florence, Ala.
Alaska
William Graham, Filipino Bible, Anchorage, Alaska
*Napoleon Fernandez, Filipino Bible, Anchorage, Alaska
Arizona
*Jared Nelson, Valley Life North Mountain, Phoenix, Ariz.
*Rex Piper, North Phoenix Baptist, Phoenix, Ariz.
Arkansas
Emily Watson, East Side Baptist, Fort Smith, Ark.
*Hunter Bramlitt, Second Baptist, Conway, Ark.
California
Loren Chong, Life Church, Pleasanton, Calif.
*Candice Rimestad, Summit Point Church, San Diego, Calif.
Colorado
Mike Routt, Redemption Hill, Colorado Springs, Colo.
*Tyann DeClue, Calvary, Englewood, Colo.
Florida
Terry Moore, Hibernia Baptist, Fleming Island, Fla.
*Marta Treumann da Silva, Idlewild Baptist, Lutz, Fla.
Georgia
Mike McKee, Image Church, Marietta, Ga.
*Clay Kitchings, Prince Avenue Baptist, Bogart, Ga.
Hawaii-Pacific
Jon Elliff, Makakilo Bible Church, Kapolei, Hawaii
*Wes Higuchi, Kahului Baptist, Kahului, Hawaii
Illinois
Elmo Randle, Mission of Faith Baptist, Chicago, Ill.
*Bonnie Mootry, Hillcrest Baptist, Country Club Hills, Ill.
Indiana
Reginald Fletcher, Living Word Baptist, Indianapolis, Ind.
*Cory Bledsoe, Oak Park Baptist, Jeffersonville, Ind.
Kansas-Nebraska
*Donnovan Karber, River Community, Wichita, Kan.
*Melissa Oursler, Blue Valley Baptist, Overland Park, Kan.
Kentucky
Nuno Norberto, Porter Memorial Baptist, Lexington, Ky.
*Gabriela Salazar, Sojourn Community Midtown, Louisville, Ky.
Louisiana
Jay Adkins, First Baptist, Westwego, La.
*Larry Johnson, Family Church, Kenner, La.
Maryland-Delaware-DC
Bernard Fuller, New Song, Lanham, Md.
*Richard Dillard, Christ Community, Ashton, Md.
Michigan
Antonio Wimberly, One Mission, Westland, Mich.
*Rebecca Nobles, Kingdom Life, Lansing, Mich.
Mississippi
Rob Armstrong, Harrisburg Baptist, Tupelo, Miss.
*Candi Crawford, City Light, Vicksburg, Miss.
Missouri
Michael Hubbard, Genesis, Eureka, Mo.
*Jason Davis, Anchor, Sikeston, Mo.
Nevada
Jamin Ogle, Hope Church, Las Vegas, Nev.
*Jonathan Garboski, Shadow Hills, Las Vegas, Nev.
New England
Tanner Turley, Redemption Hill, Medford, Mass.
*Paul Choi, Antioch Baptist, Cambridge, Mass.
New Mexico
Joel Gunn, First Baptist, Bloomfield, N.M.
*Deanna Spriggs, Anchor North, Albuquerque, N.M.
New York
*Anthony Ramirez, Fordham Community, Bronx, N.Y.
*Elaine O'Neill, Living Gospel, Rutherford, N.J.
North Carolina
Chris Griggs, vice chair, Denver Baptist, Denver, N.C.
*Taylor Owens, Christ Community, Huntersville, N.C.
Northwest
Matthew Young, Resonate Network, Pullman, Idaho
*Sako Pak, The Well Community, Bellevue, Wash.
Ohio
*Linda Locy, Dublin Baptist, Dublin, Ohio
*Alex Stevens, Salt and Light, Columbus, Ohio
Oklahoma
Rusty McMullen, First Baptist, McAlester, Okla.
*Kellye White, First Baptist, Elk City, Okla.
Pennsylvania-South Jersey
Noel Geniza, International Christian Fellowship, Pottstown, Pa.
*Randy Guevara, One Hope, Absecon, N.J.
South Carolina
Craig Tuck, Centerpoint Church, Remount, S.C.
*Leah Finn, chair, Mountain Creek Baptist, Greenville, S.C.
Tennessee
*Kelly Parkison, Steven Street Baptist, Cookeville, Tenn.
*Chris Martin, City Church, Murfreesboro, Tenn.
Texas
Damon Halliday, Keystone Fellowship, Fort Worth, Texas
*Holly Sanders, Coastal Community, Galveston, Texas
Utah-Idaho
Daniel Savage, Redemption, Ogden, Utah
*Josiah Walker, Redeeming Life, Bountiful, Utah
Virginia
Pat Flordelise, Kingsland Baptist, North Chesterfield, Va.
*Laurie Harrison, Parkway Baptist, Moseley, Va.
West Virginia
Jonathan Eubank, Witcher Baptist, Belle, W.Va.
*Katie Persinger, Resurrection, Charleston, W.Va.
Wyoming
Rob Peterson, Hilltop Baptist, Casper, Wyo.
*Wesley Avent, Boyd Avenue Baptist, Casper, Wyo.
The committee is scheduled to present its report to messengers at 8:50 am on June 16 during the 2021 SBC annual meeting.