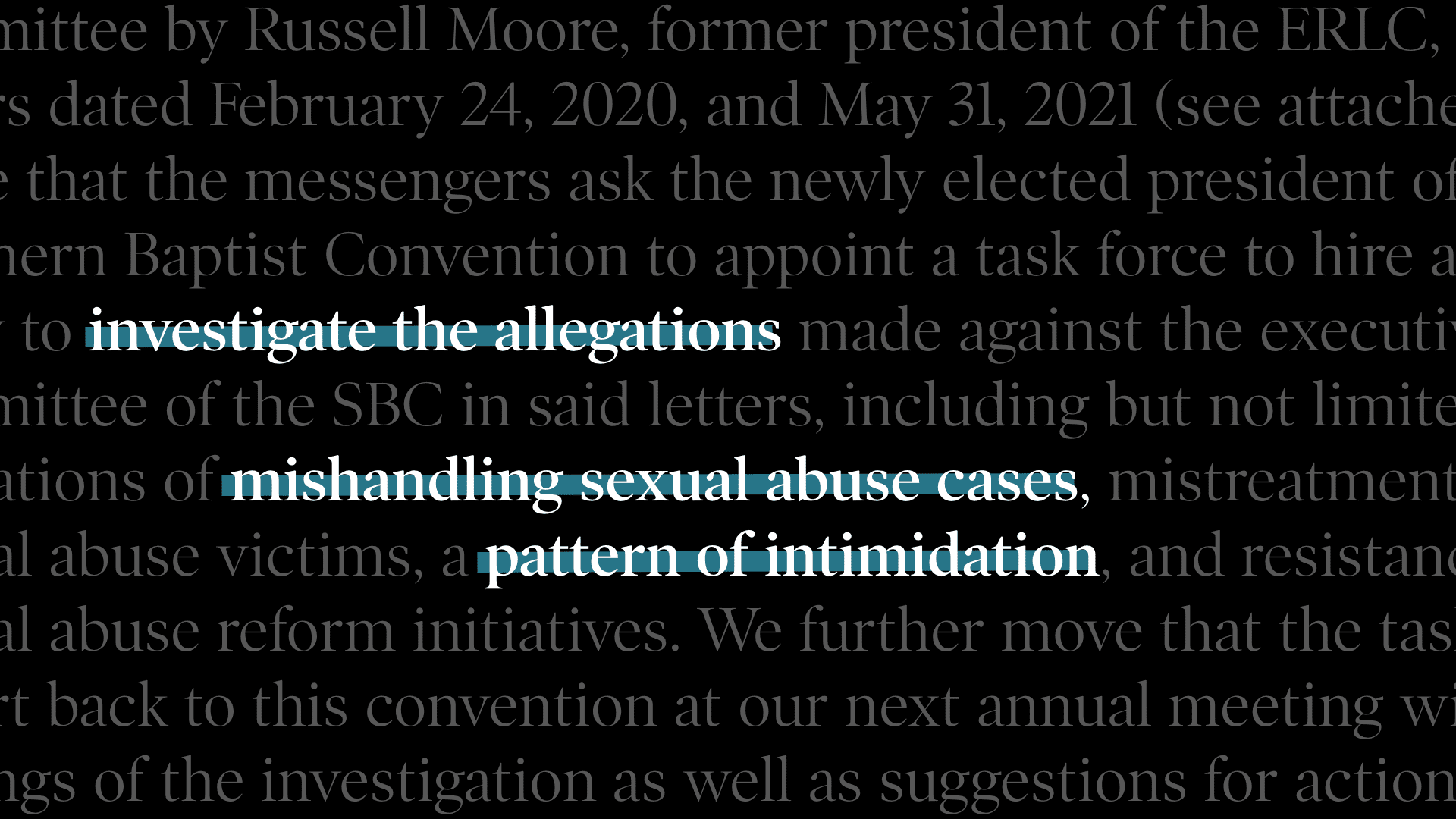 North Carolina Baptist leaders have joined a number of voices calling for an investigation of the Southern Baptist Convention's (SBC) Executive Committee (EC). Concerned Southern Baptists began asking for a review of the organization following claims by Russell Moore that some EC members engaged in "spiritual and psychological abuse" of sex abuse survivors and "intimidation" of Southern Baptist leaders who pushed for initiatives meant to strengthen sex abuse prevention.
Ronnie Parrott, pastor of Christ Community Church in Huntersville, N.C., said he intends to make a motion at the SBC annual meeting next week to initiate a multi-step process of hiring a third party to investigate the EC on matters including but not limited to Moore's claims. Parrott co-authored a draft of the motion with Grant Gaines, pastor at Belle Aire Baptist Church in Murfreesboro, Tenn.
"The intention behind the motion Grant and I are making is to seek the truth," Parrott told the Biblical Recorder. "We don't need anymore of the 'he said this' and 'he said that' comments. We need the truth. An independent, third-party investigation is the only path forward for the truth.
"We take very serious the allegations of mishandling sexual abuse cases, mistreatment of sexual abuse victims, patterns of intimidation, and resistance to sexual abuse reform initiatives.
"The public witness of the SBC matters for our cooperative mission together. We need the truth to prevail so that we can move together unified around the gospel and the Great Commission."
Moore resigned as president of the Ethics & Religious Liberty Commission (ERLC) on May 31. Prior to his departure, Moore outlined what he described as "vicious guerrilla tactics" in two personal letters – one sent to the ERLC trustee board's executive committee in February 2020 and another sent to SBC president J.D. Greear in May 2021 – that became public last week.
The 2020 letter was shared with Religion News Service by an unnamed ERLC trustee, which led to an exclusive news story on June 2. The most recent document was posted online late Friday night (June 4) by SBC-insider Ben Cole on his personal blog site.
In the letter to Greear, Moore said two investigations were launched against the ERLC under the guise of "just asking questions" about how Moore and the ERLC may be negatively affecting Cooperative Program giving. Those actions, he claimed, were led by then-EC-chairman Mike Stone and others who were "enraged" by Moore and Greear's actions to address a sex abuse crisis.
Investigations and threats of censure were intended to pressure Moore and Greear to "remain silent and to live in psychological terror" and "protect [EC members] by covering up what they do in darkness," he said.
"You and I both heard, in closed door meetings, sexual abuse survivors spoken of in terms of 'Potiphar's wife' and other spurious biblical analogies," Moore wrote to Greear. "The conversations in these closed door meetings were far worse than anything Southern Baptists knew – or the outside world could report."
Greear said in a statement online June 7 that Moore's letter to him was "private correspondence and I have treated it as such," adding that he was "aware of some things" described by Moore and "my own struggles with the Executive Committee related to some of these initiatives are well documented."
"I know churches in our convention both want and deserve the truth on these matters and I expect these things to come up at our annual meeting next week," Greear said.
Stone, a candidate for SBC president and pastor of Emmanuel Baptist Church in Blackshear, Ga., issued two responses to the allegations – one on his personal blog and another in a Youtube video. Stone called Moore's letters a "back-door press release" and said they were an attempt to influence the upcoming SBC presidential election.
Moore told Greear he had planned to call for an independent third-party investigation of the SBC Executive Committee at this year's annual meeting.
EC president and CEO Ronnie Floyd issued a statement through Baptist Press on June 5 about Moore's allegations, saying he did not "have the same recollection of these occurrences as stated."
"I do take seriously allegations in this letter which may raise concern for Southern Baptists," Floyd said. "I have been very committed to always operate with the highest integrity and skillful hands. I am right now considering ways in which we can develop the best path forward for the sake of Southern Baptists and our God-called commitment to our unified Great Commission vision."
In late 2019, Floyd acknowledged that changes were needed at the EC to "create a healthier culture" both inside the organization and across the national convention of churches.
Danny Akin, president of Southeastern Baptist Theological Seminary in Wake Forest, N.C., said in a social media post that he would support a motion by Parrott and Gaines that calls for an investigation of the EC.
"Facts are our friends," Akin said. "So is truth. Let's get everything out in the open."
Matt Capps, pastor at Fairview Baptist Church in Apex, N.C., and president of the board of directors for the Baptist State Convention of North Carolina, told the Recorder that he affirms the need for an investigation of the EC and supports the intended motion by Parrott and Gaines.
"North Carolina Baptists have taken steps to help churches prevent sex abuse and care for survivors because it is a matter of grave importance to us," Capps said. "Russell Moore's allegations against members of the SBC Executive Committee should be investigated to the fullest extent by an independent, third party – both the sex abuse survivors and the local churches that make up our convention deserve the truth."
Other notable Southern Baptist figures like former SBC president James Merritt and current EC member Jared Wellman have also expressed support for an investigation in social media posts.
EDITOR'S NOTE – This article has been updated to include a statement by J.D. Greear, president of the Southern Baptist Convention and pastor at The Summit Church in Raleigh-Durham, N.C.